BTS RM, known for his philanthropic endeavors, has donated 100 million won ($75,450) to the National Palace Museum of Korea. This generous contribution allows for an extraordinary exhibition showcasing the Joseon Dynasty's opulent traditional Korean bridal costumes "Hwarot." Titled "Blooming Hwarot: Bridal Robes of the Joseon Royal Court," the collection promises to be a captivating journey into the rich cultural heritage of Korea. Let's delve into the fascinating details of this momentous event.
"Blooming Hwarot: Bridal Robes of the Joseon Royal Court" Exhibition in National Palace Museum of Korea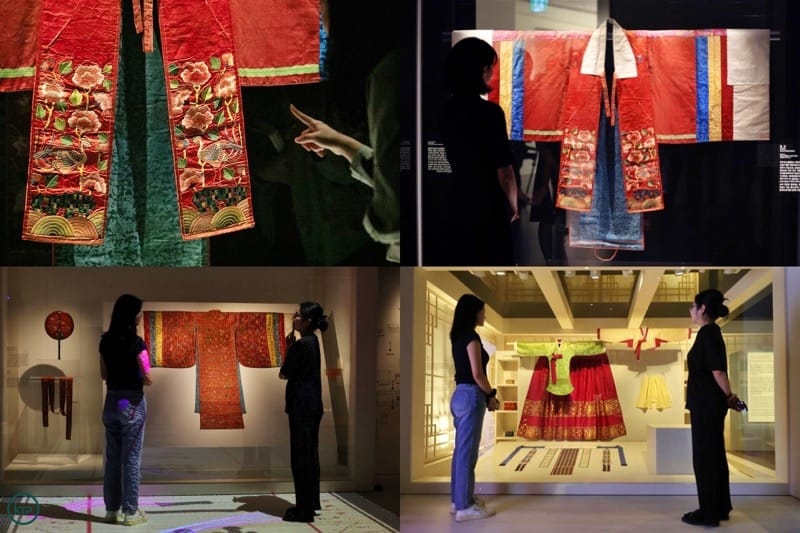 Showcasing the Splendor of the Joseon Dynasty
The National Palace Museum of Korea hosts a magnificent exhibition, "Blooming Hwarot: Bridal Robes of the Joseon Royal Court." This special exhibition, featuring an impressive collection of 110 artifacts, offers insights into the splendid world of Joseon Dynasty wedding attire.
What's "Hwarot" (활옷)?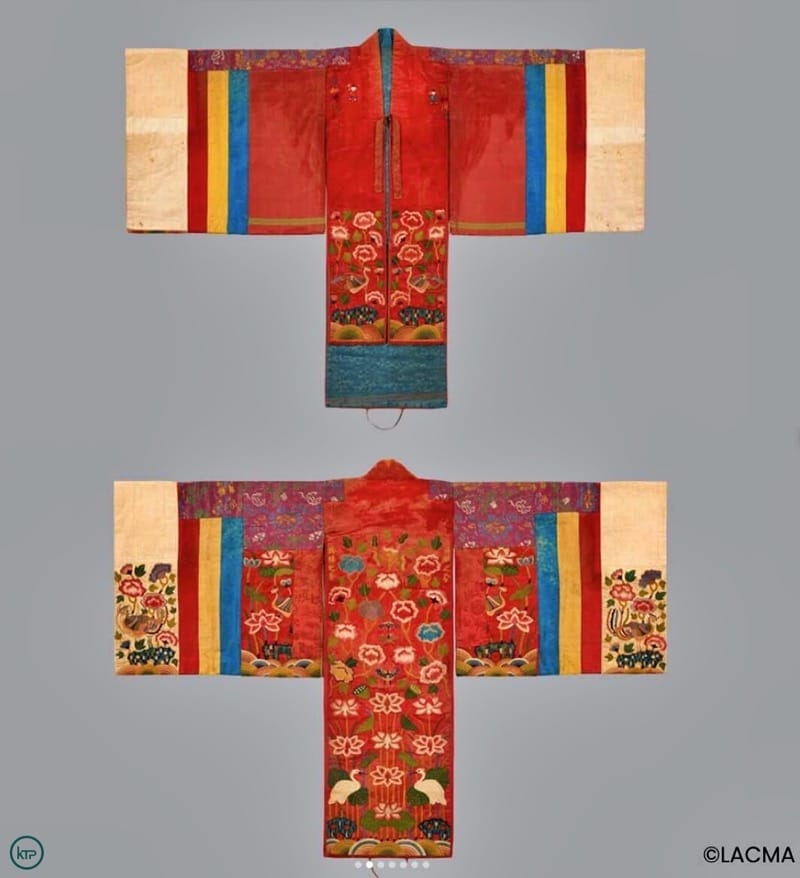 "Hwarot" (활옷), traditionally elaborately embroidered long red bridal robes, were worn by brides during the Joseon Dynasty. These garments were renowned for their beauty and represented the epitome of royal dress during Joseon Dynasty.
It's important to note that only around 50 hwarot garments from the Joseon Dynasty still exist today. There are 30 pieces in museums in Korea, while the remaining 20 are in museums abroad. This scarcity adds to the invaluable nature of these garments, as they provide a rare glimpse into the cultural and historical significance of the Joseon Dynasty.
Read also: The Ultimate Guide to Hanbok: South Korea's Traditional Dress
Exquisite Hwarot and Hwarot Garments
The exhibition will showcase a total of nine hwarot garments, including three from domestic sources and six from international museums. Visitors will be captivated by the vibrant red colors and intricate decorations adorning these traditional bridal robes. They will also have the opportunity to explore these remarkable garments' rich history and cultural heritage, including the robe worn by Princess Bokon in 1830.
BTS RM's Generous Donation: Bringing Treasures Back Home

The exhibition features stunning traditional bridal robes and other items from prestigious institutions, including LACMA (Los Angeles County Museum of Art). One of the highlights is a remarkable "Hwarot" garment that has been on display at LACMA since 1939. In 2021, with the support of the Overseas Korean Cultural Heritage Foundation and a generous donation from BTS RM, it was restored and returned to Korea. Visitors can admire this significant piece of Korean cultural heritage at the exhibition.
According to the Overseas Korean Cultural Heritage Foundation, BTS RM donated 100 million KRW in 2021 specifically to restore and preserve "Hwarot." The generous donation made it possible for the Korean National Palace Museum to exhibit traditional Korean bridal costumes in South Korea for the first time.
Exploring Tradition and Craftsmanship
The exhibition showcases traditional bridal robes and offers insights into the creation and significance of these cultural bridal attires. It aims to foster a deeper appreciation for their artistry and help visitors connect with their heritage.
An Immersive Exhibition Experience
Besides stunning displays of traditional Korean bridal costumes, visitors can enjoy video footage demonstrating the process of wearing a traditional Korean wedding attire. Additionally, media art featuring hwarot embroidery provides a truly multi-dimensional experience. The National Palace Museum aims to deepen visitors' understanding of Joseon royal women's traditional attire and wedding culture through this immersive approach.
Read also: Discover the Magic of the Hanbok Culture Week – "A Good Day to Wear Hanbok!"
"Hwarot" : Embodying Symbolism and Elegance
In conclusion, the hwarot and hwarot garments are rich in symbolism and elegance. Adorned with exquisitely embroidered flowers and fruits, these pieces represent abundance, fertility, and longevity. These pieces truly celebrate life and cultural heritage.
The captivating exhibition allows the public to marvel at the enchanting beauty of the traditional Korean bridal costumes from the Joseon Dynasty. It bridges the past and present, igniting a renewed appreciation for these extraordinary garments' artistry and cultural significance. Experience the awe-inspiring exhibition, "Blooming Hwarot: Bridal Robes of the Joseon Royal Court"!
Dates: September 15 to December 13, 2023.
Venue: National Palace Museum of Korea
Daily Operation Hours: 10:00 – 18:00 (* Wednesday · Saturday 10:00 – 21:00)
Address: 03045 12, Hyoja-ro, Jongno-gu, Seoul, Korea
Transportation: Subway Line 3, Gyeongbokgung Station, Exit 5
Related Posts
574 total views, 7 views today