Korea is a land of contrasts. From the frenetic energy of Seoul to the serene countryside, there's something for everyone in this fascinating country. If you're looking for an authentic Korean experience, check out any of these best open street markets in Korea. These markets are an excellent way to learn more about Korean culture while purchasing one-of-a-kind souvenirs.
The majority of these open street markets are available all year. They're frequented by both locals and tourists, and they're particularly foreigner-friendly. It might be a little hectic and chaotic at times, but you'll be able to locate just about anything you need here. We've hand-picked the top ten open street markets in South Korea.
Noryangjin is not a well-organized farmer's market. It's a lively, chaotic, and very wet fish market. Leave your fancy clothes and luxury bags at home when you visit there. At the Noryangjin Fish Market in Seoul, visitors will be overwhelmed by the sights and scents, but they will also have a memory that will not soon be forgotten. The seafood market is open all day, but it is busiest at night. That's when you can buy sea creatures of all shapes and sizes. There are several different seafood items to select from, and you may cook them at one of the market's numerous eateries.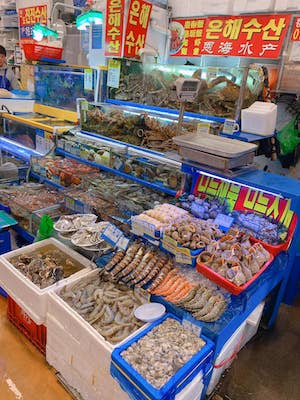 Namdaemun Market is the oldest and largest open market in Korea. The market was initially built in 1414, but it was destroyed by fire during the Korean War. South Korea rebuilt and renovated the market, making it the largest retail market in all of Seoul.
Namdaemun Market is in the heart of Seoul City. It has a lot of different food, shopping, and interesting places to see. There are always shops and products in every direction you look. It became so famous that people would say it has everything you need in Seoul!⠀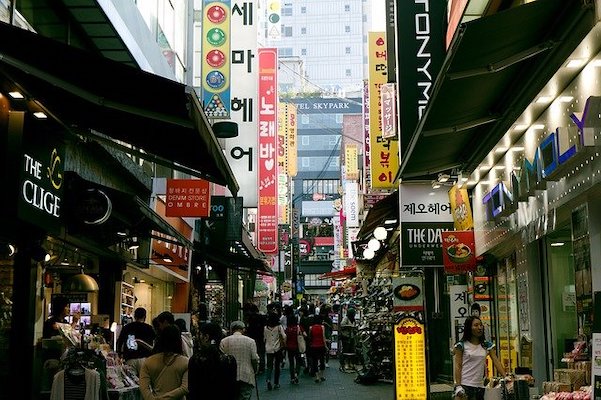 If you're looking for delicious traditional food, Namdaemun Market is the place to go! There are plenty of restaurants in the backstreets, including Kalguksu Alley and Galchijorim Alley. Kalguksu Alley was even featured on the Netflix program Street Food!
Gwangjang Market
The historic market in South Korea's capital, Seoul, is Gwangjang Market. Initially, it was known as Dongdaemun market until 1960, when it was renamed, Gwangjang Market. People come to Gwangjang Market today to buy local fruit, vegetables, meat, fish, and bread. They also eat at the many restaurants and food stalls that sell traditional Korean cuisine. You can also buy traditional Korean clothing, textiles, crafts, and souvenirs here.
Gukje Market
The Gukje Market was built during the Korean War in the 1950s as a location for refugees to start their businesses. The market, which had its roots in a fish market, has evolved into one of Busan's most popular tourist destinations. With vendors selling both new and ancient goods at an accessible price, the market has a bohemian, vintage feel.
Mangwon Market
Mangwon Market is a well-known market in the Hongdae and Mapo areas. It is known for its delicious Korean food. The market is not very big, but it is popular with people looking to eat. Their knife-cut noodles in broth are very famous. In front of the market, one of the most well-known Kalguku stalls is located. You may also find a variety of Korean meals and fruits and vegetables in this area. You can either eat them there or carry them to the Han River, which is only a 10-minute walk away.
The Yangnyeongsi Market in Daegu is a great place to learn about the city's rich medicinal history. One of the few remaining markets from its time, it is one of Korea's largest medicinal herb trade centers and has been operating since 1658. From roots and insects to snakes and deer antlers, the market has a variety of natural cures for a range of issues.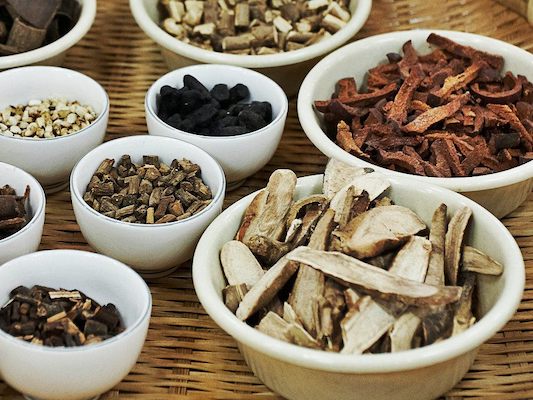 Jungang Market
Jungang Market is located in Gangneung City and Gangwon Province. It is a modern market that offers a variety of local and fresh food. There are two distinct markets in the area, one for traditional Korean items and another for seafood. On the second floor, you'll find various restaurants and coffee shops. It truly gives you the feeling of an open-air market in Korea. They have everything from meals to clothing on sale.
Bosu-dong Bookstore Alley
Bosu-dong Bookstore Alley is one of Busan's most charming attractions. This stretch of road is four feet wide and covered in bright yellow and green fabric. This place is home to many secondhand book shops from all around the world. Each vendor has its personality and backstory. Many of the stores date back to the Korean War era.
Jeju Dongmun Market
Jeju Island is a great place to visit, and if you're looking to buy some souvenirs, be sure to check out Jeju Dongmun Market. This is the largest and oldest open night market on Jeju, and you can find all sorts of things here, like fresh fruits, vegetables, seafood, vintage collectibles, and more. All kinds of Asian food are available here, from Thai to Chinese. You can find that if you're looking for traditional Korean food.
Daegu Seomun Market
The most prominent traditional street market in Daegu is Seomun Market. It has over 4,000 stalls and numerous textile vendors. This market is popular with fashion retailers. They have huge buildings with hundreds of shops inside. However, even though most of the market is indoors, they still have a big outdoor market with food stalls that sell seafood and traditional Korean dishes.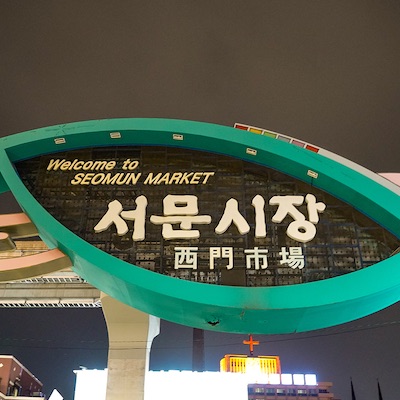 There are many other open street markets in Korea, but these are some of the best. Every market has its feel and vibe. Be sure to explore at least one of these markets during your trip to Korea!
5,175 total views, 7 views today