Discover why South Korea in autumn is a must-see! From breathtaking landscapes to amazing festivals, this guide has everything you need!
Ever thought about experiencing the magic of South Korea in the fall? Trust me, it's like stepping into a painting where every hue of red, orange, and gold comes alive. If you're itching to know why autumn in Korea should be on your bucket list, keep scrolling!
#1 Unmissable Spots to Experience Autumn in South Korea
Autumn in Korea isn't just a season; it's a mood. Imagine hiking through forests that look like they've been dipped in a palette of reds, oranges, and yellows. Here are some must-visit spots that'll make your Instagram feed scream
Naejangsan Mountain
This mountain is basically the superstar of Korean autumn. Picture this: nutmeg trees that have been around for over 600 years and ancient Buddhist temples enveloped in a sea of fall colors. Need we say more?
Seoraksan Mountain
If you're a mountain person, Seoraksan is your autumn paradise. The national park is a hiker's dream, with trails that look like they're straight out of a storybook. And hey, they've got cable cars, too, for those Insta-worthy aerial shots!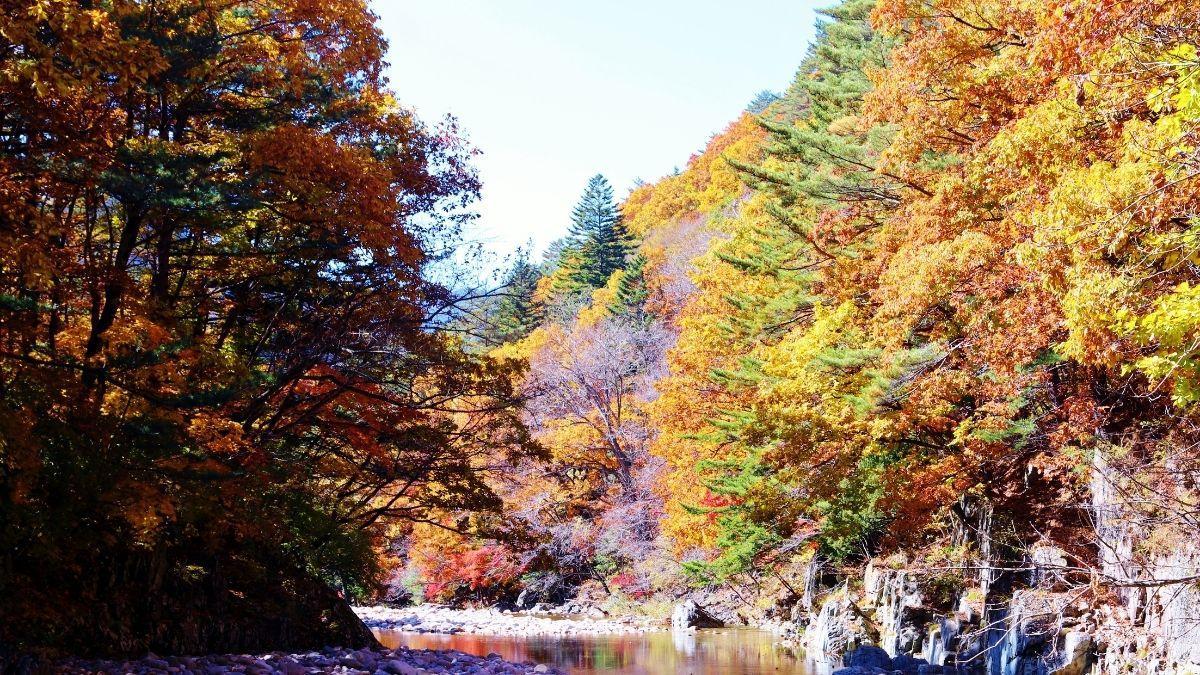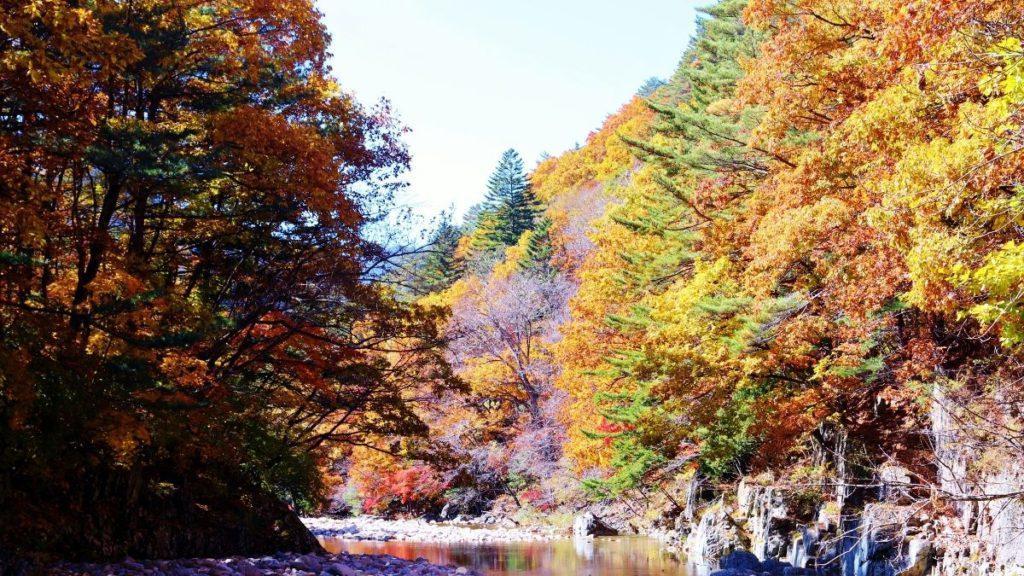 Namsan Tower
You've probably heard of the Love Locks bridge at Namsan Tower. But imagine locking in your love amidst a backdrop of trees bursting in shades of gold and tangerine. It's the ultimate romantic autumn experience!
Think of strolling through Deoksugung Palace with a backdrop of autumnal hues. The palaces in Seoul, like Gyeongbokgung and Changgyeonggung, even open their doors at night for a magical, historical journey.


Nami Island
Alright, nature enthusiasts, buckle up because the next stop on our autumnal Korean adventure is nothing short of a fairy tale. Ever heard of Nami Island? This place is often called the "Garden of Morning Calm," and let us tell you, it lives up to the name, especially during the fall season. Imagine strolling down paths lined with towering Metasequoia trees, their leaves transformed into a sea of reds and oranges. Or how about a walk down Gingko Tree Lane, where the golden leaves create a carpet that crunches satisfyingly underfoot? Yeah, it's as dreamy as it sounds.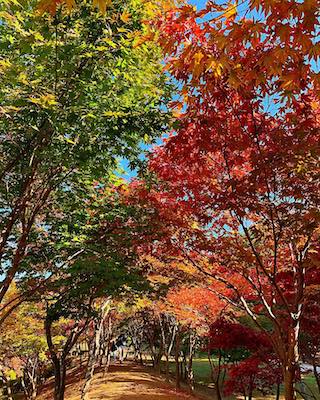 Cherry Tree Lane is a springtime wonder, while White Birch Lane looks like a winter wonderland when the snow falls. But let's be real, autumn on Nami Island is where the magic truly happens.
Seoul Grand Park
In autumn, this place turns into a scenic wonderland that'll make you want to live there. No kidding!
You get the best of both worlds here: a zoo for animal lovers, entertainment venues for the party animals among us, botanical gardens for the flora aficionados, and forest parks for those who just want to breathe in that crisp autumn air. But the pièce de résistance? The rose garden. Imagine walking through a maze of roses, their colors even more vibrant against autumn leaves. It's like stepping into a painting where every brushstroke is more beautiful than the last.
#2 Slay the Autumn Fashion Game in South Korea
Get ready to update your fall wardrobe because autumn in Korea is basically a fashion week that lasts three months. Seriously, the season brings a whole new vibe to Korean fashion, and you're going to want to be a part of it. Imagine wrapping yourself in layers of pastels and neutrals, the colors perfectly mirroring the autumn leaves around you. We're talking cozy cardigans, elegant coats, and all the comfy yet stylish boots you can strut in. The best part? These looks are as comfortable as they are Instagram-worthy.
Coats & Cardigans: Think wool coats, denim jackets, and cozy cardigans.
Dresses: Pair them with ankle boots for that perfect blend of comfort and style.
Jeans: From baggy to boyfriend, the jean game is strong in Korea.
#3 Autumn: Seoul's Season of Love
Alright, hopeless romantics, this one's for you! Autumn in Seoul is like stepping into a K-drama, minus the dramatic plot twists (unless you're into that sort of thing). The city turns into a backdrop so picturesque you'll feel like you're in a scene straight out of your favorite series.
K-Drama Vibes in Real Life
Picture this: golden leaves falling around you as you share a cozy moment with your special someone. Whether it's a first date or a long-time love, Seoul in autumn offers the perfect setting to make any romantic scene feel like it's straight out of a K-drama.
#4 Must-Experience Korean Autumn Festivals 
Festival lovers, get ready to mark your calendars because autumn in Korea is festival-central! From foodie heaven to cultural extravaganzas, here are the festivals you absolutely can't miss.
Bibimbap Festival
This festival is a culinary dream come true. Think of cooking competitions, street food, live performances, and the best bibimbap you'll ever taste.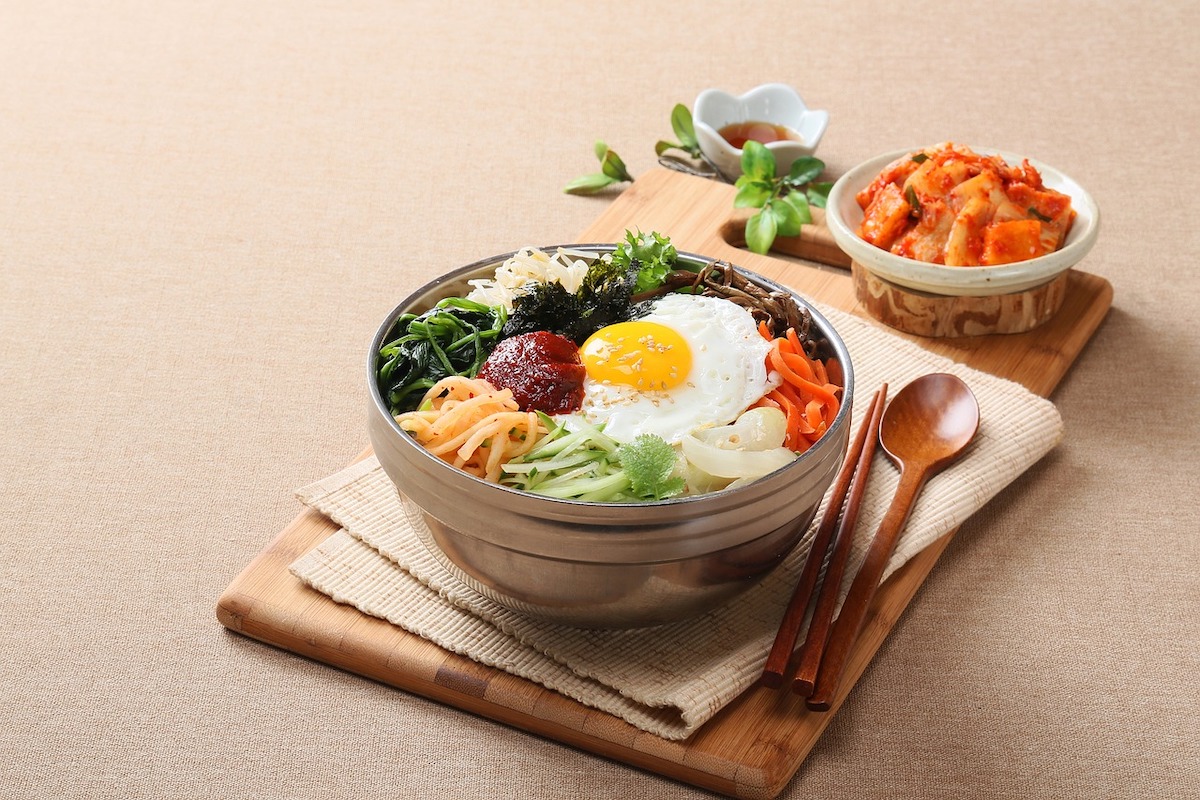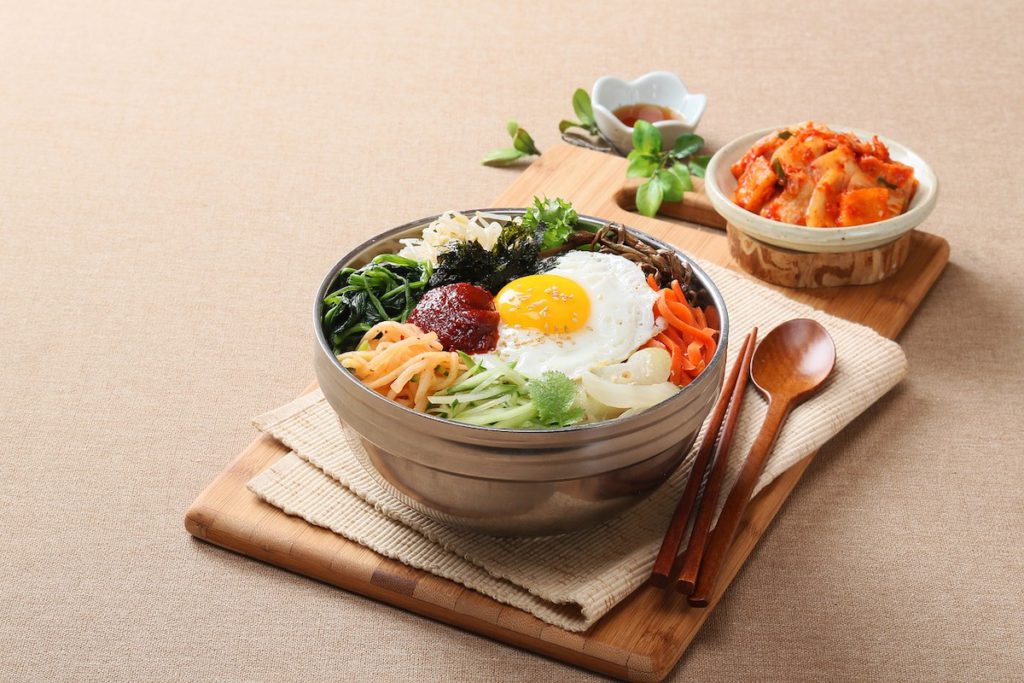 Jinju Namgang Lantern Festival
Make a wish and set it afloat on a lantern down the river. This millennia-old tradition is as magical as it sounds, with a sky full of fireworks and some mouth-watering local grilled eel.
Andong International Mask Dance Festival
This isn't just any festival; it's a global celebration of mask culture featuring performances from around 20 countries. Imagine the diversity, the colors, the stories—all coming alive through the art of mask dance. It's like the United Nations of cultural festivals, and it's all set against the backdrop of autumn's vibrant hues.
But wait, there's more! You don't just get to watch; you get to participate. Ever wanted to make your mask? Here's your chance. You can craft masks from traditional mulberry paper and even learn the steps of the masquerade dance. Talk about an immersive experience!
The Hanseong Baekje Cultural Festival is like a living, breathing history book. Held in Olympic Park in the southern part of Seoul, this festival is a vibrant street parade that's a feast for the eyes and ears. Imagine colorful costumes, traditional music, and performances that make you feel like you've stepped back into ancient Korea.
This isn't just a festival; it's a celebration of Seoul's rich history and cultural heritage. It's a chance to see how a modern megacity pays homage to its roots, all while skyscrapers surround you. Talk about a contrast, right?
When to Catch the Autumn Magic?
Autumn in South Korea runs from September to November, with the most vibrant foliage appearing in October and November. And if you're wondering what to wear, the average autumn temperature is around 19°C, making it the perfect weather for those Instagrammable outfits.
When Is Autumn in South Korea?
Autumn in South Korea lasts from September until November.
So there you have it, folks! South Korea in autumn is a dreamy blend of natural beauty and cultural richness, all wrapped up in a cozy, stylish package. Why not plan your trip and experience it for yourself?
Related Posts
169 total views, 9 views today