Are you planning a trip to Korea? Prepare for a unique selection of accommodations in Korea beyond the usual hotels, resorts, and hostels. You'll discover one-of-a-kind accommodations not found anywhere else in the world. Various distinctive accommodations in Korea showcase the country's history, culture, and nature. These include traditional Hanok lodgings and modern glamping experiences, catering to different preferences.
Glamping in Korea: Combining Glamour and Camping
Glamping is a trendy activity in Korea that combines camping and glamour, providing a luxurious camping experience. Unlike traditional camping, glamping offers amenities and sometimes even resort-style services. Glamping sites all over Korea offer breathtaking views and various outdoor activities like hiking, fishing, and horseback riding.
Glamping sites are most popular during the summer season, with many located on the outskirts of major cities such as Gapyeong and Pocheon. The tents are equipped with beds, fridges, TVs, BBQ facilities, and decorated with beautiful lights, enhancing the glamping experience.
BANU, located in Gangwon Province, South Korea, is a top-rated glamping site. It is one of the best glamping sites in the country. The tents are special because they were designed by an architect who studied at Harvard University and lived in London. This place has a kitchenette with good ventilation and has environmentally friendly Zuperzozial biodegradable tableware, pots and pans, a rice cooker, an electric stove, a hot pot, and a refrigerator, adding charm to the setup. Additionally, there is a large green space to enjoy during your stay, and each tent has a private deck with barbecue facilities and campfire pits.
Hanok Stays: Traditional Korean Houses
If you want to experience Korean culture and history up close, consider staying in a Hanok, which is a traditional Korean house. These houses are made from natural wood, stone, and clay and have lovely sliding paper doors that offer a serene ambiance.
Some houses are 80 to 100 years old, while others are newer. However, they all exude a vintage atmosphere that transports you to a house from centuries ago. This is an ideal place to unwind and escape the stresses of daily life. You'll have the chance to sleep on a soft mattress atop a heated floor in an "ondol" room.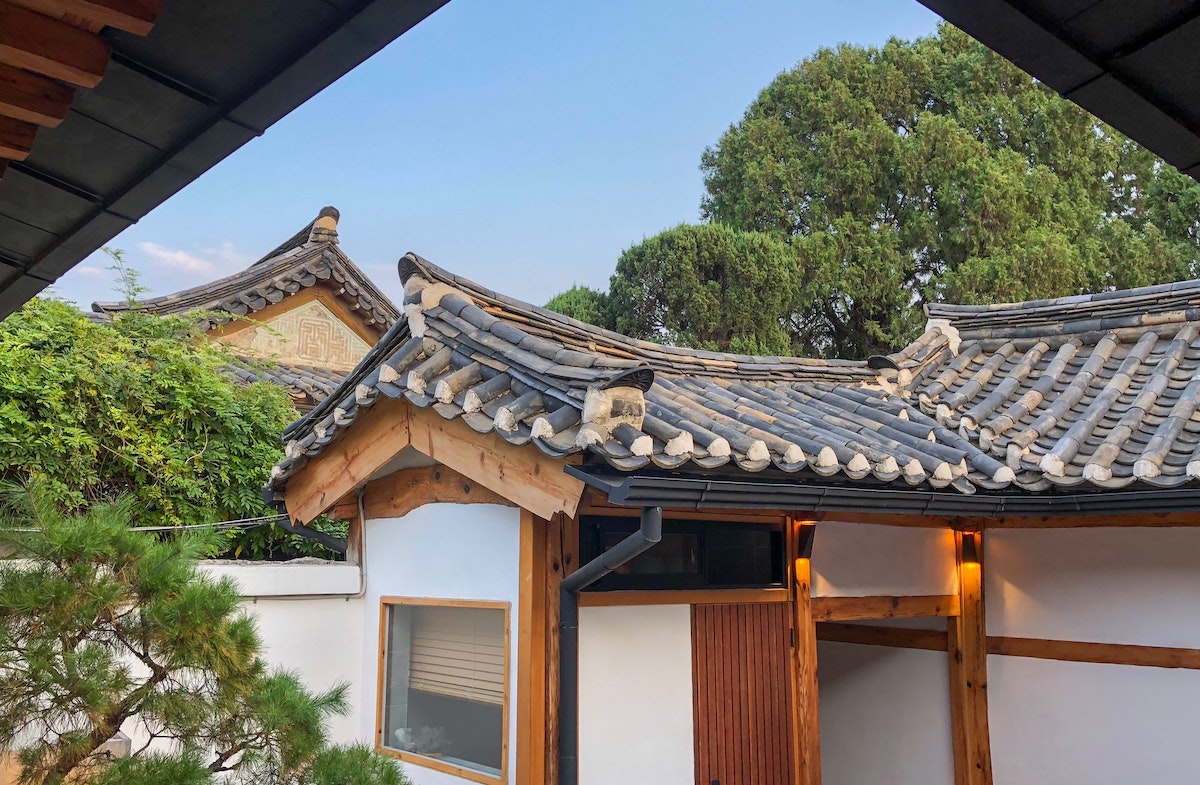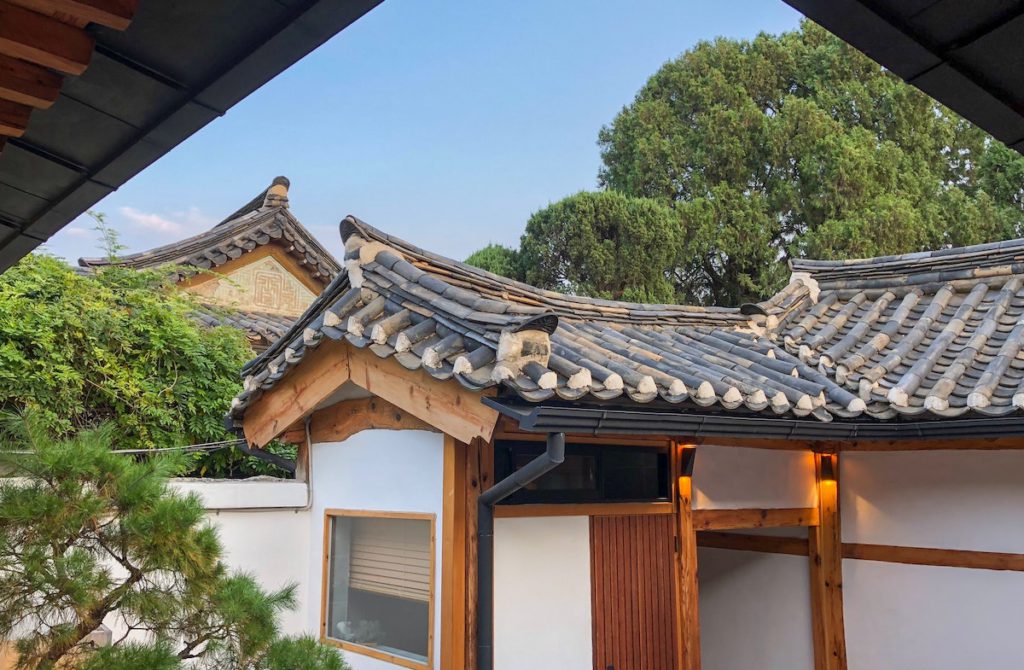 The Cheong Yeon Jae Hanok Hotel is a top choice for those seeking a traditional Korean lodging experience in the heart of Seoul. You can sleep in a Korean paper-decorated room using comfortable futon bedding heated with Ondol, a traditional Korean floor heating system.
You can relax knowing that the rooms have Western-style bathrooms and complimentary toiletries. The hotel also has a 24/7 front desk service and serves a Korean breakfast in the rooms every morning. This hotel is one of the more luxurious options.
Temple Stays in Korea: Spiritual and Relaxing Experience
To experience the spiritual side of Korean culture, temple stays are one of the best unique accommodations in Korea. You can stay in Buddhist temples and participate in tea ceremonies, meditation, and Buddhist rituals. These stays provide a peaceful environment that allows guests to relax and recharge.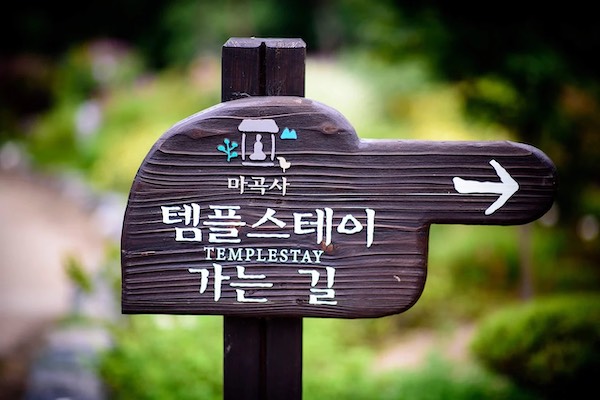 Golgulsa Temple, located on the outskirts of Gyeongju (the ancient capital city of the Silla Dynasty), boasts the country's oldest cave temple and a sixth-century carving on Mount Hamwol. One of the main attractions of a temple stay at Golgulsa is the chance to discover and practice sunmudo. This traditional Korean Buddhist martial art emphasizes the importance of breath control in unifying the mind and body. Golgulsa offers temple stay programs ranging from one-day crash courses to ten-day immersive programs.
Jjimjilbang Stays in Korea: Korean-Style Saunas and Relaxation
A Jjimjilbang is a Korean bathhouse that operates 24/7 and offers affordable accommodation for backpackers and sauna rooms. In addition, these bathhouses provide various detoxification and beauty treatments, making them an ideal destination for an indulgent spa day.
A jjimjilbang usually consists of separate bathhouses and hot tubs for men and women, outdoor pools, fitness areas, snack bars, and noraebang (karaoke rooms). You can also find large sleeping areas with mats or bunk beds if you plan to stay overnight.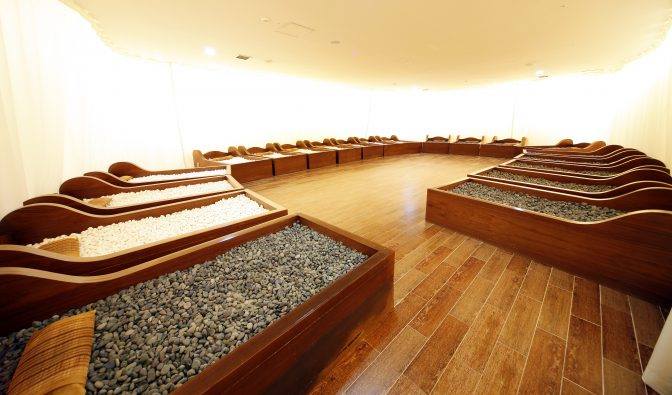 The Siloam Sauna, located near Chungjeongno subway station in Korea, is a high-quality accommodation that offers jjimjilbang services. They provide various rooms with specific benefits for rejuvenation. You should try the hard charcoal cold room to improve your metabolism and blood circulation. This location is a must-visit. If you suffer from conditions such as neuralgia, arthritis, or back pain, you can benefit from Silloam Sauna's fire-based sauna, which helps eliminate toxins and waste from the body. The sauna has 400 beds for men and 300 for women if you need a spacious sleeping area.
Pension Stays in Korea: Enjoy Nature at Its Finest
Pensions in Korea refer to small lodging establishments like guest houses or boarding houses. They are often found in historical buildings and may be run by families. These businesses typically offer special rates to guests who stay for a week or longer. While pensions are cheaper than hotels, they offer more limited services.
The FANTALUCIA Pension is a beautiful place to stay if you want accommodation near Incheon International Airport. It is in Daebu-do and takes about an hour to get there. The pension resembles a creamy white castle and offers stunning views of the Yellow Sea. The cottages look like cream cakes or ice cream mushrooms, with small adaptations of lighthouses and concert halls. There are 16 guestrooms in total and a seasonal outdoor pool. Each pension cottage comes fully furnished and includes amenities such as air conditioning and free internet.
Regardless of your preferred accommodations, there are numerous unique and special experiences to discover throughout Korea. If you're searching for a tranquil temple stay or an action-packed experience at a jjimjilbang, there is something to meet your preferences. Take your time to explore Korea and create memories that will stay with you forever.
Related Posts
1,792 total views, 7 views today