If you're in Seoul, South Korea and are looking for a place to spend the weekend nights, this list of the best 7 rooftop bars in Seoul is for you! The bars on this list have good food, even better cocktails and stunning open-air scenery to freshen you right up! Relaxing with friends while having a light breeze graze by is just something else!
These rooftop bars are scattered all around Seoul, so at least one of them is bound to be close to your location. Some of them are just for casual, laid-back chilling, while others offer some games and activities as well.
On most nights, they also have a selection of local bands that will play slow jazz or indie music, helping you relax that much more.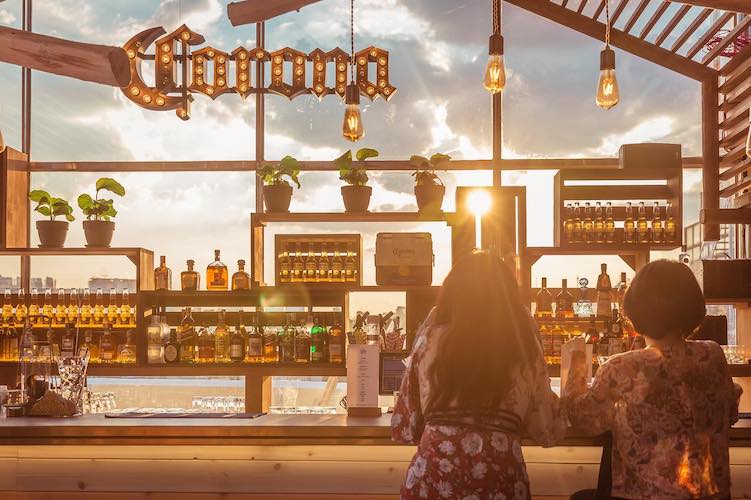 This is a great place to chill out with friends. There is a wide variety of drinks, and they are quite affordable.
For a private experience, you can even rent out small huts they call Igloos in the winter. They also change the entire look of the place every few days. Local bands play different types of music every night, and it gets very crowded, especially on weekends.
The food here is good too, and there are several activities on offer, such as yoga and workshops.
The food here is delicious, and it's a great place for indie music lovers. They also have live Jazz music sometimes. Owl's Rooftop doesn't get overwhelmed with large crowds, so it's a bit towards the relaxing side.
The area is very long and feels spacious and airy. The menu and service are available in English as well, and the staff is friendly. All of this has earned this place a respectable 4.4 stars on Google reviews!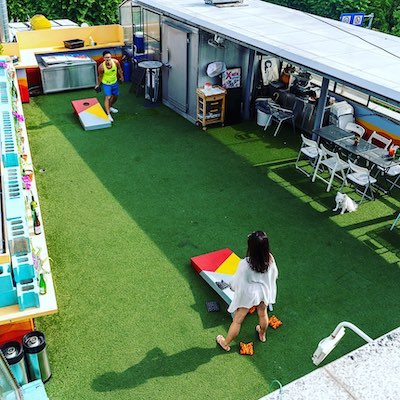 Southside Parlor is pet-friendly and also has a smoking area. The customer service is quick and friendly, and they have Hookah and even an arcade game as well.
The ambiance and food are Texas-themed. The nachos and tacos served here are very good, and the cocktails are very tasty, too, with several variations available!
However, this place can get a little pricey.
It has an easy-going and gentle vibe. The area is pretty spacious and has lots of leather couches to relax on.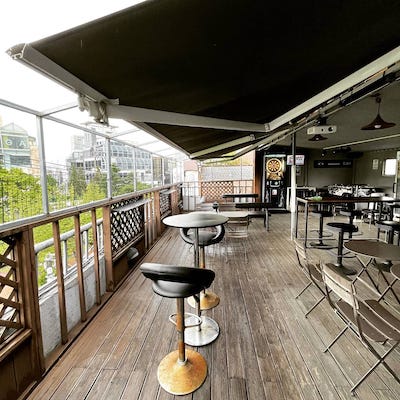 This is a big 'foreigner hangout' – visitors from other countries tend to gather here. As such, it is very friendly towards tourists and English speakers.
They also host language exchange nights, where you can meet new people and even learn a bit of Korean!
You can also play table soccer, Jenga, Nintendo Switch and darts here. A good place to play around with a group of friends.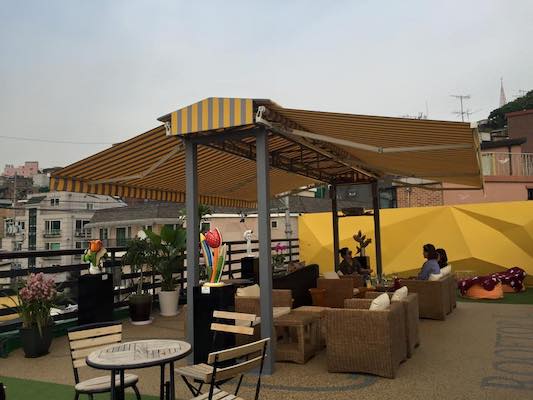 You can get a beautiful sunset view of the Namsan Tower from this rooftop. There are limited seats, and you might need to wait a bit before going to the rooftop, but you can always grab a snack or drink while waiting.
If you're feeling too cold, they will even provide a blanket.
The atmosphere is great, and you can laze around listening to slow jazz and enjoying your favorite cocktail or coffee.
The Griffin Bar is situated at the top of the JW Mariott Hotel. It has a great view and a lot of indoor seating space as well.
It's a great place to meet a small group of friends and feels high-end. The food and cocktails are great as well, but they can get expensive, though. The staff is very professional and friendly.
This place has a clean and modern design with massive windows that let in natural light. There is a massive open-air area as well, where you can unwind after a long week.
They have delicious Korean BBQ as well! The vibe is a bit towards the formal side but still cheery and inviting — a great location for business meetings.
5,997 total views, 3 views today