Seochon Village, often known as "West Village," is situated on the western side of Gyeongbokgung Palace. The neighborhood Jongno-gu is one of the oldest in Seoul. As a result, the ambiance is a blend of classic and contemporary Korean culture. The most eye-catching structures are those in the shape of hanok, which literally give visitors a glimpse of the ancient, glorious past.
Walking around the streets of this vintage village is the best way to take in its splendor.
How to Reach Seochon Village?
To reach Seochon village, you need to take subway line 3 of Seoul and get down at Gyeongbokgung Station. After that, use exit 2 to get to your desired destination.
What to Include in Your Trip to Seochon Village?
Seochon village offers a lot to its visitors, starting from gorgeous boutiques, top-quality restaurants, cafes, and several art galleries. However, the places mentioned below are unique and capture the true essence of this retro village and hence must be included in your to-do list.
Dae-O Bookstore, positioned close to Gyeongbokgung Station, is run by a lovely ever-smiling grandma named Gwon O Nam. This reputable store, with its antique decor and vintage collections, has managed to retain its heritage for the past 60 years. It is hence a place of nostalgia for many.
After it got featured in the Son Ye Jin and Kim Nam Gil starrer Korean drama "Sang-eo (Shark), the popularity of this vintage shop increased dramatically.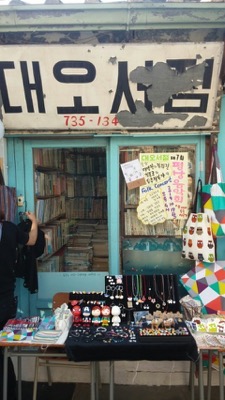 The entrance has also developed into a popular photo location for everyone as a result of its inclusion on IU's album and a photograph of RM from BTS lying on the ground.
There is a watermelon juice shop Ttaengmoppan, right next to the bookstore, and it is currently managed by grandma's grandson. We highly recommend enjoying the unique, refreshing drink while exploring Dae-O Bookstore.
Sejong Village Food Street
For food lovers, going to the Sejong Village Food Street is a must.
The bustling area is home to a range of Korean eateries, from small fruit vendors to big pubs. As a result, you get a ton of culinary options to choose from. Locals love to go on a hunt in this classic market environment, while first-time visitors to South Korea find the liveliness of the place fascinating.
While visiting this food strip, we advise sampling classic Korean soups, sushi, bossam, braised kimchi, spring rolls, and other seafood options.
Shopping at Tongin Market is one of the best ways to enjoy your time at Seochon Village. You will get a large variety of seafood, fresh fruits, street cuisine, snacks, and refreshments at affordable rates.
Everyone can enjoy this market, regardless of age. The best part is that you won't need to make much of a detour to get here because it's close to a number of popular Seoul attractions.
Yeopjeon Dosirak, on the 2nd floor, however, is this location's biggest selling point. Here you can enjoy several delicious Korean foods served in a lunch box using brass coins called Yeopjeon.
You can purchase yeopjeon and any other food you like from the market using cash.
King Sejong Plaque
King Sejong, the fourth ruler of the Joseon Dynasty, created the Korean alphabet. You can find his image in the green 10,000 KRW.
Naturally, his birthplace stone inscription is of great value in the life of locals. Tourists also flock together to pay homage to this honorary figure.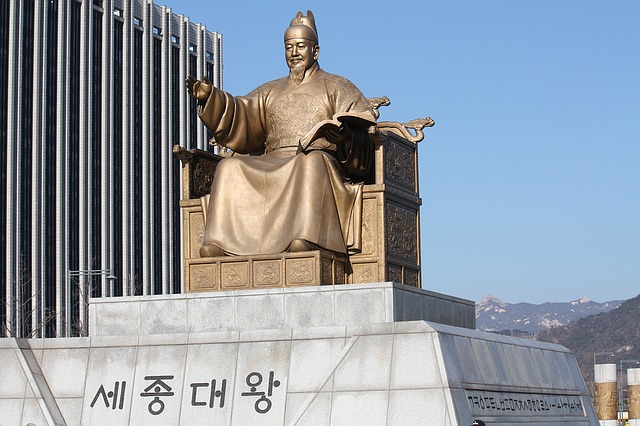 The plague is situated on Jahamun-or immediately after Jahamun-ro 9-Gil. To reach the place, you need to take exit 2 from Gyeongbukgung station and walk approx. 391 meters.
Related Posts
5,712 total views, 3 views today