Hangeul is the beautiful native Korean alphabet script. The Korean alphabet is the only writing system in the world whose creator and date of creation is known! October 9 is the birthday of Hangeul and is a special day in hearts of all Koreans.
Before the invention of Hangeul, Chinese characters, 'hanja' was used as written script in Korea. However, it was a difficult script especially for people with no access to education. This led to a great wave of illiteracy throughout the country. To resolve the issue, King Sejong the Great started developing a new writing system that was easy to learn and access. The script underwent three years of trials from 1443 and was officially completed in 1446.
What Does Hangeul Mean?
The word Hangeul is made up of two words – han (한) and geul (글). Han means great or big, and geul translates to a writing script. So, hangeul translates to essentially 'the great alphabet.'
Originally, it was called 'Hunminjeongeum', which translates to 'the proper guiding alphabet of the people.'
Hunminjeongeum was created with 28 letters in the original system. Over time, 4 letters have been dropped and the remaining 24 are now Hangeul. This writing script is easy to learn, convenient to use, and also uniquely scientific in its creation!
Hangeul Writing System
The Korean writing system involves combining 14 consonants and 10 vowels to form one-syllable blocks. Each vowel is made with a line or lines that represent the sky, the earth, and people. Each consonant reflects the shape of human mouth during the pronunciation.
Along with these consonants and vowels, there are 5 compound consonants and 11 compound vowels for the additional common sounds.
King Sejong: Creator of Korean Writing Script
King Sejong took over the throne during Joseon Dynasty in 1418. As a ruler, he was passionate about his people, intellectual pursuits, and wanted to improve lives of the common people. As a result, during his reign, Joseon Dynasty made lots of improvements in lives of their subjects all around. Ultimately, the king's achievements led to people referring him as 'King Sejong the Great'. You might also know him from his portrait on the 10,000 won bill!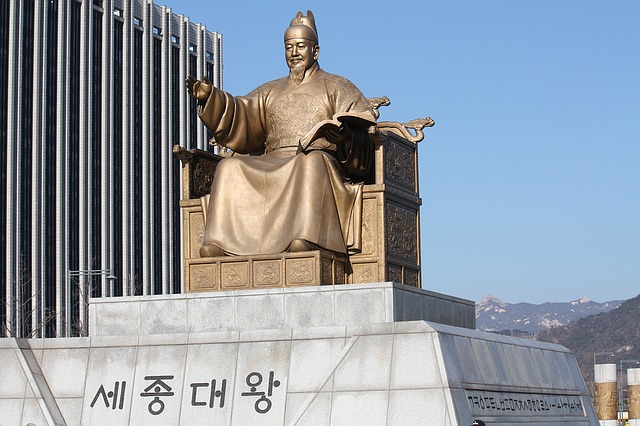 Experiencing Hangeul
Visit the Naitonal Hangeul Museum in Seoul to learn more about the history of hangeul and changes over time. There are unique activity zones where you can play and learn the script.
You can even learn to write and read your name in Hangeul!
You can also check out online videos if you want to learn the Korean writing script hangeul!
Read more interesting articles about Korean culture from KoreaTravelPost:
7,490 total views, 3 views today