K-ETA or the Korea Electronic Travel Authorization is now a travel essential document for people entering the Republic of Korea from a visa-exempt country.
South Korea has launched K-ETA, which is known as the Korea Electronic Travel Authorization system, to cover the travel of people coming into the country from September 1, 2021. Since most visa waivers for most countries were adjourned when the COVID-19 pandemic peaked in April 2020, this K-ETA form will be necessary for travel. People overseas planning to travel to Korea need to obtain electronic approval before entering the Republic of Korea by submitting related information online such as their travel information and details.
Visa-free abroad invitees need K-ETA approvals to obtain the boarding pass and to enter the Republic of Korea. The K-ETA will be effective for several trips over two years, and the application fee is 10,000 KRW/person. For K-ETA pass documentation, all you need is a valid passport, e-mail address, fee, and photo ID.
With this form, you can move around freely after submitting the arrival card, making the whole immigration process much more manageable.
Is K-ETA Essential?
It is necessary for nationals of 66 visa-waiver countries and 46 designated visa-free entry countries whose strategy is to travel to the Republic of Korea. However, due to the pandemic, from September 1 onwards, all these people will need to apply for the authorization before travel. 
South Korea K-ETA Requirements
The process for the Priority entry applicants will use both previous visa issuance methods and K-ETA Application. The official K-ETA website i.e., www.k-eta.go.kr available in languages such as Korean, English. You can also access it through the mobile app and apply 24 hours before traveling.
If you are planning for a group of travelers, a representative can apply up to 30 people, and the charges per person are KRW 10,000.
One such mandatory rule is to follow the Quarantine of 14 days for all overseas tourists to Korea.
Upon coming, the submission of the PCR Negative Test Result documentation is different from that submitted for visa application. All tourists need to get the test and carry the certificate before leaving for Korea. Those who do not present the report or present an invalid document will be denied entry into Korea.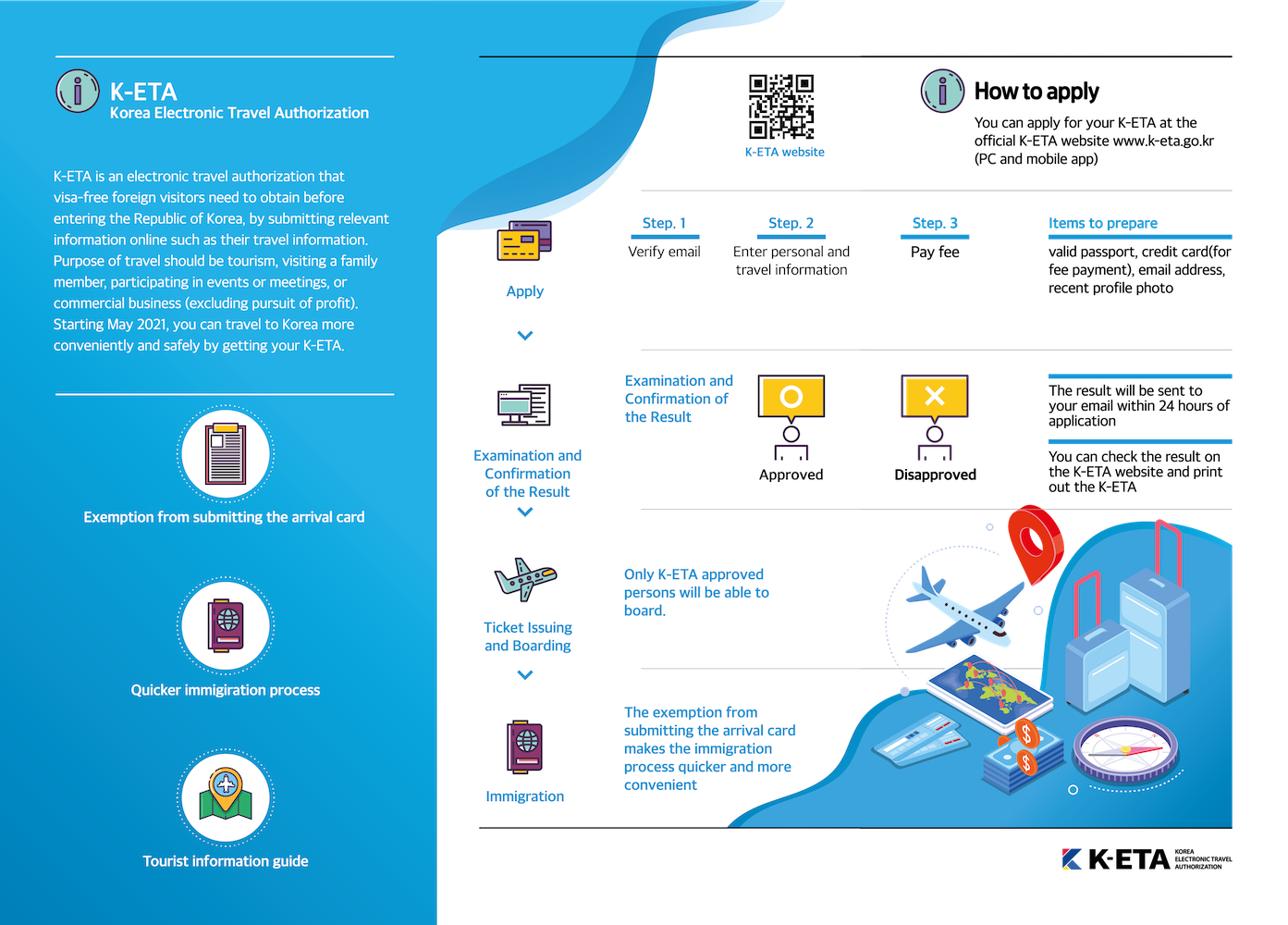 A Brief Look at K-ETA
The Republic of Korea and 112 other countries have signed a visa-waiver agreement (Subject to change depending on the COVID-19 situation)
Application Instructions: 24 hours before departure, apply via the K-ETA homepage/mobile app (www.k-eta.go.kr)
Cost: 10,000 KRW ($90.10) plus a separate fee (300 KRW)
Validity period: 2 years from the date of authorization (In case of changing important information such as passport information, you will have to re-apply)
Effective: September 1, 2021 (Pilot operation: May 3, 2021–August 31, 2021).
Don't forget to check out these other South Korea travel posts:
11,956 total views, 5 views today