Are you a fan of Kdrama "Destined With You" and dreaming of a trip to Korea? Look no further! We've got the inside scoop on the filming locations that brought "Destined With You" to life. Pack your bags and get your cameras ready – these spots are pure perfection!
Explore These 5 Magical Filming Locations of Kdrama "Destined With You" in Korea
The Kdrama "Destined With You" is a fantasy, romance, and comedy-packed series that has captured viewers' hearts worldwide.
It follows the captivating love story of Jang Shin Yu (Rowoon) and Lee Jong Ho (Jo Bo Ah), who become connected when they discover an ancient wooden chest containing a forbidden book. This book holds the key to breaking an ancestral curse, setting the stage for a sweet and delightful romance filled with earnest wishes and an unbreakable fate.
With the stellar cast lineup of Jo Bo Ah, Rowoon, Ha Joon, and Yura, Kdrama "Destined With You" pulls out all the stops. But here's the cherry on top – awe-inspiring filming locations.
Experience the Magic of These 5 Enchanting Filming Locations
1. Pohang City Hall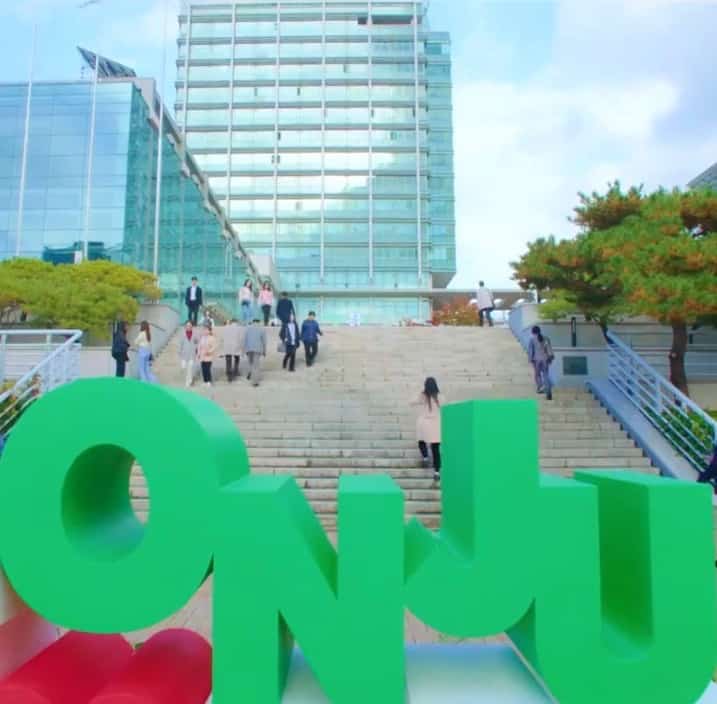 Located in the tourist city of Pohang, known for its marine culture, we have Pohang City Hall, also known as the Pohang City Office, for the first filming location. The building, with stunning architecture and picturesque surroundings, is located in the Daejam neighborhood of Pohang's Nam District.
The City Hall is a prominent location in the drama, serving as the administrative hub for the city and the workplace of the main characters, the Onju City Hall. The real-life setting of Pohang City Hall adds authenticity to the series, creating a captivating backdrop for the unfolding drama and allowing viewers to feel more connected to the story.
Address:
1 Sicheong-ro, Nam-gu, Pohang-si, Gyeongsangbuk-do, South Korea.
경상북도 포항시 남구 시청로 1 (대잠동)
Geolocation: 36.019176, 129.343310
2. Ohnunone [오눈오네]
Next on our list, Ohnunone café is located just outside of Seoul, in the direction of Gimpo Airport. Opened in 2020, the café provides a spacious, peaceful environment across two floors. The café features an inviting interior, with a refreshing breeze through the panels. You can relax on the ground floor or go up to the upper level to enjoy the views while savoring your food. The menu offers a variety of delightful treats like pasta, sandwiches, coffee, tea, beer, and wine.
In episode 9 of "Destined With You," Lee Hong Jo (Jo Bo Ah) meets Kwon Jae Kyung (Ha Jun) at a café to see if her love spell has worked. Meanwhile, Lee's friend Jang Shin Yu (Rowoon) suspects something may have gone wrong with the spell, creating anticipation and intrigue for viewers.
Address:
137 Munbal-ro, Paju-si, Gyeonggi-do, South Korea.
경기도 파주시 문발로 137 (문발동 530-3)
Geolocation: 37.706759, 126.685954
3. Pohang Space Walk
Next is Pohang Space Walk in Hwanho Park, Pohang. It is a walkable art installation designed by two German artists. It weighs 317 tons and stands at a height of 333 meters. The installation features a fantastic steel track with twists and turns. You can experience breathtaking views of Youngil Bay and Youngildae Beach while walking along the 717-step trekking trail. Additionally, you can enjoy the incredible sunsets and sunrises in the area.
In episode 8, Lee Hong Jo and Jang Shin Yu visit Pohang Space Walk during their fake date. She helps Jang Shin Yu to come down from Space Walk in Hwanho Park.
Address:
30, Hwanhogongwon-gil, Buk-gu, Pohang-si, Gyeongsangbuk-do, South Korea.
경상북도 포항시 북구 환호공원길 30
Operating hours
Weekdays: 10:00 -16:00 / Weekends & public holidays: 10:00-17:00
Geolocation: 36.0651, 129.3903
Read also: Where to Stay in Pohang – 5 Best Hotels
4. Igari Anchor Observatory [이가리 닻전망대]
Igari Anchor Observatory is located in Iga-ri, Cheongha-myeon, Buk-gu, Pohang-si. It is shaped like an anchor and overlooks the beautiful beach and blue sea pines. The observatory is 10 meters tall and 102 meters long, providing a panoramic view of the open sea of Pohang.
In episode 11 of the drama "Destined With You," the characters Lee Hong Jo and Jang Shin Yu visit this place to watch the sunrise on New Year's Day. They unexpectedly run into Kwon Jae Kyung, who reveals that this is his favorite place to come to on New Year's Day.
Address:
Iga-ri, Buk-gu, Pohang-si, Gyeongsangbuk-do
경상북도 포항시 북구 청하면 이가리
Operating hours 09:00-18:00 (June-August 09:00-20:00)
* Admission may be limited during adverse weather conditions.
5. Now Here Café (지금이곳)
Lastly, we visit Now Here, a multi-level café in Incheon, near Seoul. It offers coffee and desserts and serves as an art gallery with regular exhibitions. The café offers a unique experience where art and gastronomy come together to inspire and transport visitors to another realm.
In episode 6 of the drama, Lee Hong Jo (Jo Bo Ah), Yoon Na Yeon (YuRa), and Jang Shin Yu (Rowoon) meet at Now Here café.
Address:
Now Here Café (지금이곳)
324-9 Unnam-dong, Jung-gu, Incheon, South Korea
Also find: 10 Best Restaurants in Incheon
Related Posts
563 total views, 4 views today