Whether you're a casual fan or have been following every intricate detail of the show, Business Proposal has left you with an insatiable thirst for Korean culture. The good news is that South Korea is welcoming tourists once again, which means you may go to the filming sites of your favorite drama. Here are 10 breathtaking filming locations from the making of the Business Proposal.
Business Proposal Filming Locations
The famous Lotte World is the home of Kang Tae-mu and Shin Ha-ri's bumper car, merry-go-round, and corn dog date. If you like theme parks, Lotte World is a must-see in Seoul. Aside from rides on both floors and outside, the facility also features a shopping mall, folk museum, ice rink, and even a hotel. Don't forget to try some corn dogs like Tae-mu and Ha-ri did while you're visiting.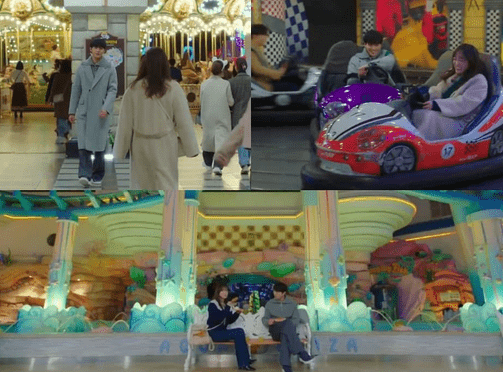 Remember when Tae-mu bought Ha-ri a huge bouquet of flowers while avoiding the rain back in episode three? The Yangjae Flower Market, which was the site of this sequence, is located in Gangnam and is easily accessible. The largest flower market in Korea, the Yangjae Flower Market, has a vast selection of fresh-cut flowers, potted plants, and other gardening necessities. If it's raining while you're visiting, see if you can tell carnations from lisianthuses.
Sokcho, Gangwon-do
Tae-mu and Ha-ri's fake business trip was mostly shot in Sokcho, a lovely seaside town located in the northeast of Gangwon Province. The city is largely underappreciated, but it's ideal if you want to get out of Seoul for a bit. This is a great spot to go on a day trip and see the spectacular Seoraksan National Park (that's ideal for trekking and has stunning fall foliage), natural hot springs, and lovely beaches. Many people also come here for their fresh seafood.
Songwol Memilguksu
Reminisce about the noodle shop that Ha-ri made a mad dash to get to but wasn't able to dine at? The restaurant is a real noodle store that the Gangwon-do locals highly praise. Some say it offers really delicious buckwheat noodles, soba, as well as tofu and beef broth!
Yangyang Surfyy Beach
The beach where Tae-mu attempted to impress Ha-ri with a food truck during their 'business trip' is known as Surfyy Beach. The beach is also located in Gangwon-do and is a sought-after surfing destination. Even if you don't surf, the area is filled with cabanas and lounging areas for you to unwind in and take advantage of the sea air.
p/s: don't get your hopes up about seeing the burger stand unless you're good friends with Tae-mu.

Remember the touching moment when Tae-mu confided in Ha-ri about his childhood memories, including how his grandfather used to remark that Namsan Tower resembles a Christmas tree? This tender scene, as well as a later shot when Ha-ri makes her way there, may be seen from a hospital window. The Namsan Tower, which is an iconic landmark and a must-see while in Seoul, can be reached by purchasing tickets on Klook and climbing to the top for a panoramic view of the city. We recommend visiting around sunset so you can see Seoul during the day and at night, just like Ha-ri did.
Cafe Sandeul Hill
The cozy restaurant featured in the drama isn't really a fried chicken restaurant, as the fried chicken sold at Goobne, the Ha-ri family's restaurant, appears to be delicious. It's actually a vegan bakery in Daegu's Manchon district that serves equally as comfortably and cute. The cafe is also dog-friendly, so you can bring your furry friend along for a treat.
Maeul Dabang
This isn't really a bar, but it's the place where Tae-mu and Ha-ri had their first date. Maeul Dabang is actually an old hanok in Suwon that was converted into a restaurant serving traditional Korean food like galbi tang (beef rib soup) and bibimbap. The restaurant is only open for lunch, so be sure to make reservations beforehand if you're planning on visiting.
Meongteongguri Jeugseok Tteokbokki
Are you traveling to Seoul with a buddy? Add Meongteongguri Jeugseok Tteokbokki to your food list so you can replicate Ha-ri and Young-seo's hearty dinner here! This modest tteokbokki restaurant is located in the Nowon District of Seoul, which is only a stone's throw from the Seoul National University of Science and Technology. It was also a filming location for True Beauty, so if you like both dramas, this is the place to go! When dining at Nobu, be sure to leave a message or sign your name on the famous scribbled walls – it's a long-standing practice of the restaurant.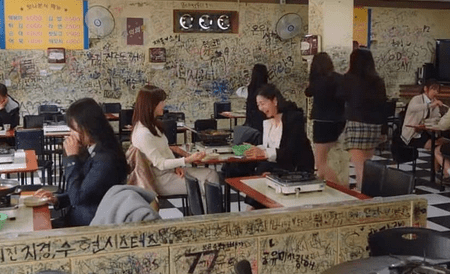 Remember how Tae-mu took Ha-ri out to supper at a nice restaurant? The River Bella Cucina is a cozy Italian restaurant with views of the lovely Hangang River that was featured in this scenario. You may have a romantic meal here. Maybe you can book a romantic supper here if you're going to Seoul with your partner!

Moromikushi Gwanggyo Cafe
In the early episodes of the drama, Sung-hoon and Yeong-seo ran into each other at a Japanese restaurant in Suwon, Gyeonggi-do province. Sashimi, yakitori, and traditional Japanese meals like gyudon, udon, and yakisoba are all available here!
Yeonnamjang
The three-story complex used as one of the filming locations in Business Proposal, which is not a restaurant, in reality, is located in Seoul. The building boasts itself as a local creative hangout and includes a cafe-restaurant, shared workspace, and private recording studio for live performances. The luxurious dining room on the premises is quite popular and serves up European cuisine! You are welcome to drop by for lunch, provided it isn't prepared by Chef Min-woo.
We hope you enjoyed reading about these filming locations from Business Proposal! If you're planning a trip to South Korea, be sure to add them to your itinerary!
11,481 total views, 9 views today