Namsan Tower, also called Seoul Tower, is an iconic Seoul landmark with panoramic views of the city. It provides a breathtaking view of the Seoul cityscape and the Han River day and night, making it Korea's number one tourist destination. It's a tower that rises above the city of Seoul, both an observation and communication station located on Namsan Mountain at the city's geographical center. Topped by its observation deck, N Seoul Tower is a highly visited tourist attraction and one of Korea's most popular sights. It is also a hotspot among locals for meeting up.
N SEOUL TOWER: An Overview
N Seoul Tower was built in 1969 as Korea's first transmission tower to help with television and radio broadcasts. The communication function is no longer relevant as most broadcasting has gone digital, but the tower remains a popular tourist destination for its incredible cityscape views. The tower is also home to a number of restaurants, cafes, and shops.
The N Seoul Tower observation deck is open to the public and offers 360-degree views of the city. It is possible to see Incheon in the west and Bukhansan Mountain in the north. The view at night is just as stunning, with the city's lights twinkling below. You can take some great photos from N Seoul Tower. It is one of the best vantage points for seeing the city from above.
How to get there?
Namsan Tower is a quick trip from the city that it's easy to tack on to any excursion. As you zip from place to place, seeing what there is to see in Seoul, do NOT miss this lovely location as you flit from one sightseeing spot to the next.
By Cable Car
Take the subway to Myeong-Dong station. When you come upon the Pacific Hotel, walk for about 15 minutes keeping to your right. Take the elevator to reach the boarding station. The cable car operates from 10 am to 11 pm, with a journey time of around 7 minutes.
By Bus
You can reach the Seoul Tower by bus, which runs every 15-20 minutes. On the other hand, the buses do not stop in front of the tower. Depending on how quickly you walk, you'll have to climb up for up to 5-10 minutes uphill.
You may depart from Subway Line 3 at Dongguk University Station, exit through Exit 6 and take the bus 02 or 03 or 05.
Take the subway line 4 to Seoul Station, exit at Exit 9, and catch bus number 03.
Take subway line 4 to Myeongdong Station, then depart on exit 3 and ride bus number 5.
Reach Chungmuro Station on Subway Line 3 or 4, take Exit 2, which is directly in front of the Daehan Cinema, and take the bus number 5/2.
N Seoul Tower: What to See and Do?
LED Lights of Tower: The tower is lit up with different colors every night. The N Seoul Tower also includes a distinct cultural art experience within, such as the 3D experience. The N Seoul Tower changes color at night according to air quality, which the general public may view from afar.
360° view from the top observation deck: The N Seoul Tower is one of Korea's most popular tourist destinations for a reason – the views are spectacular. From the top of the tower, you can see all the way to Incheon in the west and Bukhansan Mountain in the north. The view at night is just as stunning, with Seoul's lights twinkling below. 
Love locks: Legend has it that your love will be everlasting if you write down your love story and lock it to the tower. You can see hundreds of locks at the foot of the tower.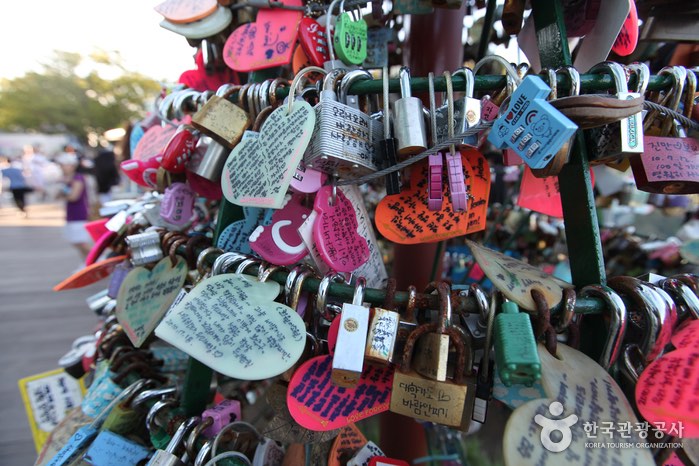 Namsan Park: The tower's base is surrounded by Namsan Park, a great place to take a stroll or have a picnic. It offers various services, including a botanical garden, a library, a pond, a snack bar, and many sports activities.
Namsangol Hanok Village: If you're a fan of traditional Korean culture, be sure to check out Namsangol Hanok Village, which is just a few minutes' walk from the tower. The village features restored hanoks (traditional houses), a traditional garden, and a folk museum.
What to eat?
There are a number of restaurants and cafes located in the tower, offering everything from traditional Korean food to Italian pasta. If you're looking for something sweet, be sure to check out the dessert cafe on the observation deck.
n-Grill
Take in a spectacular 360-degree view from this beautiful revolving restaurant located at the top of Seoul Tower. Relish the finest full-course French dinner or lunch with premium delights. This Korean restaurant allows you to soak up some of life's finer pleasures as you enjoy the stunning views. One complete revolution takes approximately 48 minutes.
HANCOOK
In HANCOOK, a historical Korean restaurant, you may sample a blend of contemporary and traditional Korean dishes. It is located on Tower 3F and offers guests 30 distinct types of Korean buffets, so they may pick from a wide range of options while enjoying some of the city's finest views. The goal of this establishment is to spread awareness about Korean culture.
N burger
N burger is is the best place for eating American-style burgers. You can savor some of the original American burgers from the 1930s at this location on Tower 1F.
Several Koreans consider N Seoul Tower to be one of the top tourist destinations in the country. The views are simply amazing! Whether you're interested in traditional Korean culture, want to snap some great photos, or enjoy a good meal with a view, the N Seoul Tower is worth a visit.
8,712 total views, 2 views today