The best way to experience Dosan Park in Seoul is to explore the nearby attractions and enjoy the local cuisine at the cafes and restaurants.
The Dosan Park in Seoul is a great public space. It is home to a trendy street that was built to commemorate Dosan Ahn Chang-ho, a prominent Korean educator, independence advocate, and political reformer. He was arrested multiple times because he loved his country and wanted to fight for its independence. Ahn Chang-ho advocated for education reform and Korean independence. There is a statue of Dosan Ahn Chang-ho in the park, as well as a memorial hall dedicated to his memory.
Dosan Park is a beautiful landscape that commemorates Dosan An Changho's patriotism. It is located near some of the most exclusive restaurants and stores in Korea.
This place is also popular for its many new shops. Many famous people like to visit these shops. Restaurants and cafes that are successful in Korea often open branches near Dosan Park because they know that they will be popular when they do.
Top Places to Visit in Dosan Park
Dosan Ahn Chang-ho Memorial Hall
This is a must-see for anyone who likes in Korean history. In front of the hall, there is a Statue of Ahn Chang-ho. A beautiful statue was erected in honor of the man himself.
Hojokban is a modern Korean restaurant that serves unique food and is a perfect restaurant for foreigners who want to try something different. The word "hojokban" means a Korean folk item shaped like a tiger's legs. The flavors are wonderful, and they go wonderfully with soju. You may not only taste delicious Korean food here, but you may also appreciate the interior and colors that represent Korea's heritage.
The signature menu, "NY Seasoned Galbi," is cooked specially for 16 hours. People who like Korean food will know that the Korean galbi is famous. This menu is only available in limited quantities each day. The reason why this happens is that the meal has been cooked for a considerable length of time. Some popular Korean dishes are garlic-boiled pork, buckwheat noodles with perilla oil, truffle-based potato Korean pancakes, and Cheongdam dried laver rice balls.
The high-quality dim Sum of Dosan Park is among the finest in Korea. Goldfish Dimsum Cuisine has been a renowned Chinese restaurant on this street for a long time. It's ideal for conducting business meetings because of the clean restaurant atmosphere, decent cuisine, and kind service.
Some of the signature dishes at Goldfish Dimsum Cuisine are Har Gau, Radish Cake, Xiao Long Bao, and Prawn Toast. We recommend that you have these dishes with traditional Chinese tea.
Littleneck is a small town in Queens, New York. It tries to create a warm and bright space like the neighborhood and offers a casual menu with cute plates. Littleneck is all about presenting a 'Small New York in Seoul' to tourists. This restaurant is popular as a brunch spot, but you are welcome to eat there. Pollack creme pasta, sweet potato fries, house steaks, and Hawaiian salmon poke bowl are some of the most well-known dishes here. The first floor houses the bar and live music, while the second is for dining. Visitors may dine on the second floor or in a semi-basement.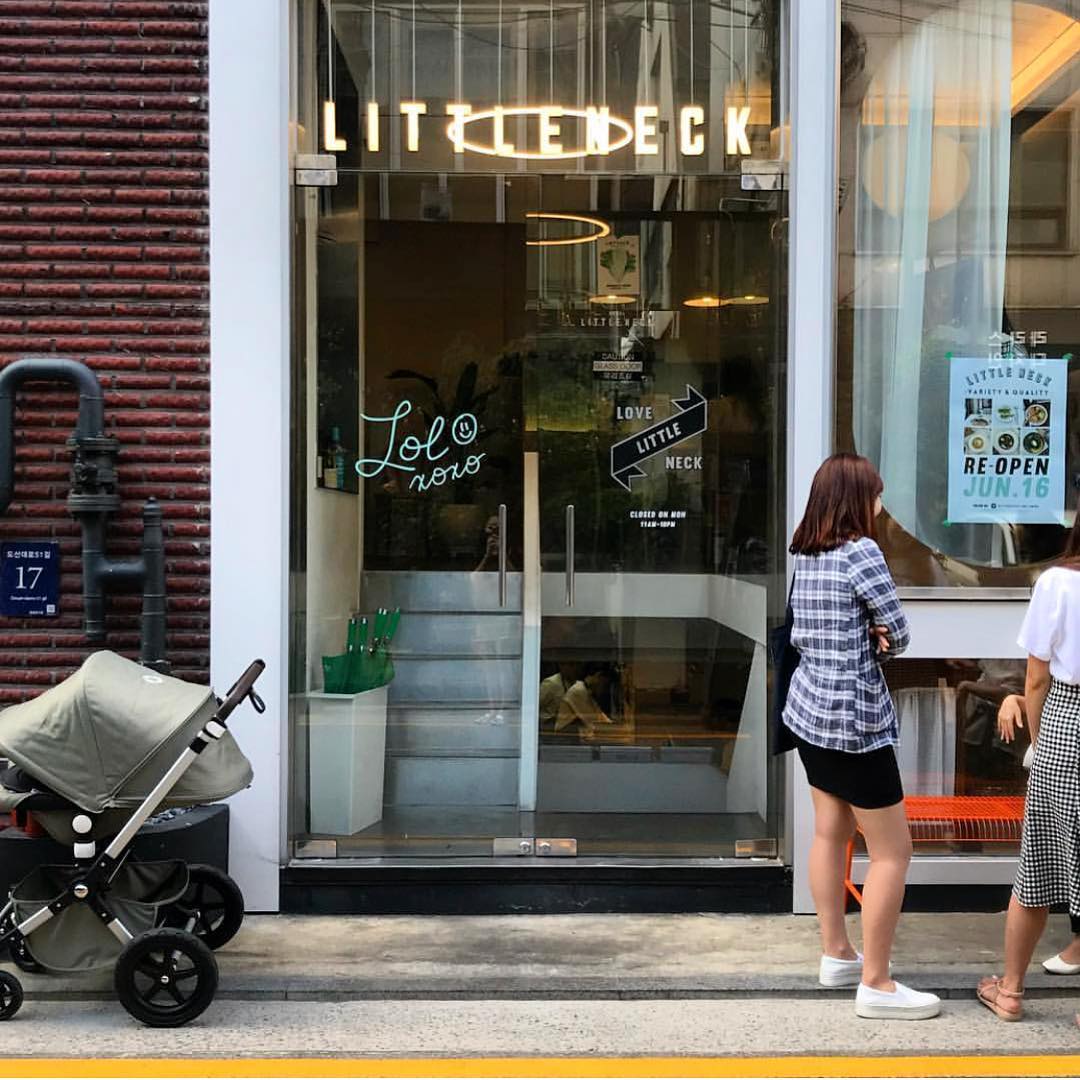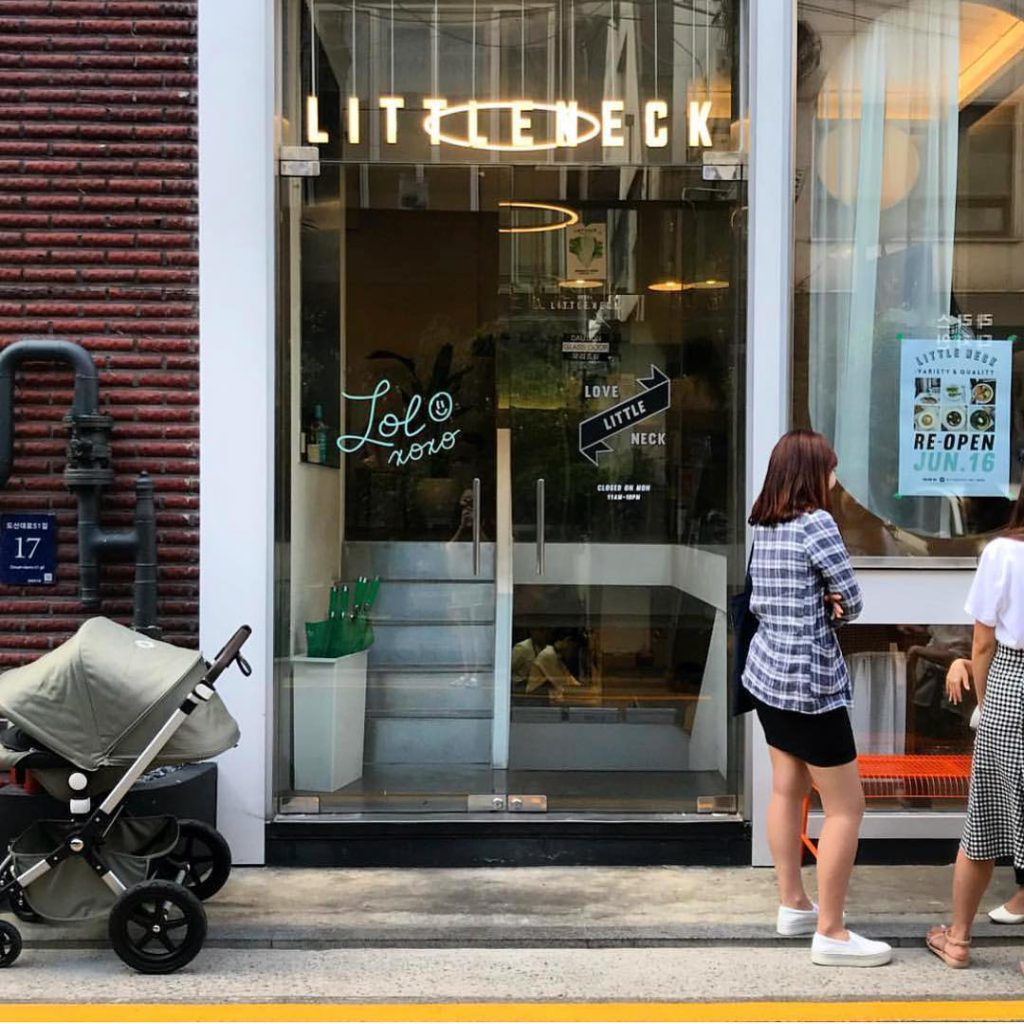 Beauty Grocery by Positive Hotel
Positive Hotel is a lifestyle brand specializing in food that makes our bodies healthier. They have just opened a new space called the Beauty Grocery, which offers beauty drinks, food, and products. It is located right next to Dosan Park in downtown Seoul. In addition, there is a Beauty Noodle Bar on the basement floor, a Beauty Grocery on the first floor, an S Body Work Pilates on the second floor, and Room service and Space Rental on the third floor.
Beauty Grocery has a Mediterranean diet menu. The most popular food options on the menu in this place are vegan yoga balls, Mediterranean detox salad, and skin protein bowl. They also offer meals from the Middle East, such as eggs in hell and hummus. Healthy beverages, including calamari juice or peppermint tea, are excellent as well.
One of the most famous places in Seoul for delicious carrot cake is a dessert café Ceci-cela. They serve by far the best carrot cake in Korea. This cafe has been popular amongst locals and tourists for about 14 years, even when many new cafes were created in Dosan Park. The terrace has a feeling of being in Paris, France. People like to eat waffles and pancakes here. But the most famous dessert is carrot cake which smells like cinnamon. The coffee at this shop is more expensive than other coffee shops in Seoul, but the coffee is of a higher quality. The terrace here is a great place to relax on a sunny day.
At Conte De Tulear, you may dine on delicious foods and beverages while listening to live music. You'll be able to have a wonderful time with delectable dishes, drinks, and many scents. "Conte De Tulear" means "Tulear's tale" in French. The business was inspired by an island in Madagascar. In the morning and afternoon, they serve coffee. At 5 p.m., they sell liquor and wine. It looks like a remodeled home from the outside, and you can also eat sweets inside and outside.
The influencers of Dosan Park make a beeline for this location on their travels. Salads, pasta, and kimchi fried rice are among the menu options. The distinctive dessert, however, is a dark chocolate-based "Chocolate Mousse." You can also purchase fragrant items such as scented candles and diffusers.
Cafe Knotted is a bakery in Dosan Park that specializes in doughnuts. It was initially a modest shop, but it grew so popular that it recently relocated to a bigger location. The Cafe Knotted menu includes 12 different varieties of donuts. You'll notice an impressive number of bread and cakes on display if you go there.
Dosan Park is a famous and popular destination among Koreans and foreigners – and the cuisine and shopping are unrivaled. When arranging your holiday, be sure to add these top destinations to your itinerary!
5,366 total views, 9 views today