Oryukdo, Songdo, and Cheongsapo are the three major skywalks in Busan that offer a spectacular view of the city, sandy beaches, and the vast ocean!
With its delectable food, striking landscape, and lively culture, it's no wonder Busan is the most sought-after destination for travelers venturing to South Korea. As the country's second-largest city, Busan offers an extravaganza of attractions waiting to be explored. Are you attempting to determine the best way to take in Busan's breathtaking views? Then take a look at their three main skywalks, which provide amazing panoramic views of the surrounding area. Come explore all that these awe-inspiring structures have to offer! So without further delay, let's investigate Busan's three main skywalks you won't want to miss on your next visit.
Enjoy an exhilarating experience by visiting the iconic Oryukdo Skywalk, one of Busan's most beloved attractions! Set on the eastern coast, this skywalk offers breathtaking views over the ocean and gets its name after its counterpart – The Oryukdo Islets. You can even spot these small islands from your vantage point on a clear day at the skywalk!
The skywalk's reinforced glass composition allows travelers to look down and observe the waves crashing against the cliffs below. For those feeling courageous, a section of the skywalk features metal grates instead of glass for a more thrilling experience.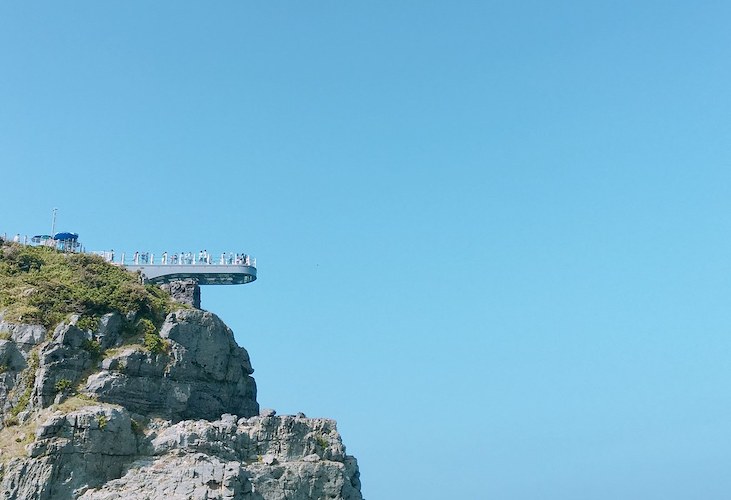 Even if you're not willing to stand atop a metal grate, the breathtaking views from the Oryukdo Skywalk are incomparable. You can see the rugged cliffs, rocky formations forming part of this coastline, and an extensive ocean view. Plus, all visitors can access unparalleled panoramic scenes of Haeundae Beach – Busan's most beloved shoreline.
The Songdo Sky Walk: Walking on Cloud Nine
Seeking a tranquil skywalk experience? Look no further than the Songdo Ski Walk in Busan's Songdo Beach area. Declared for its calming environment and captivating views, this destination is ideal for taking in some serenity while admiring the beauty of nature.
Stretching over the swells of Busan, the Songdo Sky Walk is a 365-meter skywalk like no other. Constructed from wooden planks and designed to sway ever so subtly with each passing step, it's an unparalleled experience that needs to be felt to be fully appreciated.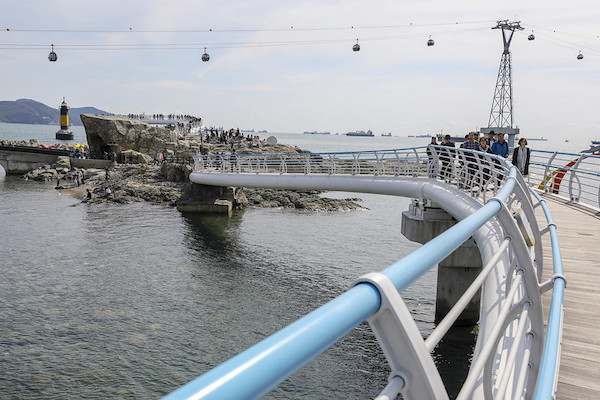 The spectacular Songdo Sky Walk offers an awe-inspiring view of the famed Songdo Beach and its captivating cerulean waters. Upon taking in this stunning sight from above, you can take in the entire length of the beach with its velvety white sand, along with the enchanting surrounding cliffs and emerald hills.
But the mesmerizing sights from Songdo Sky Walk are not restricted to the beach. You can also glimpse Gamcheon Culture Village, an adored tourist destination in Busan, renowned for its vibrant buildings and winding paths. From up high on the skywalk, it makes for an awe-striking scene.
The Cheongsapo Daritdol Skywalk: Stepping into the Future
Since its debut in 2017, the 20-meter tall and 72.5-meter long skywalk has been adored by travelers near and far for its proximity to noteworthy hotspots like Cheongsapo, Songjeong and Mipo Railroad. Its accessibility adds even more value to this remarkable attraction!
Step out onto the Cheongsapo Daritdol Skywalk for a one-of-a-kind experience that is simultaneously modern and futuristic. Constructed from steel and glass, you'll be treated to glowing LED lighting along its sides in the dark of night, creating an immersive atmosphere like no other in one of the best Busan skywalks.
You can see the breathtaking scenery of Wido Island and Jangsan Mountain from the spectacular Cheongsapo Daritdol Skywalk. On a clear day, one's gaze may wander to Heuksan Island off South Korea's southeastern coast.
Final Thoughts
While visiting Busan, you would miss out if you didn't experience the breathtaking views from one (or all!) of its three incredible Busan skywalks! From thrilling sensations to peaceful vibes, each skywalk offers something unique for travelers looking to make the most of their trip. So don't hesitate to stroll along these majestic pathways and create unforgettable memories that will last forever.
Related Posts
2,840 total views, 7 views today