If you are in Seoul and want to explore a new area, check out Hongdae. The area is a hipster's paradise with quirky restaurants, excellent clothing shops, and eclectic cafés. There is so much to do here that it will be hard to leave! Explore the streets of Hongdae for yourself by following these 10 suggestions on what to do in Hongdae.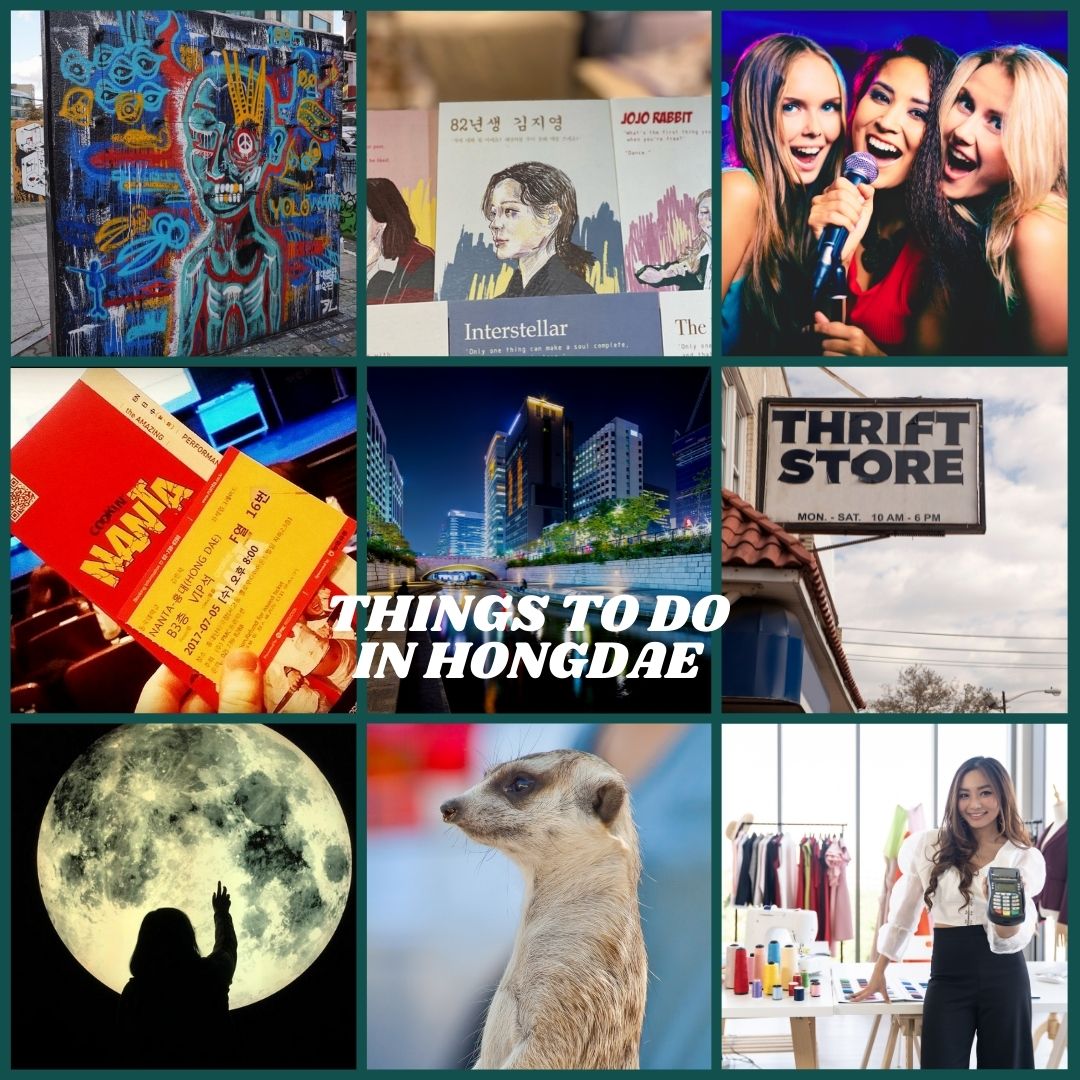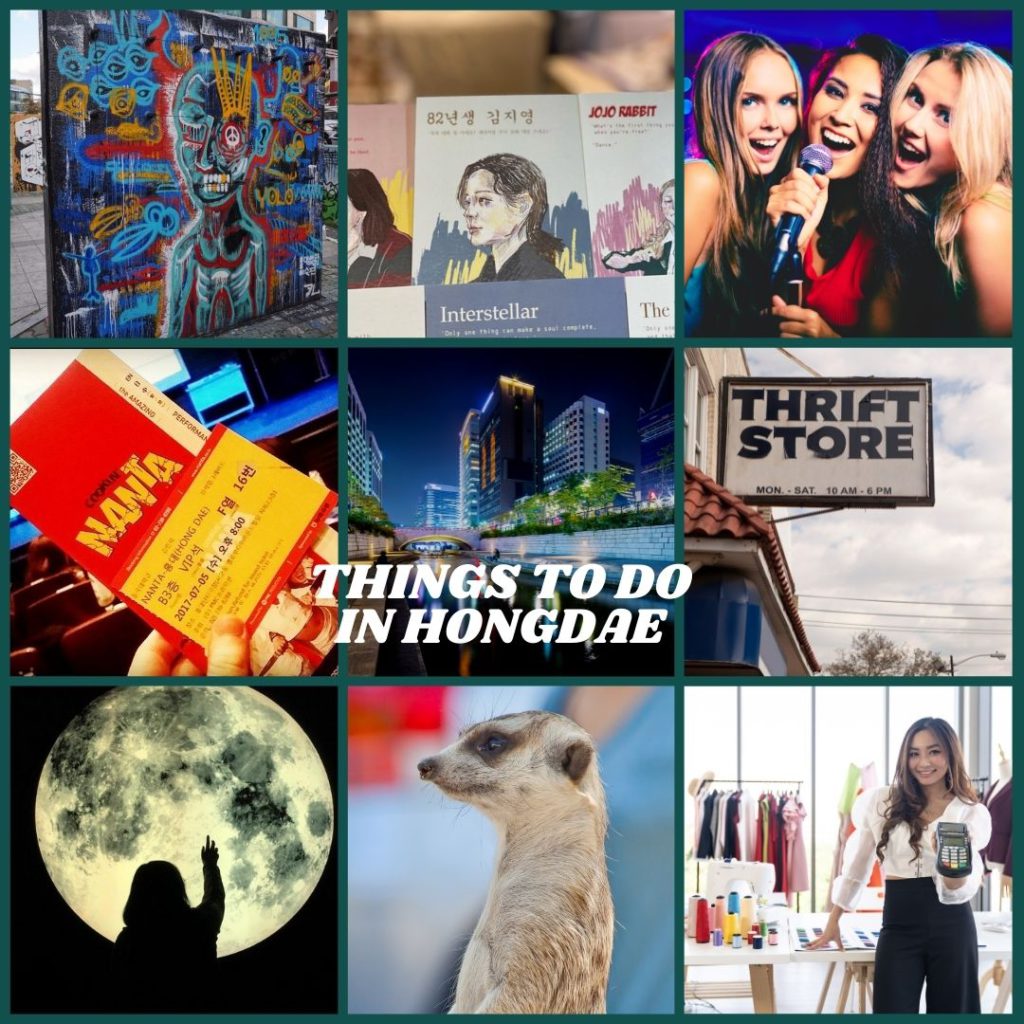 Take the stage for one night and be a pop star
At Noraebangs in Hongdae, feel free to stretch your vocal cords! You're probably wondering what a Noraebang is. It's essentially a song room where you can go with your friends or on your own and sing your heart out, as most Koreans do.
There are several Noraebangs in Hongdae's main street. It's exactly like karaoke, with a few modifications. The only distinction is that you get to choose who goes into the room with you! It's a fantastic and unique experience, so you should try it at least once.
Nanta is a Korean comedy show that will have you rolling on the floor. The actors wear costumes like everyday people, such as construction workers and gardeners! They poke fun at South Korean cultural norms with their hilarious acts.
The NANTA Theatre's performance is entirely non-verbal. The actors and actresses use their performances to express strong emotions, which pique the audience's interest. You will be enthralled and amused from start to end! This is undoubtedly one of the most important attractions to see while in Hongdae.
If you choose one of the front seats, don't be surprised if you're requested to participate.
Snap some tricky photos for Instagram at Trick Eye Museum Seoul
The Trick Eye Museum is where you can experience art in a new light! The museum has optical illusions that will have you testing your photography skills. You'll be able to perform all kinds of tricks with mirrors, such as laying on the floor to get a bridge-like sensation. It's like stepping into your favorite painting of characters or landscapes and becoming part of it.
Some other exhibits include walking on water, being a fly on the wall, and swimming with dolphins. The museum is open all day, so check it out! It's in the middle of Hongdae, so it is very convenient to reach here from anywhere in the area.
Get a taste of the local street art at Hongdae Mural Street
If you want to see some of the best street art in Seoul, make your way to Hongdae Mural Street. This short alley is crammed with murals from up-and-coming artists, so it's a great place to witness the latest trends in Seoul street art.
On the streets of Hongdae, whether it's the sturdy metal walls or unusual construction sites, they've all been painted in vibrant hues of the rainbow. When in Hongdae, it's impossible to ignore the graffiti on the walls of Mural Street. This is a gathering spot for budding artists who want their work to be acknowledged and use their ingenuity to make a significant statement about the world. Take your Instagram game up a notch with pictures you can snap in front of some very cool murals. Mural Street is just the right environment to fall in love with Hongdae.
Lose yourself to cuteness overload at Meerkat Café
Meerkat Coffee Shop is a café with two locations in Seoul, one of them being right here in Hongdae! It has an indoor playground where customers can crawl through tunnels and play on slides while enjoying food and drinks. You might even see some cute meerkats running around when you visit this place.
The café is decorated with meerkats in every possible way and even has a mini zoo. The staff is extremely friendly, so feel free to ask them any questions about this animal café or Seoul! It's the perfect place to take a break from sightseeing and relax with a cup of coffee and some adorable animals.
Shop at local fashion boutiques
Hongdae is home to many small, independent fashion boutiques that carry unique clothes that you won't find anywhere else. Support these businesses by shopping at them! You might find your new favorite outfit while you're there. Some popular places to check out are IAMNOTASTALKER, Koona, and ADRIFTERS.
Discover hidden thrift stores for incredible deals
If you love finding good deals on clothing, you'll love Hongdae. Many thrift stores in the area sell secondhand clothes at low prices to get unique finds for less! Look out for places like Good Morning City or Bebe Style Thrift Store.
Support local artists at HKfreeMarket
Being talented doesn't mean being famous or rich! If you are looking for ways to support struggling artists while having fun doing it, check out HKfree Market. The market is held once every three months where various artists can sell their artworks directly to customers. You can find all sorts of mediums here, such as paintings, drawings, sculptures, and photographs. The market is usually located near the Hongik University Station (Line 02).
Take a stroll down Hongkik University Street.
Students and young people are drawn to Hongkik University Shopping Street because it is a popular hangout place. There are many exciting things to see as this is a street situated next to the University with plenty of things to offer. It is home to hundreds of trendy shops, restaurants, clubs, cafes, and many more, all waiting to welcome you. Visiting here will give you a sense of what life is like around here and allow you to become more familiar with the culture of the people in this area. As a bonus, you can find some of the best Korean cuisines you've ever had at a fantastic price!
Experience the nightlife on Hongdae's streets
Hongdae is well-known for its fantastic nightlife. If you're looking to party, this is the place to be! Some endless clubs and bars will keep you entertained all night long. If you're a night owl, it's difficult to avoid the clubs' wonderful music. The youthful crowd from Hongkik University adds to the wild party atmosphere at the venue. Some Hongdae clubs keep operating past dawn, so you won't have to worry about where to spend the rest of the night once you've had as much alcohol as possible. Take your drink and hit the dance floor to dance along with the music until the sun rises, making the most of your stay in one of the world's liveliest cities. After all, it's not every other day that you find yourself in Hongdae, right? So, immerse yourself in the ambiance and enjoy the moment.
So, these are just some of the best things to do in Hongdae! This area is one of Seoul's most unique neighborhoods and offers an experience unlike any other in the city. Be sure to check it out when you're visiting Seoul!
6,192 total views, 7 views today