Koreans take their breakfast very seriously, and many of them believe that it isn't a good enough breakfast if it is not made in Korean style. This is one of the reasons the breakfast options in Korea have lesser fusion from the other parts of the world. Seoul, located in South Korea, has some amazing breakfast joints which can give you a guaranteed outstanding experience. Here is a list of breakfast options in Seoul for you to choose from!
Egg Drop has risen to fame in the social media world in recent times for their best pocket-friendly breakfast. The joint, which now has many branches, serves flavourful fulfilling scrumptious variants of breakfast options at a relatively low price. Their classic serving is an egg sandwich made of eggs, cheese and flavored bread. They have generous fillings with great taste, which makes them a must-try breakfast option.
Located in Yeoido, the Skyfarm is on the fiftieth floor of a highrise. The place is exquisite and serves a wide variety of food. Though it's an excellent place to visit any time of the day, the mornings here are extra beautiful due to the view from the place. You can easily view through the pane Han River while relishing your breakfast. This place is a little difficult to access as it has immense popularity and is often booked by celebrities. So, make sure to pre-book your seat if you wish to visit the place to avoid the last-minute hassle.
Fave Bakery attracts both locals and tourists with its amazing baking skills. The place serves the best-baked pastries and bread to start your day with. The bakery, which is located in Yeonnamdong, is a local favorite. They serve delicious puffs along with great desserts, which gives an excellent start to your day. The doughnuts here are soft from the inside, have a crispy exterior, and are served with a sauce of your choice. The most opted combination is a strong latte along with creamy Madeleine.
Famous Lamb, located in Hongdae, is a buffet restaurant. You can enjoy the unlimited buffet breakfast in Seoul if you reach the place before 11 am. The buffet comes as a cheap option to try on all the goodies, which otherwise you might get as a complimentary breakfast only if you stay in a good place. The food ranges from different types of bread, fruits, salads, fried bacon, coffee, and much more. The breakfast is generally made in Korean style.
Wonder Bread, located in Myeongdong Chungmuro, is your one-stop for choosing a variety of bread. The place is a small shop that has glass panes through which the bread is displayed. The bread is baked fresh early in the morning, so you can relish it without being concerned about its freshness. The pastries here are also worth giving a try. Korea is known for its amazing baking skills, and the bread and pastries here are proof. The special variety of bread is Volcano bread. The flavors of it are no less than a volcano in your mouth. Since it is a small shop, you have to place the order directly on the counter and wait for your food to be served.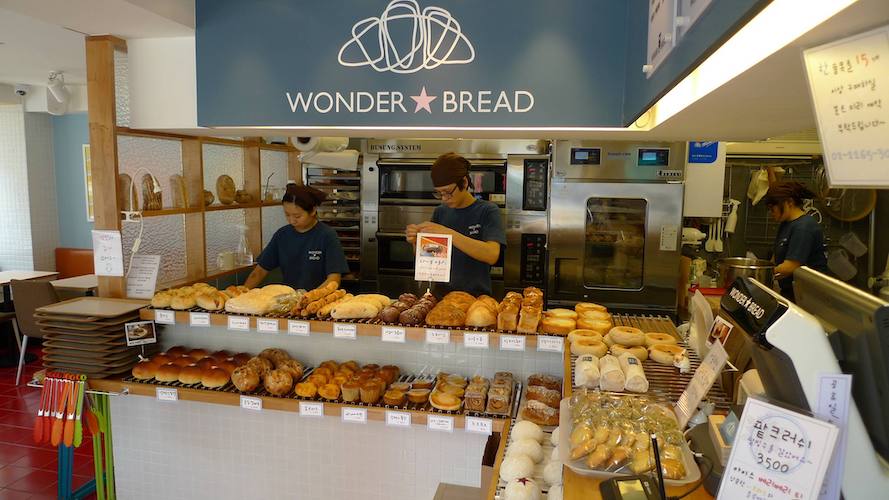 #6 Myeongdong Chungmuro: Juice &
Juice & located in Myeongdong Chungmuro is a small juice center. The place serves amazing fresh juices at a very low price. You can start your day with a very healthy juice that is light in your pocket. At Juice &, you can pick your desired fruit or fruit combinations from the displayed fruit boxes for your juice. They also serve fresh diced fruits if you prefer eating them over juices. The fruit variety comprises watermelons, strawberries, kiwis, mangoes and much more. They also serve good handmade yogurt of different flavors coupled with jam which makes it a good combination to enjoy.
The Untold Sweets is located in the busy streets of Jonggok. The cafe, which has a minimalist interior, has a modern outlook. Being located in a busy area, the café is flooded by office goers in the morning. It opens around 8 am and serves relishing breakfast to fuel up your day. They serve the best coffee in the place coupled with savory cakes and pies. Their best savory pies are fried chicken pies and minced beef pies, which, when coupled with a good strong coffee, can make you feel heaven on earth. The savory ones have a crispy exterior and flavourful fillings, which makes the dish the best breakfast option in Seoul. The cafe's apple pie is the best for the ones with a sweet tooth. It has a great flavor and is sweet enough to satisfy your sweetness cravings.
Mother In Law Bagels is a popular restaurant located in the middle of Ehwa. It is a franchise branch of the prominent Mother In Law, United States. They are known for their infinite bagel options, each one equally delicious to make you confusing enough to choose. The bagels here tease your palate in the true sense with a variety of flavors that are a combination of sweet, salty, tanginess and what not! They also serve other amazing dishes along with bagels. They are also fulfilling enough to go through the day with just one. The bagels here are prepared with traditional Jewish recipes, which clearly adds to the oomph factor.
Grain is a small café located in Seoul's Yeonnam doing, which is recently being known as the hub of eateries for youngsters. This place drives more youngsters due to the variety of combination food provided. Grain is located far away from the hustle and is a quiet place where you can enjoy your breakfast at peace. Their two main cuisines for breakfast are Nordic and Danish. Grain's Nordic breakfast plate comprises five tiny plates scrambled eggs, smoked salmon, sausage, avocado, homemade yogurt and fruit, and special bread. They also serve open sandwiches alongside roast beef, chicken salad, smoked salmon, coffee and much more. They serve all these dishes made up of fresh ingredients.
Bear's den is just as cute and quirky as its name. The dishes here also are named in a quirky fashion which is one of their ways to make the guest comfortable. This breakfast option in Seoul has been in rounds on several social media platforms for serving a different kind of bread. Just when you think about what more you can innovate other than the already existing classic bread variants, this restaurant has changed the game completely. They bring paintings to life on bread. They have attempted bringing classics like Van Gogh's starry night onto the bread loaf. The bread, as enticing as it looks, also is delicious. The best part of the restaurant, apart from being deliciously good, is the portion size. Order in your favorite plate of breakfast combination along with coffee and the desired bread to make your mornings shine brighter.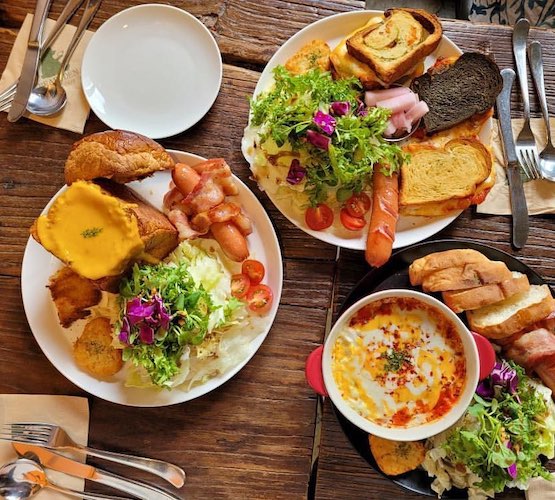 #11 Little Neck
Little Neck is a small restaurant located in Cheongdam. This mini restaurant makes you feel at home with both its interiors and the taste of the food served. They have the best kinds of homely food all time of the day. So, if you are someone who feels homesick after a point of traveling, this place might come to your rescue. They make sure to serve food made of only fresh ingredients, unlike the regular restaurants, which use canned ones for convenience, which is the prime reason this restaurant stands out. The interior of Little Neck is minimalist, with a few paintings of fruits and vegetables hung on walls along with hanging plant pots. This place is known for serving the best salads along with coffee, pasta and much more.
The Royal Food and Drink restaurant truly stands by its name. It not only serves the best food but also makes you feel special by offering a breath-taking view from their terrace. Located on the top of Haebangchon, the restaurant is surrounded by greenery. They serve fresh and healthy dishes, which are delicious. The place has a small menu of about eight dishes, and four of them are vegan. The sandwiches there are known to be the best. 
#13 Buttermilk
Café Buttermilk is a paradise for all pancake lovers. It is one of the best places in Korea that serves delicious pancakes just like the ones your grandma makes. It is a small place with minimal furniture but never fails to draw in the queue of customers daily. People tend to wait for over an hour to relish the good old pancake there or take it back home along with some lip-smacking side dishes. They also serve coffee, cereals, sandwiches, yogurt, etc. The unique dish of Buttermilk is cheese pancake which is filled with ricotta or gouda. Though people enjoy this variant of pancake, the old one remains the most sought after.
Café Able in Seoul is known for bringing farm-fresh goodies straightway to the table. They serve organic food without compromising on your palate. The café's menu looks like an easy read picture book with pictures of all the dishes printed and the names, making it easy to choose from. The dishes at this breakfast option in Seoul range from salads to pizza, pasta and other Korean dishes. They believe in serving healthy food. 
Butter Finger pancakes is a restaurant version of a shoe that fits all sizes. Having American-styled cuisine as their basic variant, Butter Finger Pancakes has a seemingly unending list of dishes to offer any time of the day. This breakfast option in Seoul opens up by 7 am and goes on till 3 am. Though they are one of the best choices for any meal, this restaurant has won the Best Breakfast award in a competition. Their special dish is a Giant Alligator made up of waffles with ice cream sandwiched between topped by whipped cream and jam. Doesn't this dish already leave you drooling? Another unique breakfast dish served here is T bone steak pancake.
36,097 total views, 6 views today