Enjoy 'Beauty Inside Seoul' with Song Kang, the new muse of VisitSeoul and visit some of the most wondrous sights of Seoul virtually! There are four different themes where you can choose to enjoy Seoul virtually with Song Kang. As you can see in the video, you can select any of the four different themes, including Genuine, Green, Chic, or Vibrant, and enjoy the 'Beauty Inside Seoul.' 
#1 Genuine
A journey into the history of Seoul, where beauty is passed down through the centuries. It is perfect for individuals who wish to take a break from their hectic daily routine.
Rakkojae
Converted from a 130-year-old hanok, Rakkojae is a traditional hotel. The hotel even has a pavilion and a pond, giving guests the impression that they've stepped into another era. Spend some time sipping warm tea while admiring the early light streaming through the windows of a hanok.
Seosulla-gil
Take Song Kang for a walk along Jongmyo Doldam-gil in Seosulla-gil. Seosulla-gil, which begins at Jongno 3-ga Station and continues to Seosulla-gil, is dotted with restaurants and cafes that evoke the spirit of old Seoul. Spend some time alone, like Song Kang, going along a stone wall with a camera to recharge your batteries.
Gyeongbokgung Palace
The majestic Gyeongbokgung Palace prompted Song Kang to take out his own camera to capture everything. Gyeongbokgung Palace, the largest palace built during the Joseon Dynasty, is brimming with genuine Korean splendor. Many buildings in Gyeongbokgung Palace, such as Geunjeongjeon Hall and Gyeonghoeru Pavilion, provide tourists with an insight into Joseon Dynasty royal culture.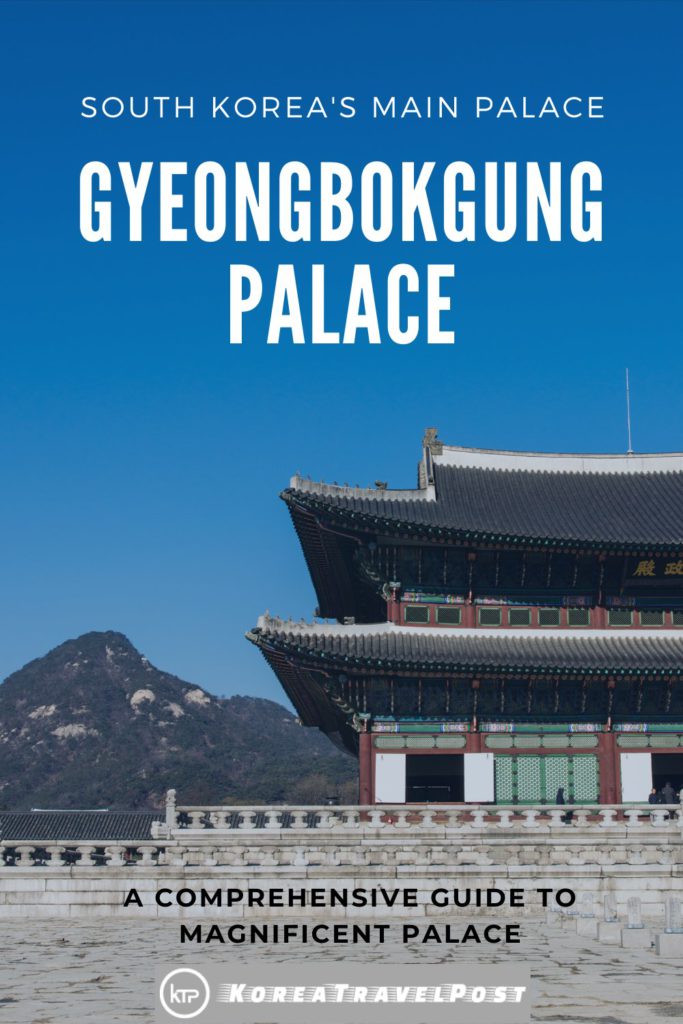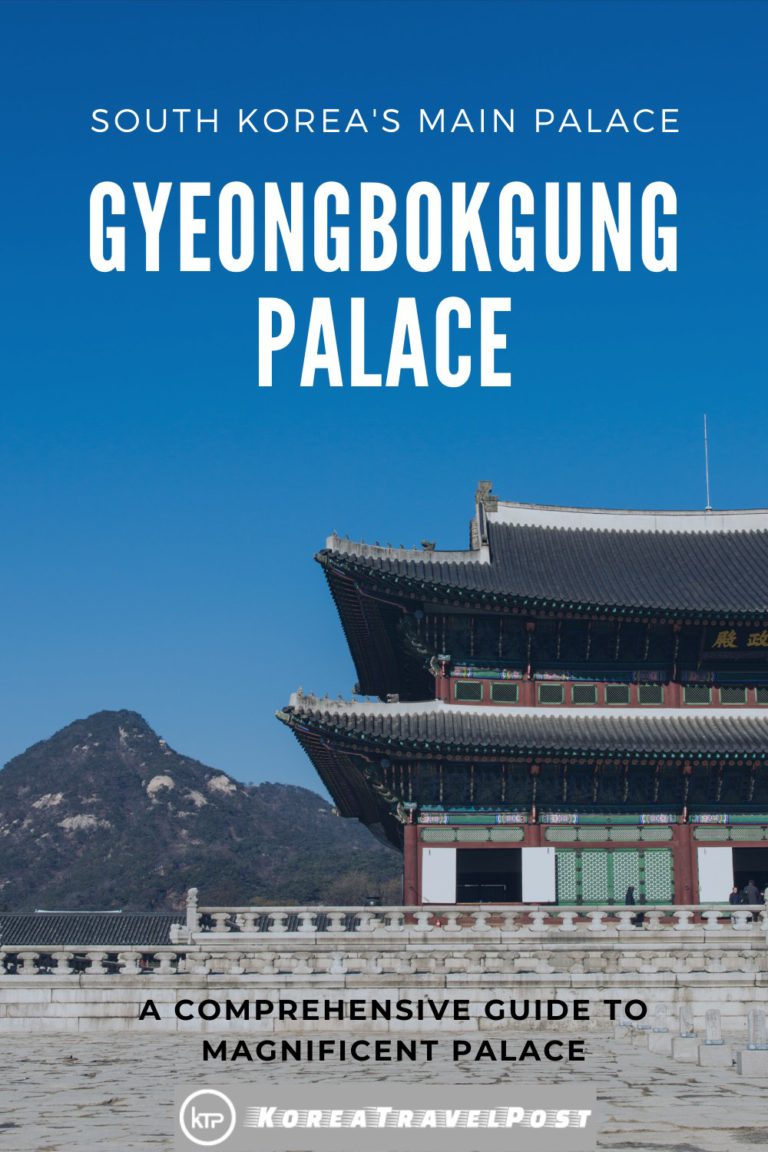 Balwoo Gongyang
This is Balwoo Gongyang, a temple-themed restaurant where Song Kang can indulge in sophisticated Korean cuisine. Traditional recipes are used to create authentic temple meals at Jogyesa Temple's Balwoo Gongyang. Heer at Balwoo Gongyang, Song Kang will serve you some delectable temple cuisine.
Yido Pottery
Song Kang is impressed by the fine porcelain at Yido Pottery. To create unique and one-of-a-kind ceramics, Yido Pottery handcrafts all of its goods. The delicate contours of their porcelain patterns epitomize luxurious Korean beauty.
#2 Green
A virtual getaway into the natural world of Seoul, where nature is a gift. It is perfect for individuals who are bored of the everyday grind.
Seoul Forest
Seoul Forest, which is lovely and serene in all four seasons, calms the minds of city dwellers. Located among the significant metropolitan structures, Seoul Forest allows tourists to take in fresh air while remaining close. On the Seoul Forest Trail, dress comfortably and walk alongside Song Kang.
Cheonsang Seongsu
Where does Song Kang go to unwind in the video for "Beauty Inside Seoul"? It's Cheonsang Seongsu, a greenhouse cafe where visitors may feel the warmth of the natural light on their skin. Green plants abound in the cafe, giving it a botanical garden vibe. Enjoy the smells of fresh coffee and delectable treats while surrounded by these colorful florae.
Cheonggyecheon Stream
The Cheonggyecheon Stream runs through the heart of the city, surrounded by high-rises. The relaxing ambiance of nature at Cheonggyecheon Stream is rejuvenating for everyone hustling and bustling in the city! Come sit back and relax while watching the cold water flow, the active fish swim, and the towering, healthy plants sway in the air.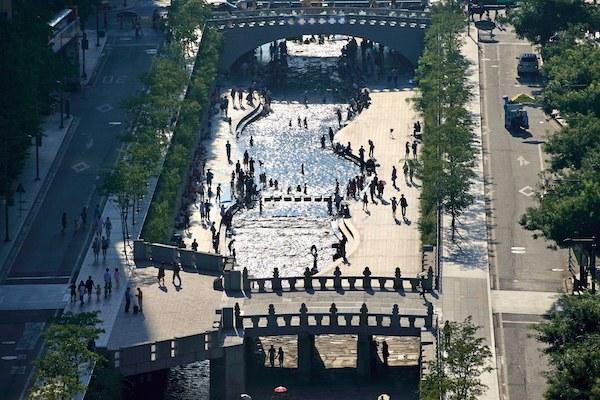 Seokchon Lake
The lake's strolling trail creates a relaxing ambiance. When walking through Lotte World and Lotte World Tower, visitors may see a variety of landscapes. Visitors can take a walk around Seokchon Lake and imagine themselves walking alongside Song Kang as he explores the city. Song Kang rides a Ttareungi public bike to Ttukseom Hangang River Park in his video. The sound of the rushing river and the presence of huge trees will instantly relax you. Relax and listen to the wind.
#3 Chic
Trends in fashion and beauty are top-notch and well-liked all around the world. It's a must-read for everyone interested in learning about Seoul's current trends!
Starfield COEX Mall
Starfield COEX Mall is home to international conferences as well as K-Pop Square, a popular hangout for K-pop enthusiasts from around the world. Visitors can also enjoy shopping, movie theaters, and aquariums in one convenient location, all of which complement the hip city lifestyle.
The Hyundai Seoul
Song Kang stands in front of a white, clean staircase in the film "Beauty Inside Seoul." The Hyundai Seoul in Yeouido, with its striking curving architecture, stands out. The natural light, bubbling water fountains, and bird sounds all blend together perfectly in The Hyundai Seoul, giving visitors a novel sense they've never had before.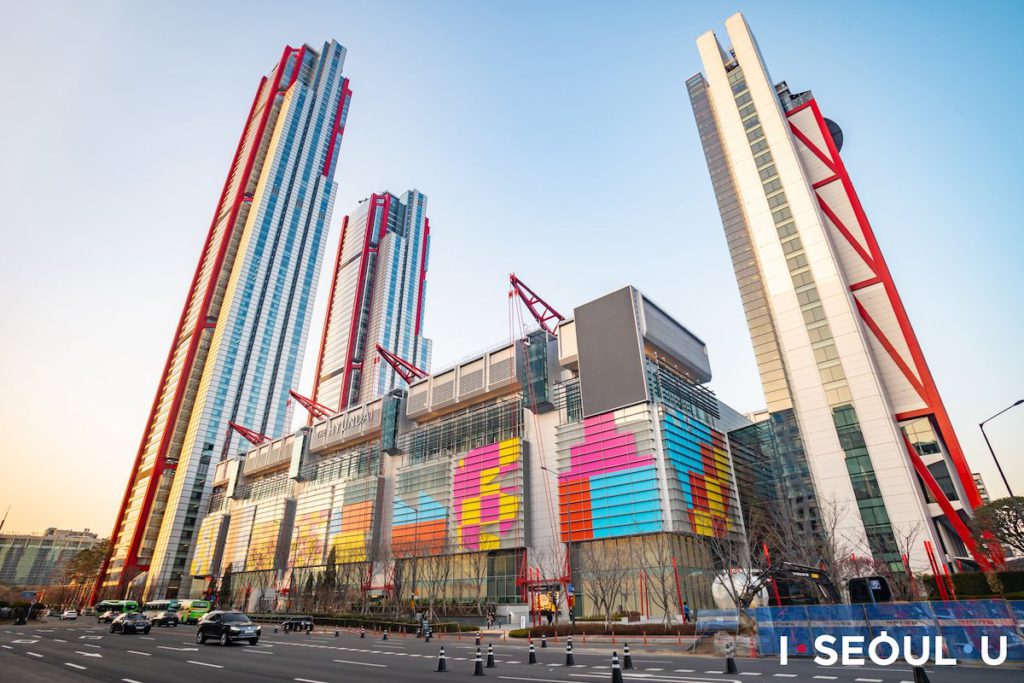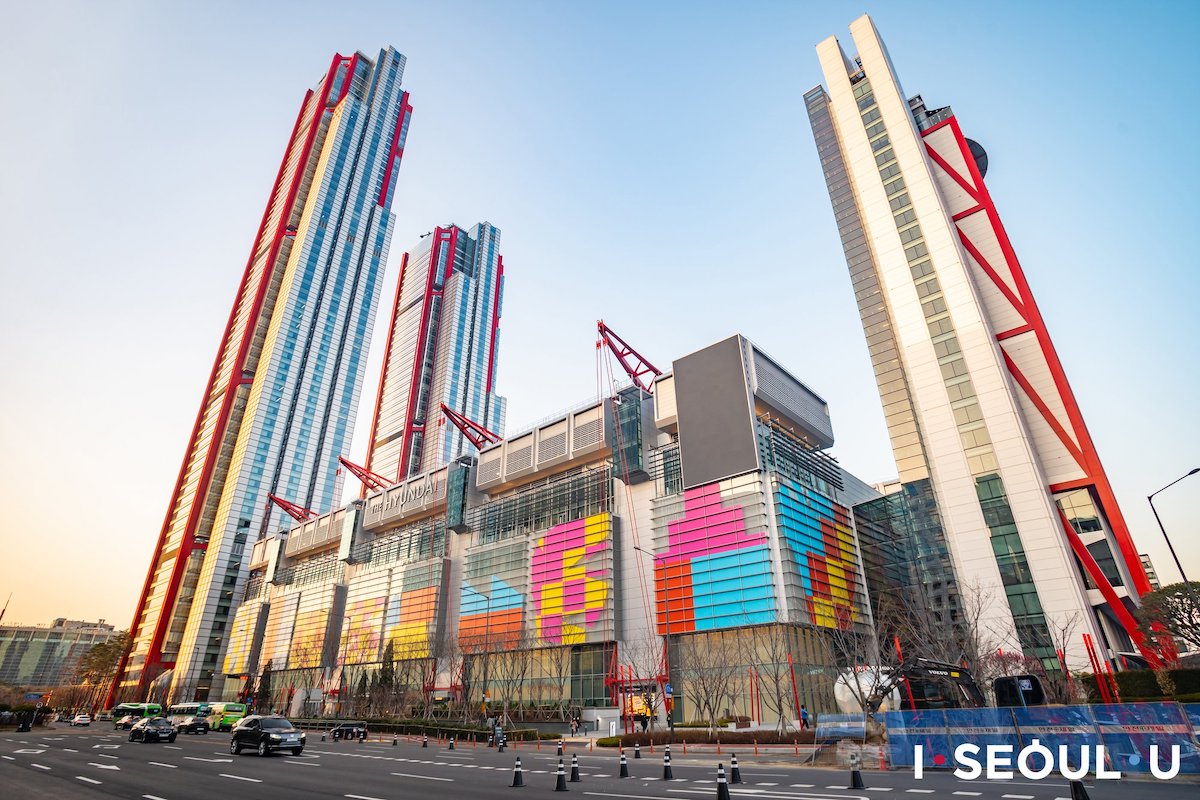 Prada Gangnam Branch
In his video, Song Kang visits a black-and-white store and loves shopping while looking in the mirror. The Prada store at Gangnam's Shinsegae Department Store has a cool and refined vibe. Come shop like Song Kang.
Cafe BotBotBot
This future cafe uses robots to make and serve coffee. Song Kang can't take his gaze away from the robots as they doodle on the cakes. Visitors will feel like they are in another universe as they walk through the walls covered in digital art.
DDP
Song Kang appears in the background of DDP's vivid night scenery in "Beauty Inside Seoul." DDP is the representative building in Dongdaemun, from which all of Seoul's new trends emerge. DDP's dynamic locations, such as Oullim Square, numerous exhibition halls, sparkling shops, and design marketplaces, can provide new sources of inspiration.
#4 Vibrant
Seoul's dynamic forces change more quickly than any other city in the world. It's best for energetic people.
Hongje Yuyeon
Located underground, Hongje Yuyeon is a creative light display. Along the Cheonggyecheon Stream, a dreamy exhibition of creative works of art has been assembled. Hongje Yuyeon is an outdoor art museum converted from an underground space that had been abandoned for 50 years. It welcomes visitors into a unique world.
Banpo Bridge Moonlight Rainbow Fountain
When the sun sets, the fountain show begins beneath Banpo Bridge's countless lights. Watch the dynamically moving autos, the constantly flowing Hangang River, and the fountain show develop to the beat of lively music to feel the vibrant spirit of Seoul.
Sebitseom
For a stunning view of the Hangang River at night, go to Sebitseom. Restaurants, cafes, and flea markets are just a few of the cultural activities available to visitors in this waterside sanctuary. Visitors can immerse themselves in the romance of Seoul by climbing on board a tubester, a water boat on the Hangang River.
Flowers by Naked
The media art show Flowers by Naked is the dreamlike garden of light that Song Kang strolls in. Through vivid lights and displays, this show emphasizes the beauty of nature. Take a couple of beautiful photos, exactly like Song Kang, in this brilliant, fairy-tale-like setting.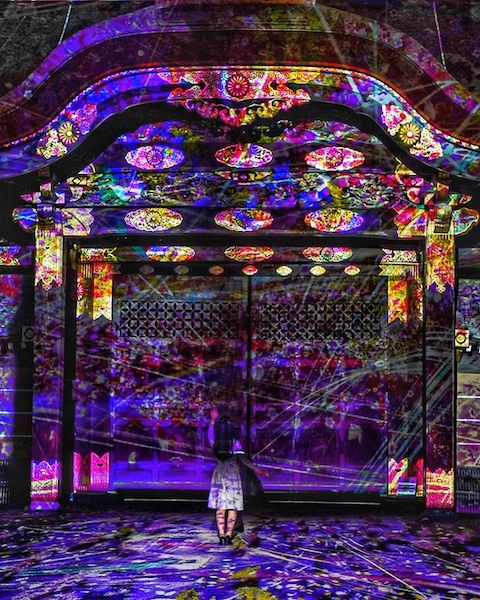 Pussyfoot Saloon
Pussyfoot Saloon in Hannam-dong has a one-of-a-kind ambiance that feels nearly foreign. Themed after a 19th-century luxury train, this cocktail bar was developed. At the bar on the first level, where Song Kang sat during his visit, you can watch colorful cocktails being created.
Grand Hyatt Seoul Teppan
Visitors can dine on teppanyaki meals prepared during the chef's spectacular fire performances at the Grand Hyatt Seoul Teppan. Visitors and their loved ones will leave the restaurant with lasting memories and bright grins.
Zzang Games Hongdae
Zzang Games in Hongdae is the location where Song Kang and his buddies are shown playing games in the video. This three-story structure houses nearly every type of gaming equipment imaginable, including game tables, darts, and go-carts. At Zzang Games, you can experience Seoul's vibrant and playful spirit on your own or with a group of friends.
3,334 total views, 3 views today