Seoul is a bustling metropolis with a skyline that is constantly evolving. The city is home to many iconic buildings, including the world-famous Seoul Tower. Did you also know that Seoul has a number of rooftop hotels with magnificent views of the city?
Consider staying at one of Seoul's many rooftop hotels if you're looking for an unforgettable travel experience. These hotels provide magnificent vistas of the city and its environs, guaranteed to astonish you. Four of the greatest rooftop hotels in Seoul will be introduced to you in this blog post!
96 BUN:Z (Dongdaemun)
The first hotel we'll discuss is 96 BUN:Z, which is in Dongdaemun. The Projec.D pub is also located in the same building. The owner has personally decorated the outside and inside of the facility, allowing you to experience Seoul's latest trends truly.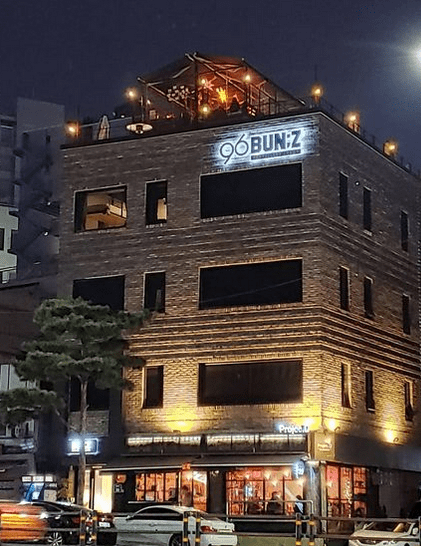 Because of its rooftop, this is one of the hotels in Seoul that is extremely popular among locals. Gwanghuimun is located right across the street, giving you a stunning view at all times of day and night.
You may get anything from alcoholic beverages and appetizers on the first floor. You order on the main level, but if you're a guest, you can have your own dinner on the rooftop without ordering anything. The Banana Bread Bear beer from the first-floor pub is suggested. It's a banana-flavored beer that's both sweet and appealing to ladies.
You may observe the blend of old Korea and modern city from the rooftop at night. The triple-view room would be our best recommendation. It's not a huge space, but it's clean and basic inside, and once you've seen the view from the window, you won't care about the price anymore.
96 BUNZ is a great choice for families, providing an unforgettable experience at around 100,000 KRW per person.
The restaurant and rooftop bar are on the 17th floor. This is where you may take in the entire city of Gangnam in one sweeping view. Even if Hotel Cappuccino isn't your destination, it's advised that you check out the eatery or bar for a unique viewpoint of Seoul. Imagine a night out with your pals, savoring your meal while taking in the breathtaking view and ending the evening with Seoul's city lights on the bar's patio.
Sunset is the perfect time to visit this rooftop hotel in Seoul. The fading light and the soft glow between the structures are restorative.
There are several room choices to select from since the hotel is rather big. The most popular rooms are the Standard Double (City View) and the Executive Room, which costs 170,000KRW per night. The Bark-Rooms are pet-friendly rooms. There's even a bed, bathroom, and pet food room service for your cat or dog so you can have some alone time.
Hotel Cappuccino is the best choice for travelers with dogs. It's one of the few pet-friendly hotels in Korea, and it's probably the only one that offers pet room service! If you don't have a dog, come to Gangnam for stunning city views and rich hipster vibes. For KRW 100,000, you can't go wrong.
G Guesthouse is the next hotel on our list, which is located in Itaewon, a fantastic mix of Korean and foreign cultures. From the rooftop, you can see both This area and the Namsan Tower from up there. The huge rooftop may accommodate up to 50 people, with oil drum tables and plastic box seats that give it an Itaewon vintage feel!
There are BBQs and informal gatherings on this vast expanse of grass. Both Koreans and tourists enjoy these parties! Thanks to the unique and vintage vibe, the roof has been scouted as ad locations for companies such as Cass (beer) or the Samsung Galaxy S8.
G stands for graffiti and guests at the G-Spot Guesthouse. You'll notice plenty of this name graffiti on the building's exterior and interior.
The lobby of the facility is shown here. A typical hostel/guesthouse reception area. They provide a free breakfast. It's a calm, basic environment. Toasters, eggs, milk, granola bars, and other items are available. G Guesthouse has twin, triple, and dormitory rooms with shared facilities.
It's worth noting that G Guesthouse is located in an area with vibrant nightlife and many restaurants. It's also highly recommended if you're searching for a lively atmosphere in the city's center and in Korea's most varied neighborhood! You'll become enamored with the ambiance and mood.
AMASS Hotel (Insadong)
The AMASS Hotel is near Changdeok Palace, another royal residence that is similarly stunning as Gyeongbokgung. It's also conveniently located near Insadong and Bukchon Hanok Village, making it an excellent choice for those renting traditional Korean attire!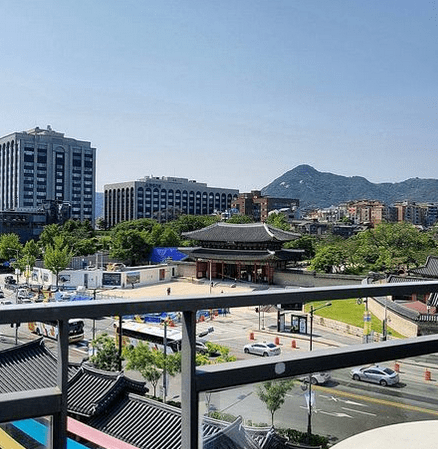 The AMASS' roof offers a stunning perspective of Changdeokgung Palace in the midst of a busy metropolis, and it's well-known among locals. There is a hanok cafe right in front, as well as Changyeongung, providing visitors with an excellent perspective of ancient Korea from the hotel.
During the day, and especially at night, the rooftop is available to visitors. Cocktails, coffee, salads, brunch, pizza, and steak are among the selections on the menu. 
There is a lot of antique gear and well-chosen furniture. The lobby and cafe are on the first floor, while rooms on floors 2 through 5 are available. On the sixth floor is a beautiful roof garden with a stunning view of the city.
The fact that the hotel provides free bicycle rentals is perhaps the most incredible aspect of it. This is a fantastic alternative for travelers, especially because Jongro is a wonderful area to explore by bike.
They also have breakfast starting at 8:00 AM. It's just a buffet with eggs, bread, bacon, soup, and other items. With this rooftop Hotel, you can relax at night with a magnificent view of ancient Korea!
They all have amazing views you won't find anywhere else, and they are the four finest rooftop hotels in Seoul. If you're trying for a location to stay with a spectacular vista of the city, one of these hotels will suit your needs. So, what are you waiting for? Today is the day to book a room and enjoy the outstanding views of Seoul from up high!
Related Posts
4,182 total views, 7 views today