Ice skating is one of the best winter activities you can enjoy in Korea, and here are the best ice rinks in Seoul that will take your fun to the next level!
The various enjoyable events that spring up in Seoul and are one of the best things about winter in Korea. Beautiful Christmas decorations, elegantly decorated eateries, and even pop-ups can be found all over the city. One of the best ways to enjoy a winter vacation in Seoul and get into the holiday spirit is to go ice skating. You will be overwhelmed by so many choices available when it comes to ice skating. But if you are unsure which is the best place to try out this experience in Seoul, look no further; we have got you covered by reviewing the top 5 best ice rinks in Seoul! These range from year-round indoor rinks to seasonal outdoor rinks frozen naturally.
Lotte World can be reached through the Jamsil Station for visitors taking public transport. You cannot miss the ice rink, which is on level B2. This rink is open all year long, displaying beautiful Christmas decorations radiating the charming ambiance for which Lotte World is known. Despite being an indoor rink, the Lotte World Ice Skating Rink has a lovely and peaceful atmosphere because of the natural light peeping in through the magnificent glass dome above. It's open between 10:30 am to 10:30 pm, but it's best to buy tickets before visiting. It is one of the best ice rinks in Seoul!
If you want to get a luxurious experience on an ice skating rink, then Grand Hyatt Ice Rink in Seoul is the best place to go. The hotel transforms its outdoor swimming pool into a massive, romantic ice skating rink creating a magical ambiance during the wintertime. The entire place is decorated with the most gorgeous twinkling lights hanging from the trees. While it is quite costly compared to other ice rinks in the city, the magical vibe cannot be found elsewhere. You can also order some delicious hot chocolate in a cup while enjoying the view. Hyatt is also a great place to stay for a luxury staycation.
Seoul City Hall Ice Rink
This is one of Seoul's most photographed and popular ice skating locations. The ice rink located near Seoul City Hall is massive. It's right in the middle of Seoul Plaza. Two ice rinks are present. The first is for new skaters, while the second is for expert skaters. The cost, which includes the cost of renting skates, is 1,000 won for an hour. Gloves and helmets are mandatory for entrance. You can bring your own or get one for free there. You can easily order some snacks for your hunger pangs and even take photos posing in front of their massive Christmas tree.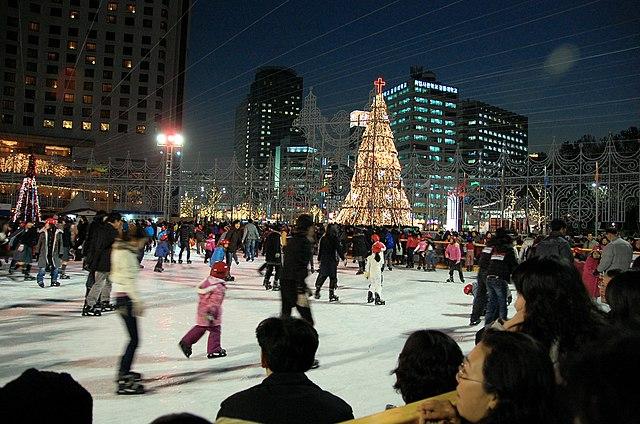 Yeouido Ice Park
The Yeouido Hangang Park Ice Skating Rink is the ideal location for leisurely skating. It is used as a swimming pool in the summer and is converted into an ice rink in the winter. With a surface size of 2000 square meters, the Yeouido Ice Park is quite massive and can accommodate huge crowds together. This is one of the more affordable rinks because a 90-minute skate session costs 1000 won. Also available are skating lessons if you are a newbie. With a sledding hill and a play area with a winter theme, this rink is great for family outings.
Olympic Park Ice Rink
The ice rink in Olympic Park welcomes the public every year during the winter. It's one of the favorite places for tourists and locals to skate since you can see the Olympic Park arches and the Lotte Tower in stunning detail – not to mention an amazing Instagrammable place. This skating rink is a must-see attraction for tourists in Seoul and is flanked by forts and museums that are equally impressive, like the ice rink. There are snack bars, skate rental stores, and rest areas. All skaters are given free helmets here, but they are required to carry their own gloves for protection.
If you haven't tried ice skating, we highly recommend doing so while you're in Seoul in any of the above places for a lifetime of memories. Families and couples particularly enjoy ice skating, especially because it is thought to be one of the safer and simpler activities to learn. Additionally, because it is so romantic, skating rinks are excellent places to go on dates.
Related Posts
5,540 total views, 6 views today