Above the crowded and bustling city of Seoul, such high performance also has little pockets and corners of nature, places where you can get close to nature.
South Korea, known for its booming K-pop and K-drama industry, has a lot to offer beyond the city limits. South Korea, a country imbedded with cities like Seoul, Incheon, Busan, and other metropolitans, urbanized cities are quite a top-notch commercial and hubbub. Above the nudged, crowded and bustling city of Seoul, such high performance also has little pockets and corners of natural beauty where you can get close to nature.
Let's be honest no matter how much we run towards technological advancement, and we find peace at nature's lap. There is nothing like spending a few moments amongst unrefined, wholesome tenderness of nature. Unlike the hustle and bustle of the cafes, restaurants, clubs, malls, and markets, these places will give you a different fulfilling experience altogether.
If you enter Seoul, you will get to see traditional and modern harmony; the blend co-exists with each other with utmost peace, giving the co-habitants a sense of connection and growth. The city has various forms and personalities, each sui generis in characteristic; however, it sustains the same soul. Despite being known as a metropolitan city, you don't need to go too far to inhale the peace of being surrounded by nature. All these places which are recommended are selected on the basis of their accessibility. You need not have to go too far to fetch for peace, for few it is readily available encircle.
Here is the list of ten places where you might want to visit to enjoy beautiful greenery.
Jeong-dong Observatory
The power of observation leaves out a huge positive impact on everyone who practices, which can turn out to be really wonderous and give unexpected results. To bring such experience to your memory bank, Jeong-dong Observatory gives you incredible views of Deoksugung Palace and the surrounding greeny, the fountain, Deoksugung Stonewall, Seoul Plaza, Seoul City Hall, etc.
Once you get inside the observatory, you will also find a café that is open for the public, so take a sip of your favorite drink or coffee and enjoy the primordial view. The observatory is open from nine in the morning till 6 in the evening.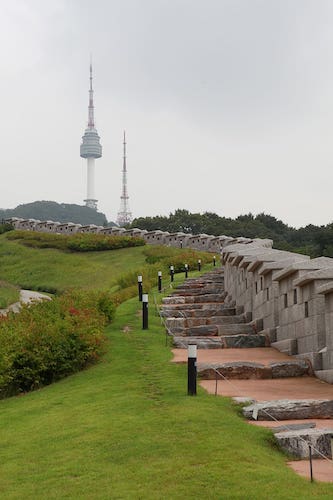 Seoul City Wall
The Seoul city wall, a subject under the UNESCO World Heritage Centre, is beautifully built and stretched across the inner mountains of Seoul. It occupies an area mainly in Central Seoul. It paves it's way through Bugaksan, Naksan and Namsan. The section along Inwangsan Mt. has been rebuilt and now appears to be pretty fresh and new, however, photography is restricted in some portions here. There are eight ideal starting points for a walk around the city wall. It gives amazing views in all directions and areas near the Seoul City Wall. Towards Seongbuk, you can have an overview of Naksan Pavilion, Naksan Park, in Jongno you will have excellent overall views of Malbawi and beyond. And excellent overall views of Mount Namsan area, Jamdubong, Banyan Tree Club, and overall view beyond that.
If you like trekking, but you don't like getting too tired of the uphill walk, Ansan mountain Jarak-gil should be your best bet in that case. It is a gentle walking trail that leads up to the peak of the mountain, totally unimpeded, and wheelchairs are easily accessible here. An easy, smooth troll to refresh your heart and mind. As you reach the summit of the mountain, you will be open to beautiful views of Dongnimmun Gate, Bongwonsa Temple, and the entire Seodaemun area.
Gangbyeon Techno Mart Observatory
This observatory is connected with the shopping complex of Gangbyeon Techno Mart's roof garden. The observatory offers excellent views of the Songpa, Hangang river, and panorama views of Jamsil. At night when the bright headlights of the running car illuminate the highway, it creates a view that is worth asking few mindful moments there.
Umyeonsan Mountain Wish Tower Observatory
They say, "if there is no pain, then there is no gain," climbing up 365 stairs might sound like a workout routine but again, working out is essential after being pin down to desks and chairs from nine to five. 
In order to reach Umyeonsan Mountain's Wish Tower Observatory, visitors must climb 365 stairs. While the trek to the top can be a little strenuous, many people still make the climb, and the views are truly worth the effort. The views stretch all the way to the Hangang River, and places in Gangnam such as the Seoul Arts Center, Bangbae, Korea University Station, and more can be seen from the observatory.
Mapodaegyo Bridge
Mapo Bridge is the fourth bridge on the Han River. It was also called the "Seoul Bridge" at the time of its completion, and then the name was changed to Mapo Bridge in 1948. The observatory is located at the southern end of Mapodaegyo Bridge and has great views of the Seoul Sunset. In the middle of Mapo districts and Yongsan, you will find a nice view of Seoul. At the observatory, you can face out and look to see views of Yeouido and also the beautiful Bamseom Island Ecological Preserve on the right. If you come by personal vehicles, there are parking facilities at Yeouido Hangang Park.  
Ttukseom Cultural Complex
If you are fond of Korean films, you must be acquainted with this place. In episode 1 of The Liar and His Lover/ Lovely Love Lie when Yoon So-rim (Joy from Red Velvet) falls for Kang Han-Kyeol (Lee Hyun-woo) in front of this complex at first sight (when he borrows her phone to record an idea for a song), this was the place of collision. You must have noticed this place in Rooftop Price/ Attic Prince and Twogether.
Situated at the Ttukseom Han River Park gives a beautiful view of the river aside. The cultural complex is located in Seoul's neighborhood in Gwangjin District. It gives awesome night views, and the complex's J-Bug (Looper) building has exhibitions, performances, and much more alike to offer. The cultural complex is open until midnight till 24:00, so you have plenty of time to stroll around and take in the Hangang River and fantastic views of it.
From Achasan, you will get a great view of the Gwangjn-gu Area and the sunrise viewpoint from there. Achasan Mountain rises just 287m above sea level; despite its relatively low height level, it serves great as a mountain peak and has excellent views of the city of Guri in Gyeonggi Province and the eastern boundary of Seoul. The observatory is fully surrounded by luscious pine trees and gives unobstructed views of the other mountains. The observatory views as far as Jungnang-gu, Gwangin-gu and Hangang River. Its beautiful sunrise view and the cold breeze coming from the Hangang River and Pine atmosphere will make you feel like you are lying in nature's lap. 
Jamsilmaru Rest Area
At the southern end of Jamsil is the Jamsilmaru Rest Area. A rest area is a welcoming place that is suitable for both families and women. Various activities and programs take place at the rest area, and women can incur information related to the Seoul Metropolitan Government's policies for women. From this rest area cum observatory area, you get excellent views and the most wholesome view of the Hangang River, and the sunset is particularly beautiful to look at from the rest area. The Olympic-daero and other areas also come within the limits of observatory view. The observatory is not far but 7-8 mins from Jamsil Station on foot.
Noeul Park Observatory Deck
The Noeul Park Observatory Deck is within walking distance from World Cup Stadium Station. You will get to see the beautiful Hangang River and Sculpture Park. There is plenty to see at Noeul Park, such as the Sculpture Park, Firefly Eco Exhibition Hall, and more. Because the park is on elevated land, the observatory deck has bird's eye views on surrounding areas like Gayang, Banghwa, Yanghwadaegyo Bridge, 63 Square, and more visible from the observatory. 
8,851 total views, 1 views today