South Korea offers a plethora of captivating destinations that attract travelers worldwide. For dedicated ARMY (BTS fans), the must-visit historic and iconic locations on a BTS pilgrimage hold a special allure, where each location can add an extra layer of excitement to their journey in Korea. If you are an ARMY, read on for a list of remarkable BTS-themed tourist attractions to explore during your South Korea trip.
BTS Fan Travel Guide: Explore the Iconic BTS Locations in South Korea
7 Must-Visit BTS-Themed Destinations
1. BTS Agency – BigHit Entertainment Old Building
The old BigHit building in the Gangnam area of Seoul is a significant location for BTS fans (known as ARMY), holding precious memories and witnessing Kpop boy group BTS' journey from debut to global stardom. Even though BigHit has moved to a new building, the vacant old building still attracts visitors. Its exterior walls display heartfelt graffiti, expressing the ARMY's longing for BTS to visit and conveying messages of love and support.
Address: Cheonggu Building, 10-31 Nonhyeon-dong, Gangnam-gu, Seoul, South Korea.
2. Yoojeong Restaurant
Yoojung Sikdang is a restaurant that BTS members often visit during their trainee days. The restaurant, adorned with BTS posters, is a famous filming location for variety shows. The restaurant serves a variety of dishes that BTS members love. The delectable flavors at Yoojung Sikdang have captured the hearts of BTS fans and locals, making it a must-visit destination for food enthusiasts. However, the restaurant does not offer halal options for Muslim ARMYs.
Address: Yoojeong Sikdang, 8-8 Nonhyeon-dong, Gangnam-gu, Seoul, South Korea.
Read also: 5 Cafés and Restaurants for Fashion Lovers in South Korea
3. Hakdong Park
Hakdong Park holds historical significance as it witnessed BTS' early journey. During their rookie days, BTS frequently spent time at Hakdong Park, as mentioned on the variety show "Run BTS."
The park served as a place for BTS to alleviate stress, hang out, and discuss their lives. BTS even practiced their choreography for the song "N.O." in the park. The park is visually appealing and conveniently located just a 5-minute walk from the former BigHit Entertainment building.
Address: Hakdong Park, nonhyeon-dong, Gangnam-gu, Seoul, South Korea.
4. Hyuga Café & Bakery
The Hyuga café, once the dormitory for BTS members, may not appear as a café from the front due to its red brick exterior. The café's interior has a minimalist and slightly industrial design, with dominant wooden furniture.
Despite not having a BTS theme, the owner provides a wall where Army visitors can leave sticky notes. Furthermore, the café showcases BTS paintings and photos for visitors to enjoy, offering a unique opportunity to experience the former living space of BTS members from 2016-2017. Moreover, the café offers a delectable selection of food and drinks.
Address: Woo Seong Village 16, Nonhyeon-ro 119 – gill Gangnam – gu, Seoul, South Korea.
Read also: 4 Reasons Why Autumn is the Perfect Time to Visit South Korea
5. Seoul Forest Woodland Playground
Seoul Forest is a must-visit location for BTS fans, featuring various spots related to BTS members. It boasts several benches inscribed with BTS members' names and quotes. Notably, there's a unique bench dedicated to V & ARMY, situated in a charming garden with a small board signed 'Winter Bear Garden.' Additionally, you can discover Suga's tube spot, allowing you to recreate his iconic photo from the 'Love Yourself: Her' poster.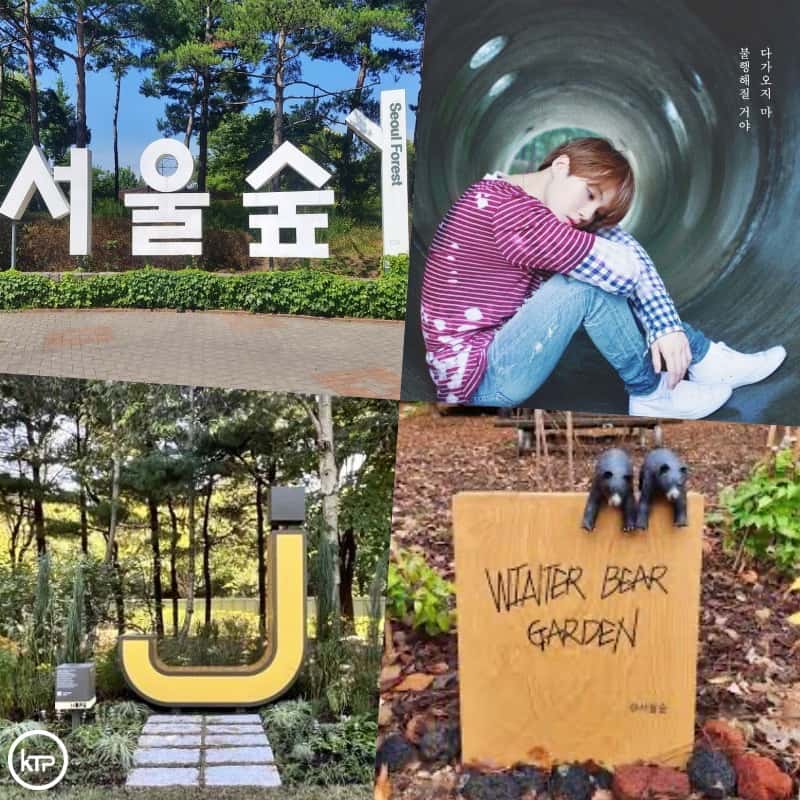 In collaboration with J-Hope's fan club, the Seoul city government has established the J-Hope Forest within Seoul Forest Park. The fan club made generous contributions, and the city government provided the location. The J-Hope Forest is nestled between the central pond and the water playground, covering an area of 213 square feet. This tranquil garden holds a special place in J-Hope's heart.
Address: Seoul Forest, Seongsu-dong-1-ga, Seongdong-gu, Seoul, South Korea.
6. Hybe Insight
HYBE, formerly known as Big Hit Entertainment, is situated within the Yongsan Trade Center in Seoul's Yongsan-gu. This venue boasts a multifaceted exhibition area. It is important to note that you must apply for reservations via Weverse or Interpark.com to explore the museum.
HYBE Insight encompasses two basement levels, primarily as a museum and cultural exhibit area. This location is a must-visit for avid admirers of BTS and other HYBE-affiliated artists such as TXT, ENHYPEN, NU'EST, Seventeen, and LE SSERAFIM.
Address: 42, Hangang-daero, Yongsan-gu, Seoul, South Korea.
Read also: Following BTS to Iconic but Traditional Places in Korea
7. BTS Filming Locations – "You Never Walk Alone" Bus Stop & Jumunjin Beach
If you're on a BTS pilgrimage in South Korea, another must-visit location is the 'Bangtan Bus Stop' in Jumunjin, Gangneung, Gangwon Province. At this iconic bus stop, BTS posed for their "You Never Walk Alone" album cover. Although it's a replica, it has gained fame as the 'Bangtan Bus Stop,' attracting 22,272 visitors from 137 countries. Nearby, you'll discover the breathtaking Jumunjin beach, the filming location for BTS' "Spring Day" music video. As you explore the iconic BTS locations in Korea, do not miss these captivating sites.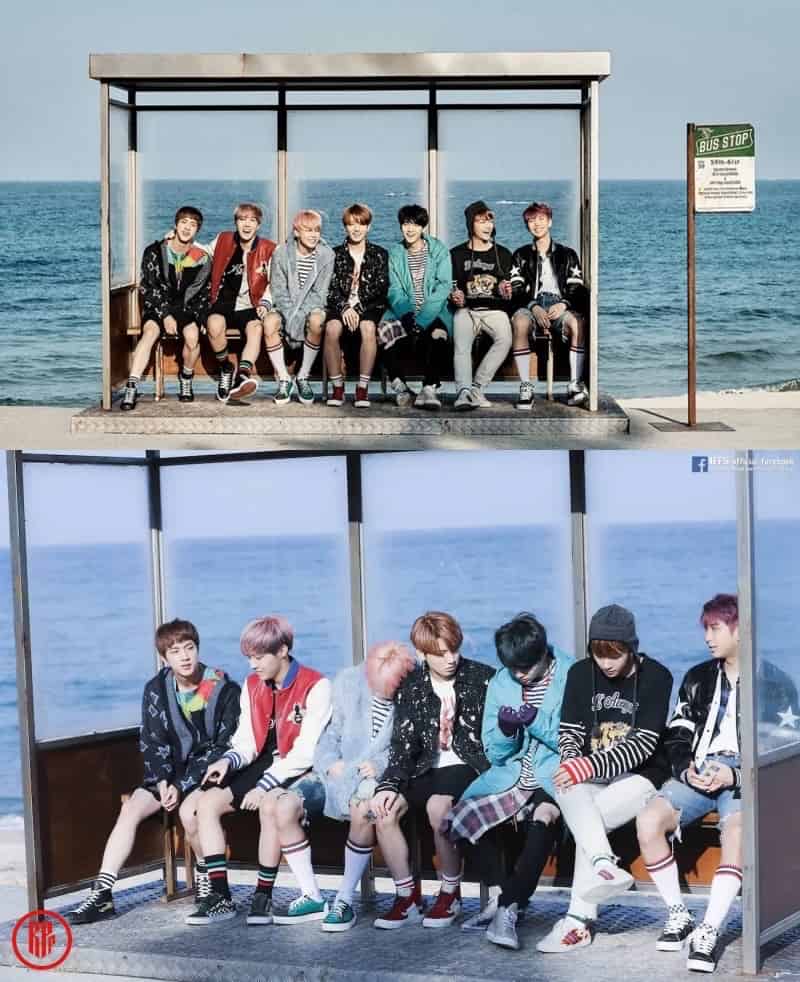 Related Posts
481 total views, 5 views today