South Korea offers a mixture of city and rural life that allows travelers to enjoy the 'Land of Morning Calm.' There are many wetlands in the Republic of Korea, both accessible and inaccessible, having more vertical than flat ground.
Wetlands were not a significant aim during industriaalization in South Korea, but the lawmakers ratified the Ramsar Convention, which has grown to be the most important force behind global wetland conservation.
Today, wetlands in South Korea are seen as important areas for flood control and prevention, water purification, climate regulation and habitat.
Korean Ramsar sites
Korea has had 21 additions to the Ramsar List so far. Each of these wetlands was included for a specific purpose, which means each has its own set of unique experiences for visitors. There are a variety of wetlands that may be visited, and while they all offer the same adventure, some need more effort than others to reach. However, if you want to go, they can make for exciting excursions in their own right. Here are some of the popular Korean Ramsar sites:
Yongneup of Mt. Daeam — Gangwon-do
Yongneup is Korea's first Ramsar site, and it is characterized by vegetation that is generally or a woodier form and a higher elevation. It is considered a high moor, a wetland at a greater height, and it has vegetation that is more likely to be classified as coniferous trees. The site is bordered by a broadleaf forest on three sides and two bogs on the fourth. It is also Korea's highest moor, giving it some of its rarest peat swamps. Access to the site is restricted, but it may be obtained with some effort. The Korean fire-bellied Toad, Goral, Small-eared Cat, and Flying Squirrel are among the animals present in the marsh.
Upo wetland, the second of Korea's additions to the list, is also a nature conservation area. The wetland is Korea's biggest undisturbed swamp. A wetlands conservation hall near the ecosystem serves as a visitor center and education facility. The site is open all year; however, the wetland serves as a migratory resting place for many waterfowl in the winter, making it a popular destination for birders.
Jangdo Island High Moor
There are more peat bogs in this marsh, the largest high moor on the Korean peninsula. There are 294 plant species, 146 insect species, 5 amphibian and reptile species, and 44 bird species present in the wetland. Because of the significant number of uncommon and endangered species, all activities are tightly controlled; nevertheless, the development of ecotourism in the region is under consideration to allow visitors to appreciate the natural beauty of this exceptional marsh.
Suncheon Bay is a saltwater marsh. The wetlands are subject to tidal swings and fluctuation and include tidal flats and intertidal marshes. The bay boasts a wide range of habitats, supporting various creatures. The black-faced spoonbill, Nordmann's Greenshank, Spoonbill Sandpiper, and Relict Gull are examples. In 2004, the Suncheon Bay Natural Eco-park was established to preserve wetlands and their cultural values, and in 2016 the Ramsar Regional Center-East Asia was relocated from Changwon.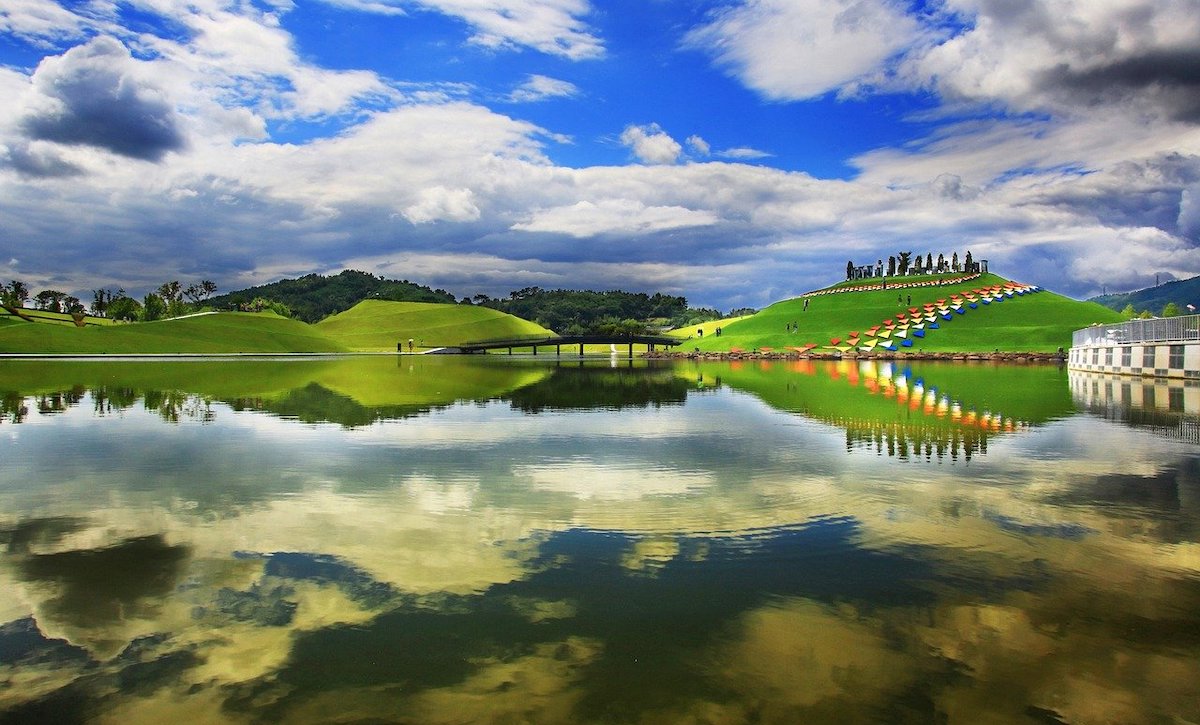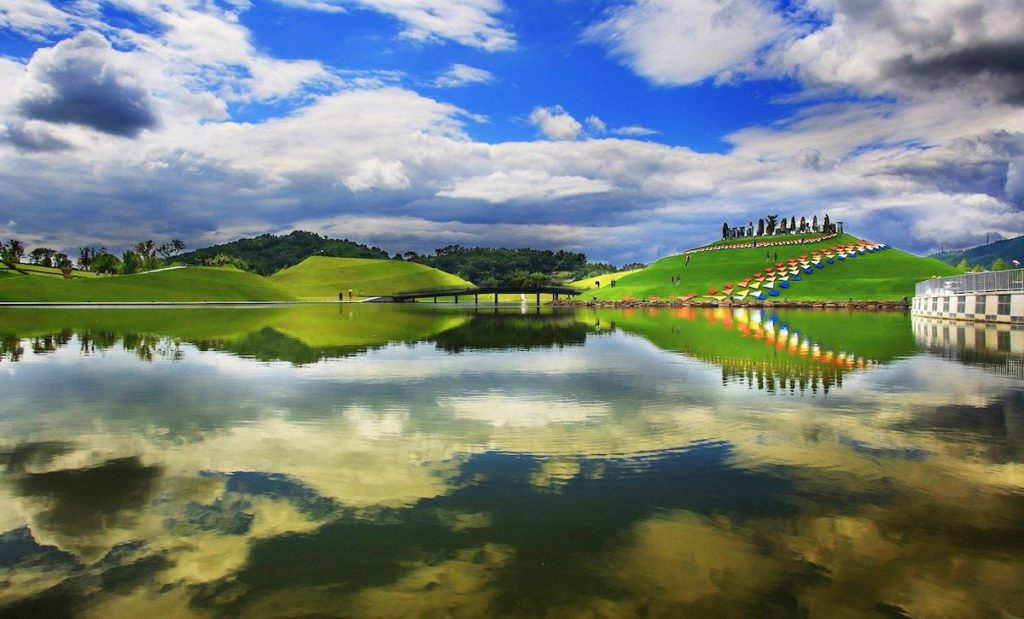 Mulyeongari-oreum
This Crater Lake, a type of wetland found on the top of an "oreum" (a secondary volcano on Halla Mountain on Jeju Island), is one-of-a-kind. The Wetland Sanctuary is home to two endangered species: the narrow-mouthed frog and the large water bug. Pitcher plants may be found near the wetlands entrance trail. A wetland visitor center and nature trails are currently under construction near the wetland. Access to the wetland necessitates a lengthy stairway with several steps.
Moojechineup
Moojeechineup is the oldest high moor in Korea and has the most well-developed peat layers with slightly acidic water. It's 10,000 years old and has one of the best-developed peat layers. There are numerous rare and endangered species present and habitats for about 197 different types of insects. It was named after a rain-prayer ritual in the Ulsan region.
Du-ung Wetland
This freshwater lagoon is encircled by a sandy dune system fed by groundwater and is a rare wetland in Korea. The site's unique architecture allows it to house a variety of Korean endangered species, which makes it an ideal tourist attraction. The area is presently off-limits for tourism and leisure.
Muan Tidal Flat
This undisturbed intertidal sand-mudflat on the west coast of Korea is a protected area in South Jeolla Province. The sites are located in an inner bay, and they support Saunder's Gull, Black-faced Spoonbill, and Chinese Egret populations.
Ganghwa Maehwamarum Habitat
This is one of the world's tiniest Ramsar sites near Incheon city. The marshland was a rice paddy that the government had purchased as a habitat for the Maehwamareum endangered species.
Muljangori-oreum Wetland
To help recharge the groundwater, this wetland serves as a crucial companion to Mulyeongoreum. The wetland is encircled by a forest of deciduous trees formed out of a crater lake.
Odaesan National Park
This wetland is made up of three small fens that are approximately 1000 meters above sea level. This area supports wildlife, including the IUCN-listed vulnerable species Musk deer, Long-tailed goral, and Water deer. Because of its national significance, this site is forbidden to visitors.
The Cheonji, Cheonjiyeon, and Seocheon tidal flat is a marine wetland that is both a nesting and spawning area for migratory birds and fish. The wetlands provide a home for Saunder's gull, spoon-billed sandpiper, and spotted greenshank, all of which are threatened.
Gochang and Buan Tidal Flats
Gomso Bay is home to two protected areas (Buan Julpo Bay Wetland and Gochang Tidal flat Wetland Protected Area), which are important migratory waterbird habitats on the Korean west coast. The site is home to the rare Oriental White Stork, Saunder's Gull, Far Eastern Curlew, Kentish Plover, and Dunlin, among other species.
Jeungdo Tidal Flat
The Jeju Salt Crystal Cave is a protected area in the South Jeolla province that was formerly a salt source and a traditional fishery. The site provides a nursery and refuge habitat for fish and insects, which are consumed by migrating waterfowl using the East Asia-Australasia Flyway as a food source.
Han River-Bamseom Islets
The only naturally occurring riverine islands in the Han River are two small islets located in Central Seoul's Han River. Several indigenous fish species, including the Korean striped bitterling, the Korean spined bitterling, and the Korean oily shiner, use the islets as a spawning and nursery ground near the water. The region is also home to Spot-billed ducks, Black-crowned Night Herons, and Red-faced Parakeets.
These are some of the many wetlands of South Korea that are worth exploring. Each one of these places is different and has its own ecology. This means that the plants and animals there are unique. Go to at least one (or all!) of these amazing places if you get the chance!
5,821 total views, 1 views today