These gorgeous places on the East Coast of Jeju Island are a must-visit in your itinerary for anyone visiting the island!
Jeju Island, a small island off the coast of Korea, is home to stunning natural beauty. The island is one of the "New 7 Wonders of the World". Jeju Island is separated into four regions: Jeju-si, Seogwipo-si, the eastern, and the western. Geomun Oreum, Manjanggul Lave Caves, and the Saryeoni forest path are just a few of the must-see attractions in Jeju's eastern section. The broad, sandy Woljeongri Beach, one of Jeju's beaches, contributes to the island's charm. As a result, Jeju has a plethora of hotels, restaurants, stores, and tourist attractions, as well as a variety of fascinating museums and unusual theme parks to visit.
Jeju, which translates to "large village across the sea," has its own particular culture that is separate from that of the mainland; this is visible in Jeju City and Seogwipo, the island's two main cities. People come to relax and enjoy the beautiful scenery. Jeju Island has a multitude of magnificent scenery and fantastic recreational activities for visitors to enjoy, with its beautiful countryside and jagged coastline peppered with stunning beaches. From natural scenery to theme parks to cafes and restaurants, we've hand-picked the greatest places to visit.
Top 7 Attraction of the East Coast of Jeju
#1 Hamdeok Beach
Hamdeok Beach is a popular destination for families, especially during the summer months, due to its smooth sands and shallow waves making it one of the best places to visit on the East Coast Jeju. While the majority of the beach is submerged during high tide, a massive sand bar emerges as the waves recede. With the glistening turquoise seas all around you, it's a pleasure to stroll along this path. The beach is surrounded by rocky islets and undulating hills, with the town of Jocheon behind it, and it offers some beautiful coastal treks.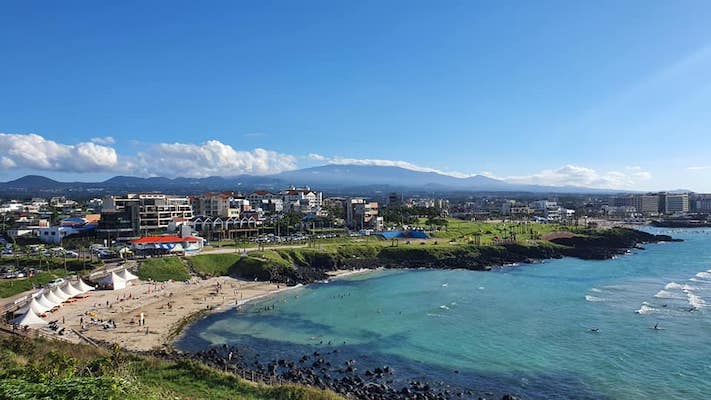 There are a variety of restaurants, cafes, and motels to select from, in addition to the changing rooms and deckchairs that are available along the golden sands. The Korea Strait offers guests a variety of exciting watersports like kayaking, snorkeling, and water skiing, as well as paddling and swimming in its waters.
#2 Cafe Delmoondo
Sitting in a nice, fluffy chair of this cafe, directly in front of Hamdeok Beach, you may enjoy a perfect view of the beach while relaxing. A private beach is also available, with prices beginning at $10,000. You can also enjoy its daily roasted coffee beans.
#3 The Waterfalls of Jeongbang
Jeongbang is one of the most famous waterfalls on the island, and for a good reason. It is located on the outskirts of Seogwipo. Jeongbang's white waves plunge straight into the ocean below, shooting from the top of a cliff. It is, astonishingly, Asia's only waterfall to do so.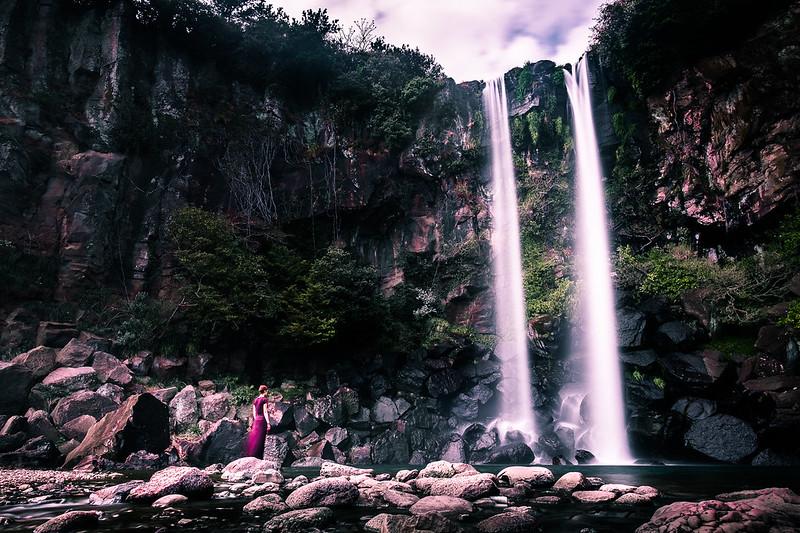 With craggy rocks and tree-topped cliffs on either side, the beautiful falls stand at the height of 23 meters. There aren't many waterfalls in the world quite like it. Visitors must crawl over boulders and rough stones to come up close to Jeongbang. It's a good idea to wear comfortable shoes because these can get rather slippery with the waterfall's spray.
#4 Sangumburi
Sangumburi Crater is distinct from Jeju's 360 or more parasitic cones in that it was not formed when the eruption's materials accumulated. Instead, it's a parasitic cone of the maar type that developed as a crater with a hole when a large amount of matter was ejected.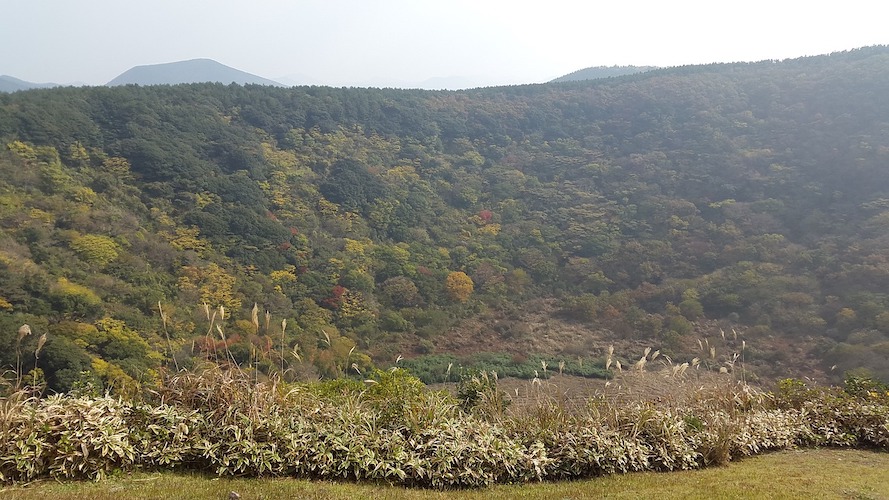 When waves of silver grass turn the ridges of Sangumburi Crater gold in the autumn, the planted Japanese cedar takes over the majority of the eastern and western slopes, with Sawtooth oak in the surrounding area. Eulalia grass colonies cover extensive portions of the crater, excluding these luxuriant woodlands.
#5 Stone Park in Jeju Island
Jeju Stone Park is a great place to go if you want to learn more about the island's rich cultural heritage. It's full of interesting-looking rocks and sculptures. Around Jeju's various natural beauty, myths and stories have long revolved.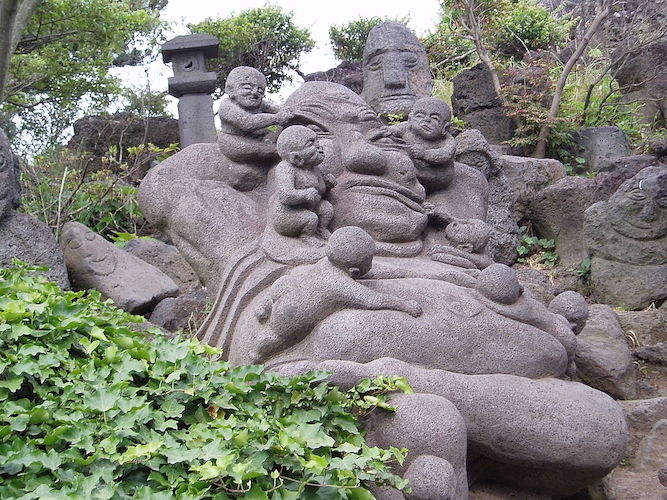 As a result, many of the Park's rocks resemble legendary tales passed down through the generations. The Dol Hareubang sculptures, for example, are thought to defend the island and keep off evil spirits. The solemn-looking rocks of Jeju Stone Park, set among beautiful landscapes, are indeed stunning, and the stories behind them bring them to life in front of your eyes.
As the old year gives way to the new, people flock to Seongsan Ilchulbong (Sunrise Peak) to watch the sunrise. It's a tuff cone crater created when an underwater volcano erupted. It's important to remember that it's not an easy climb since it rises to 182 meters above sea level and has a strong grade.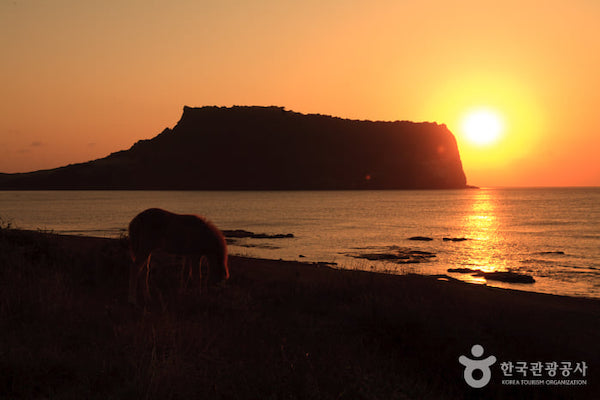 The breeze that embraces your complete body on the peak, however, will more than compensate for the perspiration you sweated to get there. There are 99 chiseled rocks in a crown-like configuration on top of Seongsan Ilchulbong, and a huge meadow lies between them.
#7 Gimnyeong Maze Park
On Jeju Island, Gimnyeong Maze Park is a popular leisure park close to a number of attractions. This is where kids and adults alike may have a good time, let loose, and test their mettle while exploring the maze themes. Gimnyeong Maze Park is credited with being Asia's first maze park to use symbols as themes. Thickets of numerous plant species, including the evergreen Leylandii and the Jeju Scoria, are used to create the green maze. The other plants are imported from all throughout Asia and are well-kept.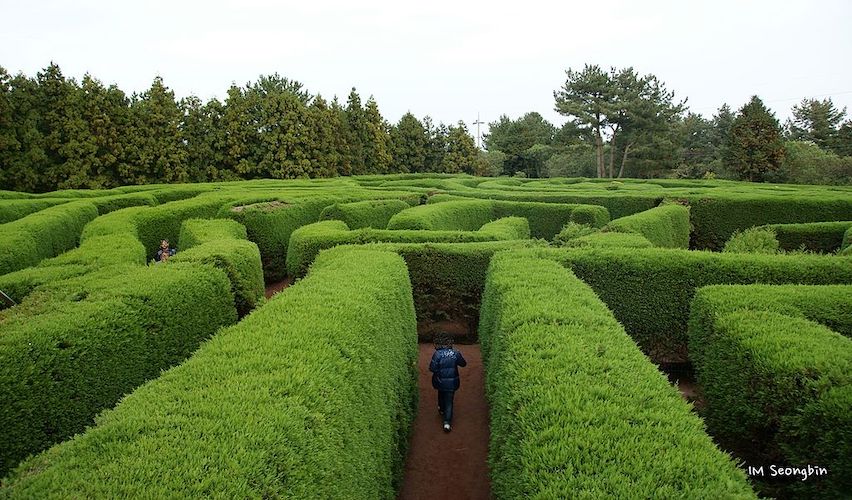 It means you'll be having a good time or getting lost in a maze of healthy and eco-friendly plants that give off oxygen in return for your carbon dioxide emissions. You'll also see felines all over the place when you visit these places in the East Coast of Jeju. The Park is known as South Korea's first feline Park, with over fifty cats living happily in the sun and shade.
And there you have it: 7 incredible and gorgeous places on the east coast of Jeju's lovely island.
12,754 total views, 5 views today