Namhae is the island village on the fifth largest island in South Korea, officially called Namhaedo Island, with an area of over 350 km². This gorgeous green island of South Korea with mountains, beautiful sea and beautiful coastal drives has multiple unique attractions. Namhae Island is a part of the Hallyeohaesang National Park and is great for hiking and outdoor activities.
The best sights and things to do in Namhae include: Gacheon Daraengi Village, Boriam Temple, German Village, Canola Flower Fields, Skywalk, and seafood restaurants in Namhae.
Why Plan a Trip to Namhae?
The large Iceland Namhae has historic temples, national parks, and charming cafés offering delicious seafood. The beautiful indigo blue sea surrounding the island with crystal clear water beaches and long sandy coastlines with surrounded by pine forests are major attractions. Wherever you are, a nice beach is never far away.
The landscape is dominated by terraced fields and dense forests and has the most scenic drive around the island. Check out some of the best things to do and see on Namhae Island.
Daraengi Village Visit
A trip to Namhae isn't complete without visiting this village famous for its terraced paddy fields! It is a must to do in Namhae Island. This picturesque village is located on the steep slopes of Seolheulsan and Eungbongsan mountains, in front of the sea, terraced for paddy harvesting. Among the mountain slopes are homes, businesses and the paddy terraces against the beautiful South Sea, providing you with great photo opportunities at every corner.
The village is on 108 steps and small alleyways and trails to walk between scenic paddy fields. The road to get here is also very scenic roads of Korea. There are beautiful murals, coffee shops, and restaurants where you can spend quite a bit of time enjoying the peacefulness of a village in the beauty of the Southern Coast of Korea.
Boriam Hermitage
One of the most popular things a must-see or do in Namhae Island is to visit the Buddhist Boriam Hermitage (temple) nestled at the top of Mount Geumsan. Geumsan Boriam is one of the 12 most scenic spots in the Southern area of Korea and is considered one of Korea's three largest Gwaneum sacred sites. The hermitage was founded in 683 by the leading thinker of Korean Buddhism, Great Master Wonhyo Daesa. He allegedly lived at the temple in complete solitude and away from all worldly pleasures.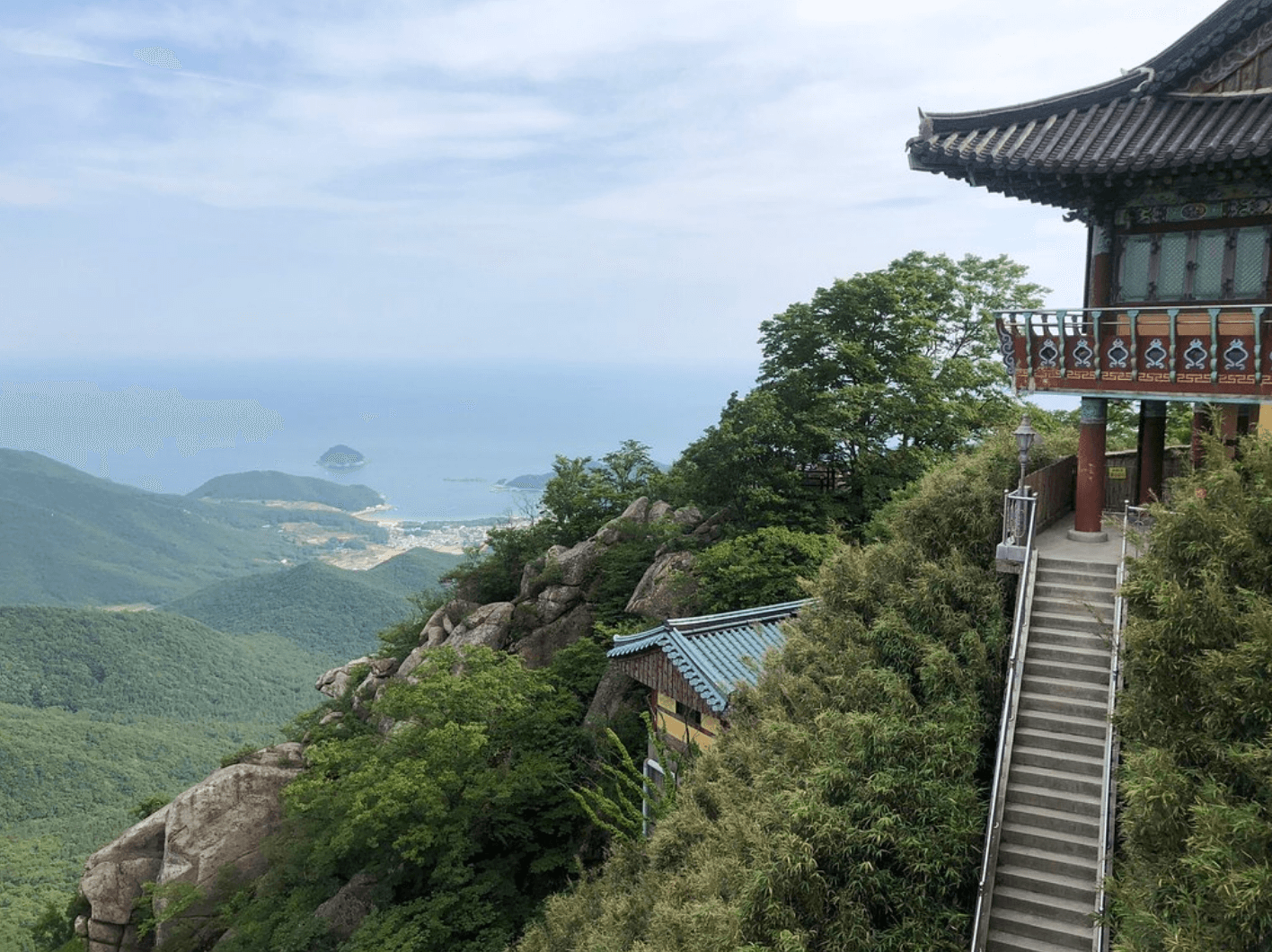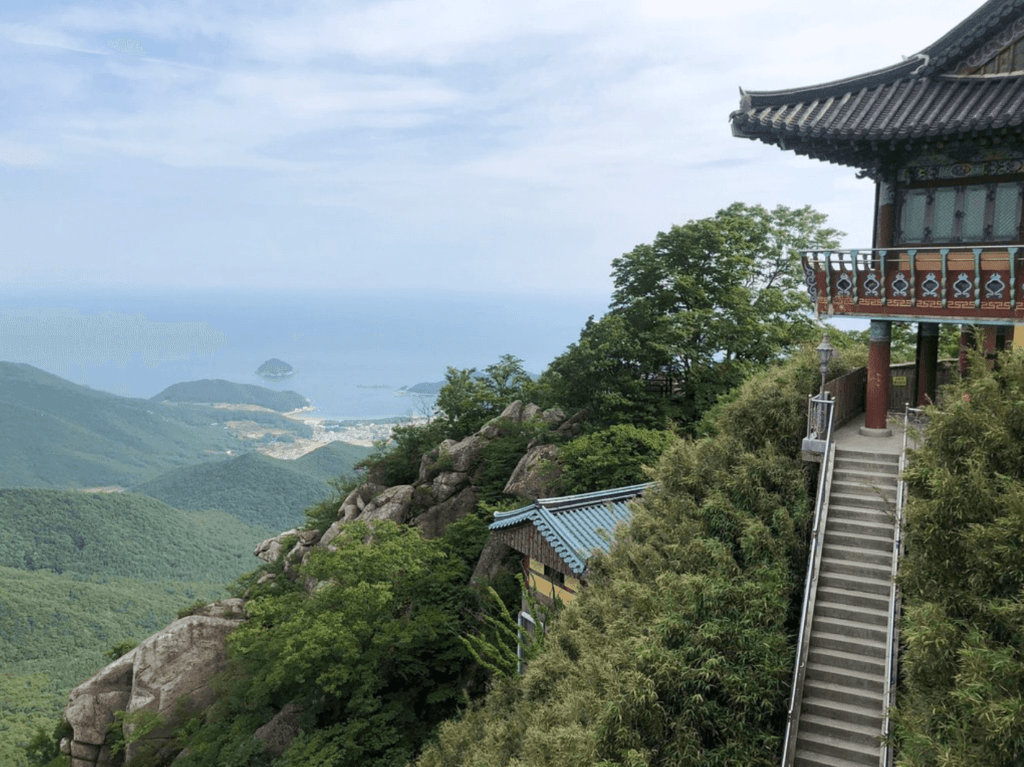 The access to get here is easy. You can climb/hike using various paths leading up the mountain to get to Boriam. Most of the paths are steep with stairs and rocks, and you can enjoy the surroundings. The other option for climbing is to drive by car and from the parking, a 20-minute easy hike to the hermitage. The road leads up almost to the summit at Boriam. The road is relatively steep in some sections.
You can get stunning spectacular views from the temple complex, and by going beyond the hermitage, you can get an amazing 360-degree view of Namhae. It is famous for its fabulous sunrises also.
Enjoy Spring in Namhae
Two top things to do in Namhae Island in Spring Season are to enjoy the Cherry Blossoms and Canola flower fields.
Cherry Blossoms in Korea are famous, and Namhae has a great spot to see them near Wangji Village, located on the north side of the island. In full bloom, the road line with thousands of cherry blossoms and create beautiful cherry blossom tunnels right beside the blue sea.
Another top thing to do in Spring on Namhae Island is to visit the Canola flower fields at Dumo Village, located on the southern side of the island, right by the ocean. The yellow fields of Canola flowers give a stunning view of the blue sky background, and you will also see some cherry blossoms too.
Namhae German Village
During the 1960s, many Korean workers were sent to work in Germany as miners and nurses. The Namhae German Village was created In 2001 to settle these returning workers in their home country and have a comfortable life. This village looks like a German village, showcasing the life of the Korean miners and nurses in Germany.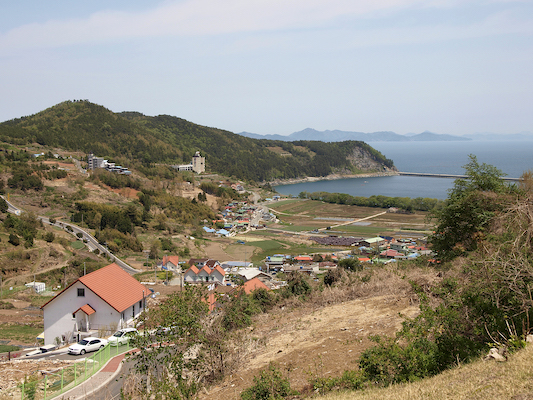 It is one of the major attractions in Namhae that became famous in 2010 for the Beer Festival (Oktoberfest), launched in October 2010, where visitors look forward to a wide range of German Beers and Food. The souvenir shops, cafes, bakeries, and restaurants all offer German items.
Seolli Skywalk
The skywalk over the beautiful Namhae coast with a glass floor, standing 36 meters off the ground, is 79 meters long. Out of the 79 meters, , 43 meters is a suspension as a cantilever and is the first asymmetrical cantilever bridge in Korea. You get some of the best panoramic views of Namhae from Seolli Skywalk. 
Seomi European Garden Mulgeolli Bangjoeoburim Forest, Seolli Bathing Resort, fishing village, Songjeong Solbaram Beach, and water sports activities are some other attractions at Namhae.
How to Reach Namhae
Namhae Island is connected to the mainland via a road bridge. Therefore, you can reach Namhae by car or by express bus. From Seoul's Nambu Terminal, it takes about 4 hours to reach Namhae Intercity Bus Terminal. For local travel, taxis or small buses are available.
The Best Places to Eat
Fish and seafood dominate the cuisine in Namahe in the beach restaurants and cafes. You can try traditional local foods, rice meal bread, lemonades as well as some Western food, Italian dishes, drinks and ice-creams. Some offer special items like Abalone, Korean teas or the cold barley brew as a coffee substitute. 
Many of these eating joints and coffee places are located overlooking the gorgeous sea, and while eating, you can enjoy the beautiful yachts, fishing boats, amazing sunset and sea breeze.
Where to Stay?
Namhae has many options for a stay, from luxury hotels, pool villas, and resorts to simple and affordable guesthouses and pensions. Most of them provide a perfect sea view. Facilities on offer include comfortable and modern rooms with air conditioning, Wi-Fi, bbq, swimming pool, other amenities, and free breakfast, depending upon what you choose.
6,493 total views, 1 views today