Goyang is one of Seoul's largest satellite cities with a cute mascot – a cat or (Goyang cat) to characterize the character of the city!
Goyang is one of Seoul's largest satellite cities in South Korea. It is recognized for its annual worldwide flower pageant. But there is something crazy about the city which makes it unique and intriguing.
Goyang: A Cat City
In a gathering in 2013, somebody requested half-jokingly, "How about a cat representing the city's character?" noting the similarities between the name by which the city is identified and the Korean phase for cat (Goyang-Yi).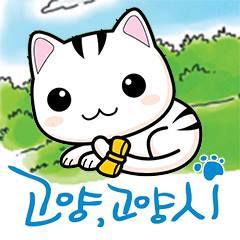 In South Korea, it is a belief that that cats are artful creatures, and they carry misfortune. But Choi Seo- Young, a public officer who dealt with the city's social media accounts, thought of breaking the myth and allowing the cats to shine.
The unpopular city went viral as a cat was drawn on the Facebook web page profile. Goyang's Facebook account has around 2,000 followers at the time, but in just 24 hours after they swapped the profile picture, social media users went all frenzy. From evil to mascot, the identity shift of the little creature brought about success. People both from within and outside the city and all around the world started coming to interact with the feline characters.
Presently, the city's social media platforms, including Instagram and Facebook, have thousands and millions of followers, respectively. The city welcomes its visitors with posters and statues of masked cats reminding them to maintain safety measures. The city is pretty trending, having a "photo zone" where visitors can have their Instagram perfect post pictures. There people can pose with Goyang-goyang-yi, totally keeping up with today's demand.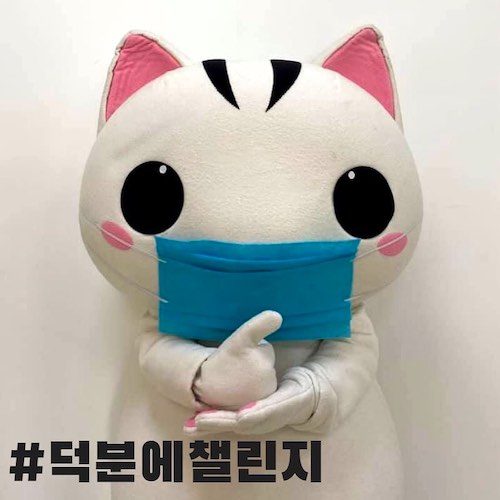 Few people even say that the city's announcements are now more friendly and pleasing to listen to. These were the same Korean people who earlier believed that babies should not be kept with cats as the cats are dominating, selfish, thieves, and demons. The time and happenings have also changed people's perspective towards cats, and this city is a perfect reflection of that.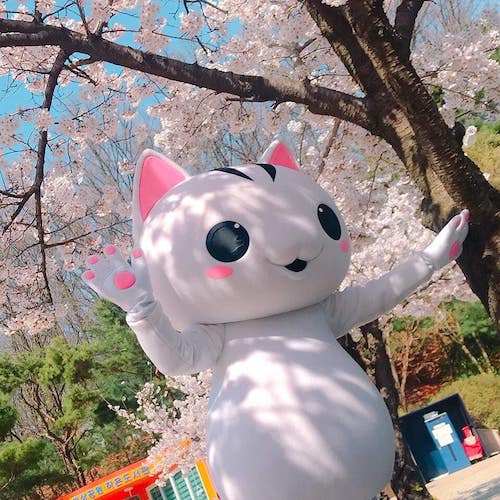 "Earlier the city had pretty boring and vague, but the cat theme has brought in life to the city's aesthetic," agrees a restaurant owner named Lee Yeong-sook.  He further states announcements and messages from something unique like Goyang-goyang-yi makes them attentive and easy to remember.
The Power of Cats in Korea
You might be already jealous of cats having more followers than you in your Instagram account. A stray cat's fortune turned around when it found a home with a single resident of Jeju, Lee Sina. Heek, a gorgeous fluffy white cat, is living on the popular resort island of Jeju and currently has 190,000 followers on Instagram, embracing the vicinity where it resides. The cat star does not even have to do much to gain fan's attention to our despair. It just hangs around, lies on the table, and walks by the wall, looking totally oblivious to the world yet scoring thousands of likes and followers.
Lee also published a book on her sweetheart Heek in 2017, which ranked in the top 100 books nationwide for almost two weeks at South Korea's prime online bookstore.
The Cat Phenomenon
The reason behind the "cat phenomenon" and the newfound popularity of cats comes from the modern lifestyles of a single-person household. Due to modernization, most Korean live alone, and since cats require less attention and care than dogs, they are better off left alone. They are now more preferred over cats. The earlier myths and norms about cats are also getting replaced as many people claim that watching cat videos online gives them emotional healing.
Earlier dog's unconditional love, loyalty, and affection were much in demand out of all domestic animals. However, now as South Korean society is becoming more individualistic, they are inclined towards cats more as their independent nature and outsider-like image have become more appealing.
About Goyang City
Goyang is becoming a representative city in Korea while honoring its history and traditions. With all the development, the city still maintains its culture at heart. The city is famous for International Flower Foundation and as a center of international trade (International General Exhibition).
Goyang city is located in the north of Seoul and you can easily reach the city within 20 mintues on road via Expressways (Seoul Ring-Expressway and No. 1 & 2 Jayuro-Expressway). You can also take KTX or the metropolitan area express rails to reach Goyang through Gyeongui Line.
Official Goyang City Website: http://www.goyang.go.kr/eng/index.do
7,539 total views, 1 views today