Embark on an exotic culinary journey in vibrant Gangneung, one of the UNESCO Creative Cities Network in South Korea, and discover the beloved local foods you must try.
On World Cities Day, UNESCO announced the addition of 55 cities to the UNESCO Creative Cities Network (UCCN). These cities have been recognized for their dedication to using culture and creativity in their development plans, as well as for their innovative approaches to urban planning. The cities have been acknowledged in seven creative fields: Crafts and Folk Art, Gastronomy, Literature, Media Arts, Design, Film, and Music.
Among the new additions to the UCCN is Gangneung city in South Korea. Gangneung, located on South Korea's east coast, has been specifically recognized for its commitment to gastronomy. The city receives this designation for promoting its culinary heritage and using food to enhance cultural and economic development. Gangneung's efforts are acknowledged for preserving its unique cuisine and embracing innovative approaches.
Discover the Culinary Delights of Gangneung in South Korea
7 Best Local Foods in Gangneung
Gangneung, a city between the mountains and the sea in South Korea, is known for its fantastic seafood. But did you know that it also has a thriving agricultural sector? This is because Gangneung receives a lot of rainfall, which is excellent for growing crops.In Gangneung, farmers grow various crops, including rice, potatoes, maize, and buckwheat. They use these crops to create delicious and unique dishes.
Gangneung offers a variety of local dishes, including rainbow trout, makguksu (buckwheat noodles), chodang sundubu, gamja-ongsimi (potato dumpling soup), hanwoo beef, ojingae sundae, chuncheon dakgalbi, and more. Here are some must-try culinary delights in Gangneung:
1. Makguksu
One popular dish in Gangneung is makguksu. The dish features spicy buckwheat noodles, which have a slightly chewy texture. The noodles are usually served cold with a spicy sauce, vegetables, and sometimes even pieces of seafood. It's a refreshing and flavorful dish, perfect for a hot summer day.
2. Gamja Ongsimi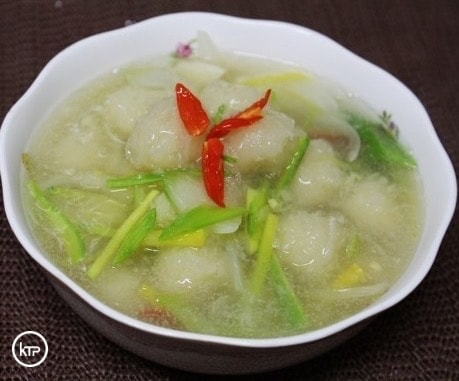 Gamja ongsimi is a delicious dish that you need to try. It's a soup made with mashed potato balls that are cooked in a tasty broth with vegetables and sometimes meat. Imagine the soft and flavorful mashed potatoes forming little round shapes swimming in a warm, savory soup. It's like a comforting hug for your taste buds, especially when the weather is chilly. It's a dish that will keep you warm and satisfied during the colder months.
3. Chuncheon Dakgalbi
Chuncheon dakgalbi is another popular and delicious dish in Gangneung. This spicy stir-fried chicken dish originated in the late 1960s. In Gangneung, they have variations of Chuncheon dakgalbi.
One of the most popular variations is adding cheese to the dish. The cheese adds a delectable layer of richness, making every bite pure perfection. This dish is an absolute must-try if you love bold flavors and cheesy goodness.
4. Ojingae Sundae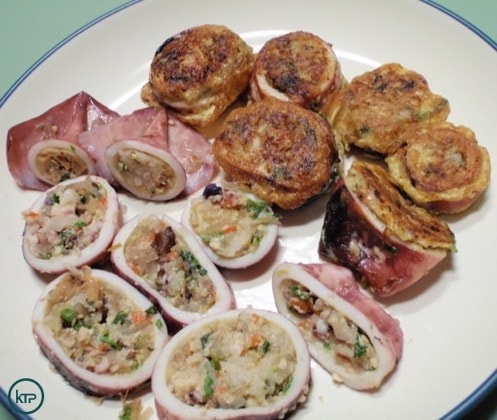 Ojingeo sundae is a popular dish with a fascinating backstory that you should try when visiting Gangneung. During the Korean War, when ingredients were scarce, people in Gangneung used squid instead of pork intestine in the traditional sundae dish.
To make an ojingeo sundae, the squid is emptied and filled with a mouthwatering mixture of glutinous rice, chopped squid, and veggies. The combination of chewy squid and slightly firm rice creates a unique and delicious taste. You can find ojingeo sundae at Jungang Market in Gangneung, where both locals and visitors are drawn to its irresistible flavors.
Also read: Ultimate Travel Guide to Gangneung.
5. Raw Rainbow Trout
Gangneung presents a one-of-a-kind treat: raw slices of red-fleshed rainbow trout. People usually eat it wrapped in vegetables with wasabi and soy sauce, but in Gangneung, you can also enjoy it as a salad mixed with veggies and powdered soybeans. While raising rainbow trout may pose challenges, Pyeongchang, a county near Gangneung, cultivates this fish. Visiting Gangneung offers a fantastic opportunity to taste the unique flavors of rainbow trout.
6. Chodang Sundubu
Another beloved dish in Gangneung is Chodang sundubu, which puts the spotlight on sundubu, a soft bean curd similar to tofu. What sets Gangneung's tofu apart from others is its unique preparation using saltwater, resulting in a delightfully smooth texture.
Chodang sundubu dishes have their roots in the Chodang region of Gangneung, and the locals serve this delicacy in a variety of mouthwatering ways. From a spicy stew brimming with fresh seafood to a piping hot stone pot filled with flavorful vegetables and meat, there are endless options to indulge in. If you're a fan of tofu, this healthy and delicious dish is an absolute must-try.
Also read: Uncovering the Hidden Gems of Gangneung Specialty Coffee Scene.
7. Hanwoo/Hanu Beef
Lastly, Gangneung is famous for its hanwoo/hanu beef, which is tender and rich in flavor. Hanwoo is a type of Korean beef that comes from cows raised in the lush green grasslands surrounding the city. Whether you enjoy it grilled, in a stew, or in other dishes, hanu beef is a must-try when visiting Gangneung.
If you ever have the chance to visit Gangneung, make sure to try their unique and tasty dishes. These dishes showcase the region's seafood and locally grown crops.
In conclusion, Gangneung, located in South Korea, is a city that has earned its place in the UNESCO Creative Cities Network for its culinary offerings. It is a true treasure trove of flavors, showcasing the richness of the sea and the land. Whether you have a penchant for seafood or prefer hearty land-based dishes, Gangneung has something to offer to satisfy and tantalize your palate.
Also read: 4 Must-See Sites in Gangneung, Gangwon-do.
From picturesque landscapes to hidden gems and cultural adventures, follow KoreaTravelPost's Twitter, Facebook, Instagram, LinkedIn, and Flipboard for a thrilling journey through the heart of Korea
Related Posts
226 total views, 2 views today