Dive into our Donghae travel guide and uncover the best places in Donghae. From historic sites to thrilling adventures, explore the top Donghae attractions.
Nestled between the scenic towns of Gangneung and Samcheok in Gangwon province, Donghae emerged in 1980 from the union of Mukho in Myeongju County and Bukpyeong in Samcheok. 
Although Donghae's history might be short, it has a wealth of experiences to offer to all types of travelers. If you're an enthusiast for history and art, take a stroll up the steep hills of Nongoldam-gil at Mukho Starlight Village. Here, you'll be captivated by the murals adorning the walls of old houses, each telling the stories of resilient residents who forged their livelihoods in this bustling port city.
For adventure seekers craving an adrenaline rush amidst lush green landscapes, Mureung Byeolyucheonji is your playground. Brace yourself for thrilling high-element activities that will get your heart racing. Meanwhile, as per our Donghae travel guide, Mount Duta is an iconic destination for the country's avid climbers. If you're part of this adventurous group, prepare to be enchanted by the wonders of Mother Nature as you embark on the Beteulbawi Rock trail. This scenic journey takes you through the stunning Mureung Valley, leading to the awe-inspiring Beteulbawi Rock, a hike that usually takes around four hours and thirty minutes. For the perfect route, start your adventure at Mureung Scenic Spot, explore the serene Samhwasa Temple, and marvel at the ancient Dutasangseong Fortress before descending from Mount Duta.
Many visitors liken Donghae to an "assorted gift set," offering a diverse range of attractions in one delightful package. And the best part? Getting here is a breeze, thanks to the efficient KTX high-speed train that connects Seoul Station to Donghae Station in just two hours and forty minutes. This means that even a quick two-day getaway won't leave you feeling exhausted.
Getting around
Thanks to the city government's convenient city tour bus service, exploring Donghae and its incredible attractions has never been easier. This bus covers 10 of the city's top tourist destinations, many highlighted in this Donghae travel guide.
Here are some key details about this fantastic service:
Frequent Operation: The city tour bus operates a total of six times daily, ensuring you have plenty of opportunities to hop on and off to explore your favorite spots.
Efficient Timing: The entire circuit takes approximately one hour and 30 minutes to complete. So you can plan your day accordingly and make the most of your time in Donghae.
Affordable Day Pass: For just 5,000 won, you can purchase a day pass allowing unlimited bus rides throughout the same day. It's an excellent deal for travelers looking to see it all without breaking the bank.
Convenient Operating Hours: The bus service operates from 9:45 a.m. to 6 p.m., providing ample time for you to explore Donghae's hidden gems.
Easy Ticket Purchase: Tickets for the city tour bus can be conveniently purchased at [Insert Link], making it hassle-free to embark on your Donghae adventure.
With the city tour bus, you can create your personalized Donghae itinerary based on the Donghae travel guide, whether you want to revisit your favorite spots or explore new ones. So, grab your day pass, hop on board, and let the city tour bus take you on a memorable journey through the heart of Donghae.
Mukho Starlight Village
Start your Donghae adventure with a visit to the enchanting Mukho Starlight Village, just a quick 10-minute drive from Donghae Station. This charming village has a captivating history that dates back to the 1940s and 50s when it served as a support hub for the hardworking individuals who made their livelihoods by selling pollack at Mukho Port.
Mukho Port opened its doors in 1941 and experienced its golden era during the 1970s when it was a bustling fishing port and an industrial hub for transporting cement and coal. As people settled in houses atop a hill overlooking the port, the village naturally took shape and has stood the test of time. However, the village faced a decline in population during the 1980s and 90s due to dwindling fish stocks and a fading coal industry. Residents gradually moved away, leaving more vacant houses than occupied ones. Presently, the village is home to around 160 residents, with 42 percent of them being over 70 years old.
In 2016, the city government stepped in with a visionary plan to transform Mukho Starlight Village into a thriving tourist destination. They breathed new life into the village by renovating its alleyways and installing stairs, handrails, and streetlights. Moreover, local artists were invited to adorn the village's houses with colorful murals, creating a picturesque walking trail. As you wander through the village, you'll be guided by friendly village ladies who share stories about the village's origin and the rich history of Mukho.
The delightful walk takes approximately 20 minutes, leading you to the cozy Mukho cafe the village cooperative runs. Here, your village guide transforms into a skilled barista, ready to prepare your favorite beverages. Take a moment to relax and savor your drink while soaking in the breathtaking panoramic views of the eastern sea from the hilltop.
Now, you might be wondering why it's called a "starlight village." Curious visitors often pose this question. One of the local guides and barista at Mukho Cafe explains, "As the sun sets, the villagers in this hilly terrain start lighting up their homes, and from a distance, it resembles a sky full of twinkling stars. Hence, the name Mukho Starlight Village."
Photo-op with the Little Prince
As you go downhill from your delightful adventure with this Donghae travel guide, consider taking a different route and descend via the famous 109 Stairs, renowned for its captivating Little Prince mural. This, one of the best places in Donghae, is a must-see and a popular photo opportunity that has become a true symbol of this charming village. Remarkably, a passageway once avoided by villagers has become a major tourist attraction.
Dojjaebigol Sky Valley
The term "dojjaebi" is a unique Gangwon dialect version of "dokkaebi," a Korean word often associated with mischievous goblins in traditional folktales. Interestingly, due to a fascinating natural phenomenon, the neighborhood earned its name, Dojjaebi Valley. Whenever it rains at night, the area takes on mesmerizing hues of blue, a magical sight that locals couldn't help but notice.
According to the Donghae travel guide, there's more to Dojjaebi Valley than just its name and folklore. Recently, the city government has transformed it into a fantastic amusement park. The main attraction? A thrilling skywalk that lets you venture towards the ocean while suspended at a breathtaking 59 meters (193.5 feet) above sea level. If you're an adventure enthusiast seeking an adrenaline rush, don't miss the chance to experience the Sky Cycle. This unique bicycle ride has you pedaling through the sky while securely attached to a 179-meter-tall tightrope. Rest assured, you won't take a tumble, but the excitement and chills are guaranteed. A round trip on the Sky Cycle is priced at 15,000 won (approximately $11.20).
Now, if you prefer to keep both feet on the ground but still crave some excitement, make your way to the Giant Slide, which costs 3,000 won. While it may appear as if it's designed for kids, don't be fooled. This slide stretches an impressive 87 meters and is fast enough to make even the bravest of souls scream with joy all the way down.
Gangwon Province has earned a reputation for its stunning celestial displays, and a must-visit destination for astronomy enthusiasts is the Donghae Byeolnuri Astronomical Observatory. Located just a short 15-minute drive from the Dojjaebigol Sky Valley or a quick 10-minute trip from Mukho Station, this observatory may not be the largest, but it offers a captivating experience.
The Donghae Byeolnuri Astronomical Observatory boasts a planetarium and two distinct observatories equipped with various telescopes. Here, visitors have the unique opportunity to gaze upon the night sky, observe mesmerizing sunspots, or witness solar activities during daylight hours.
Inside the planetarium, a remarkable space science video unfolds on a seven-meter dome screen suspended from the ceiling. As you settle into a comfortable reclining chair, you're transported on a cosmic journey, making this a truly immersive and educational experience and, one of the best places in Donghae.
Even seasoned Korean travelers find themselves awestruck by the breathtaking scenery that exists right here in Korea. The very location that once served as an excavation site for Ssangyong C&E, dedicated to mining and processing limestone, has transformed into a true gem. This remarkable change occurred 40 years ago when the company made a visionary investment of 30.4 billion won, turning this expansive 1.07 million-square-meter complex into a thrilling high-element activity park and observatory in 2021.
As you explore this captivating park, you'll encounter majestic cliffs and an emerald-colored artificial lake, a stunning creation born from the mountain slope cutting process during the mining days. The view it offers is nothing short of spectacular. Make sure to ascend to the observatory, standing an impressive 270 meters above ground. The observatory isn't just about the view; it's also the perfect spot to savor a unique treat, the Cement Soft Serve, priced at 6,500 won. What makes it even more delightful is that it's made with the distinct flavor of black sesame and comes with a tiny shovel-shaped spoon and a roasted marshmallow for a charming touch.
The park has more in store for you, including a famous lavender garden that transforms the entire area into a sea of purple during the summer months. However, the true highlight of this place lies in its exhilarating activities. The Sky Glider experience is a must-try for those seeking an adrenaline rush, priced at 30,000 won. Imagine soaring like an eagle as you traverse a heart-pounding 777 meters across the park, suspended 125 meters above the ground.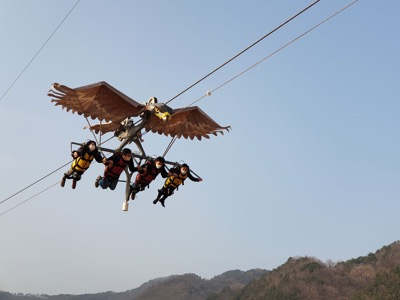 But the adventure doesn't end there. Buckle up for an Off-road Luge ride, covering a thrilling 1.5-kilometer-long track for 15,000 won. Or opt for the Alpine Coaster ride, a personal bobsled experience, priced at 20,000 won. If you're up for a twist, literally, go for the Rollercoaster Zip Line, also priced at 20,000 won, offering thrilling twists and turns.
For the ultimate high-element adventure, consider the package deal, which includes all four rides for 70,000 won. It's an unforgettable experience that promises excitement, breathtaking views, and lasting memories.
Hiking time @ Mount Duta or Mount Cheongok 
If you're up for more outdoor adventure and exercise, consider visiting the awe-inspiring Mount Duta, standing tall at 1,352 meters, or its neighbor, Mount Cheongok, reaching heights of 1,403 meters. These two peaks together form the magnificent Baekdu-daegan mountain range, one of the best places in Donghae, offering a paradise for nature enthusiasts and hikers.
Nestled within this pristine wilderness is the breathtaking Mureung Valley, renowned for its two picturesque waterfalls. Nature lovers will be captivated by the serene beauty of this place. One of the highlights is the famous Beteul Rock, a natural wonder that beckons explorers to witness its marvel.
For those seeking a more challenging trek, embark on the fortress trail that spans a rewarding 7.3 kilometers. While completing it may take approximately five hours, every step is worth it. Along the trail, you'll be treated to a magnificent vista of the Yongchu Waterfall, Sinseon Peak, Mount Geumgang Rock, and the striking Mount Duta Canyon Skyscraper. These awe-inspiring sights are sure to leave you in awe of Mother Nature's grandeur.
If you prefer some guidance to make the most of your journey through Meureung Valley, consider requesting a guided tour at the entrance of Mount Duta. It's a fantastic way to delve deeper into this beautiful region's rich natural and cultural heritage.
Enjoying the Local Cuisine
Now, let's talk about refueling with a delicious lunch before starting your next set of activities. A fantastic option is to visit the Central Market, conveniently located on the way to the Dojjaebigol Sky Valley. This bustling market has been a part of the community since 1943, aligning with the opening of the port. Here, you'll discover a treasure trove of around 300 operational stores offering various goods.
When it comes to food, don't miss out on trying the local specialty known as "jangkalguksu." This delectable dish features kalguksu, a type of noodle soup that can be prepared with various broths, including chicken, clam, anchovy, beef, and even ground perilla seed. What sets "jangkalguksu" apart is the addition of "jang," or red pepper paste, which gives the noodles a delightfully spicy kick. If you prefer something milder, try " janchiguksu " and another beloved Korean noodle dish featuring anchovy or beef broth.
Savoring a hearty meal at the Central Market is a delightful culinary experience and a way to immerse yourself in the local culture. It's the perfect pitstop to recharge and indulge in the flavors of Donghae.
Nongoldam-gil in K-dramas
In the beloved drama series "The Heirs (2013)," this very area served as the picturesque filming location for the home of Cha Eun-sang, portrayed by the talented actor Park Shin-hye. It's a spot that shows' fans instantly recognize and associate with the character's storyline.
Furthermore, the iconic Mukho Lighthouse was spotlighted in the equally popular drama "Brilliant Legacy (2009)," starring the talented actors Han Hyo-joo and Lee Seung-gi. This captivating lighthouse added a touch of charm and beauty to the series, leaving a lasting impression on viewers. Use this Donghae travel guide to find this amazing photo spot.
If you're a fan of these dramas or simply a lover of stunning filming locations, a visit to this area in Donghae is sure to bring back fond memories and create new ones as you explore the real-life settings of these beloved shows. It's a unique way to connect with the magic of Korean entertainment and experience the beauty of Donghae firsthand.
Wrapping up
Donghae, with its rich tapestry of history, culture, and natural beauty, stands as a testament to the diverse offerings of South Korea's Gangwon province. As this travel guide has illuminated, whether you're an adrenaline junkie, a history buff, or someone simply seeking serene landscapes, Donghae has something tailored for every traveler. As you chart your next journey, let the attractions of Donghae beckon, promising not just sights to behold but memories to cherish. Dive deep into its wonders, and you'll soon discover why it's hailed as one of the best places in the Korean peninsula.
Related Posts
112 total views, 7 views today