Seoul has a new treat for ARMY! Visit the BTS x Jamie Wander popup store in Seoul before it goes away!
The BTS merch collab was launched on June 11 creating a frenzy amongst ARMY with a whole range of Dynamite-themed key rings, bags, leather stickers, and luggage charms. There are pastel mini bags with adorable names, stickers with Dynamite-inspired designs that match with the bags from the collection. The list of such amazing merch almost feels like its endless!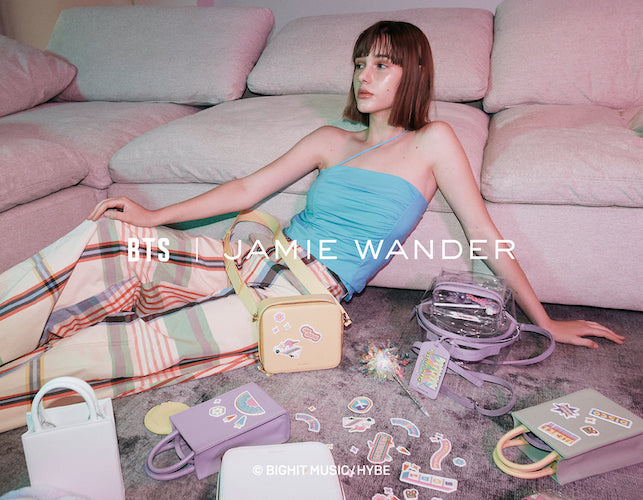 This collection perfectly lines up with the recent comeback with Louis Vuitton Show and Permission to Dance videos and so much more!
Read more about the BTS x Jamie Wander collab and their Dynamite Collection!
BTS x Jamie Wander Popup
The popup store is located near Seoul Forest and will delighting the fans till September 2, 2021. It was setup on July 2, 2021 and has been quite popular among fans.
The outside of the store is simply rocking! It has several motifs from the collection on the walls and glass windows outside. The "BTS purple" makes the store pop brightly amongst the plain old boring buildings. There's no way you will miss it!
And the inside of the BTS x Jamie Wander Popup store in Seoul is pretty pink! You will find lots and lots of BTS merch from the Dynamite Collection. The whole collection spread out like that will certainly break even the strongest ARMY resolve and you'll wanna take all home with you!
Where is it?
Gallery The Bom, 42 Seoul Forest 2-gil, Seongdong-gu, Seoul
 Photos provided by TRAVELHOLIC (from VisitKorea Twitter)
So, even though you might have promised not to splurge on any more BTS merchandise and BT21 collection, it gonna be difficult not to give in to the urge when you see the gorgeous store and the amazing collection!
Don't forget to check out these other South Korea travel posts:
5,223 total views, 5 views today