If you're planning to attend the Boryeong Mud Festival, check out some amazing things to do in scenic spots around the city!
If you're looking for a coastal town with beautiful beaches and a fun mud festival, look no further than Boryeong, South Korea! This lovely metropolis is situated on the Yellow Sea's coast and boasts some of the country's greatest beaches. Every July, Boryeong hosts its famous mud festival, which attracts thousands of visitors from all over the world. The mud here is said to have cosmetic properties, so be sure to give it a try! There are also numerous small islands near Boryeong that can be explored by ferry. So if you're looking for some summertime fun, check out Boryeong, South Korea!
Daecheon Beach
The long beach, which lies along the white sand and blue sea and is bordered by several islands on the horizon, offers various opportunities. Swimming costumes in vivid colors, plenty of pine forest for shade, sunsets low on the distant horizon. The Daecheon Beach area is a memory-making location for young people in love, a destination of relaxation for families, and a Mecca for water sports.
Daecheon Beach is a lovely little beach in South Chungcheongnam Province, South Korea. Take a stroll along the length of the sandy beach or sunbathe for some time. The beach is immaculate, and it has a beautiful boardwalk. You may even submerge yourself in the refreshing ocean water. A tiny water park is also located near the beach. You'll have an adventure of a lifetime when you go to Daecheon Beach during the mud festival.
Jukdo Island
Jukdo was formerly an island located on the opposite side of Woljeon-ri in Nampo-myeon. Still, after a causeway was built to reclaim territory around Nampo, Jukdo became linked to the mainland. The sandy, unspoiled island is also known as Bamboo Island because of its thick bamboo groves. The seas in front of the island are clean and full of fish, attracting many visitors for sea fishing.
Seongjusan Natural Recreation Forest
Seongjusan Mountain Recreation Forest is a picturesque location in the Charyeongsan Mountains. The 4km long extensive wooded area in Seongju-ri, Seongju-myeon, is proudly displayed. The Hwajanggol Valley gets its name because there are eight burial places near Seongjusan Mountain, one of which is disguised in this valley. The Hwajanggol Valley translates to "Valley of Great Tombs." It's one of the eleven valleys that make up Chungnam. The Seongjusan Mountain Recreation Forest has become a tourist attraction since it was built with paved roads and recreational amenities.
Gaehwa Art Park is a large creative environment in Boryeong, South Korea. Mosan Fine Arts Museum, Birim Park, Yukpilsi Park, Hwain Music Hall, and Herb Land are some of the parks and attractions that can be found there. The Mosan Fine Arts Museum's orange roof is constructed with local stones. Over 1,500 statues, monuments, and inscriptions on large slabs are displayed at Yukpilsi Park. Visitors to Herb may dine at the restaurant. Visitors can see seven different ponds, waterfalls, and walking paths, as well as animals such as deer, rabbits, and ducks meandering throughout the park.
Muchangpo Beach
This is the west coast's first beach, which was built in 1928. The white sand extends for 1.5 kilometers and is 50 meters wide, with water depths of 1-2 meters and a slope of 4 degrees. There are plenty of pine trees around the beach so that you can enjoy the sea and woods simultaneously.
Along the coast road 1.5 kilometers long that links Muchangpo Beach to Sukdaedo, you may find sea cucumber, shells, tiny octopuses, and other marine creatures.
Oeyeondo Island
The name of Oeyeondo (Oeyeon Island) implies that it is too far from the earth, and it resembles smoke. Only a two-and-a-half-hour boat ride from Daecheonhang Port allows you to reach the island, which is 53 kilometers off the coast. Three mountaintops framed the islands surrounding them. This is the least distant island from Boryeong City of 70 others. Since it appears to lead the other islands, people called it Oeyeonyeoldo (island leader).
Boryeong Chungcheong Suyeongseong
A massive rock fortress was erected on the coast to repel foreign aggressors who might try to invade the west sea. The Boryeong Fortress was built during the Goryeo Dynasty and remodeled from a mud castle to a stone fortress during the Joseon period. San-Hae Lee, a prime minister of the Joseon Dynasty under King Seonjo, inscribed this tablet at the entrance.
If beach or valley isn't sufficient for you, consider visiting the Cold Wind resort. You will forget the hot weather for a second if exposed to cold wind.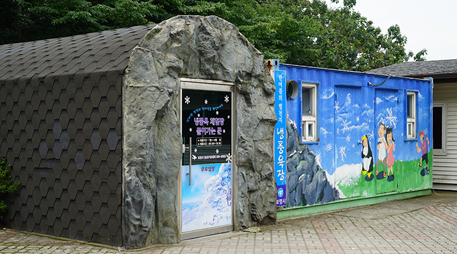 The wind that comes from underground can make it very cold. Here at the Cold Wind Resort, the temperature is below 12 degrees even though we are 50 meters away from where the wind is coming from. When it is hot outside, the inside of the resort will be colder. The Cold Wind Resort is a good place to buy mushrooms. They are grown in the natural wind, and their quality is known around the area. There are also many places to rest and enjoy the view of Chongcheon Reservoir near the resort, which will refresh you.
Boryeong Lake
Boryeong Lake is a lovely body of water with transparent blue waters. The lake was completed in October 1998. Two tributary streams come from Seongjusan Mountain and Seongtaesan Mountain, respectively, and meet to form Uncheongcheon (stream). A dam blocks the stream, so the water from the stream goes into the lake. The lake is halfway up Amisan Mountain and Yanggaksan Mountain.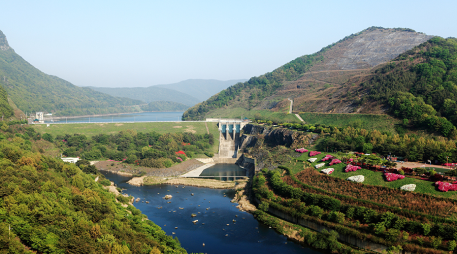 Oseosan Mountain
Sunset of the west sea from the top, a ghostly wave of silver grass-like watercolor, and sunset of the west sea from ground level. Boryeong's stunning scenery may only be seen from Oseosan Mountain. You can see both city and the sea from one position. The sunset is gorgeous, so many people come to watch it every day.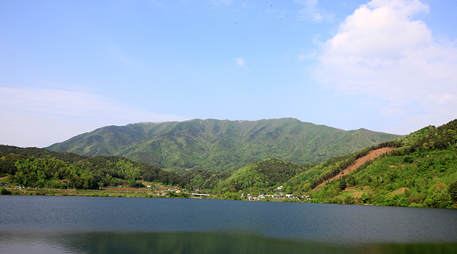 Boryeong is a beautiful city with plenty to see and do. Whether you're interested in the beaches, the mud festival, or hiking, you'll find something to enjoy in Boryeong. Be sure to add this city to your list of places to visit in Korea!
2,870 total views, 7 views today