Kpop powerhouse BLACKPINK has opened an exclusive "Born Pink Pop-up Experience" merch store in Seoul. In addition, the Korean Intellectual Property Office (KIPO) cracked down on counterfeit Blackpink merchandise near Gocheok Sky Dome during the finale concert. Please continue to read for the exciting scoop.
BLACKPINK "Born Pink Pop-up Experience" Merch Store in Seoul
Limited Edition Goods and Photo Zones Offered for Fan Engagement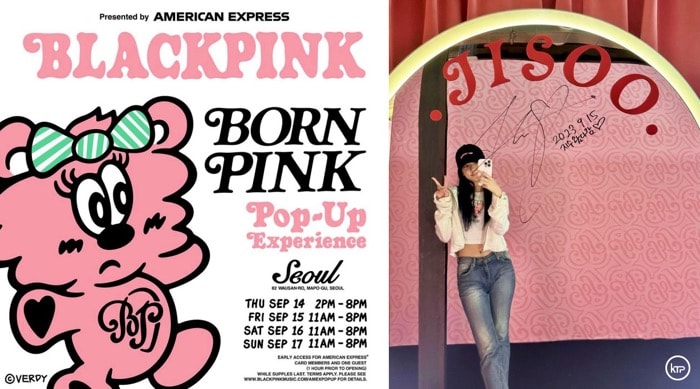 Kpop sensation BLACKPINK has launched the "Born Pink Pop-up Experience in Seoul" in Hongdae. Managed by YG Plus, this exciting store will be open for four days from Thursday (Sept. 14) to Sunday (Sept. 17). Fans can look forward to a collection of merchandise created in collaboration with acclaimed Japanese graphic designer Verdy. The store offers many items, including T-shirts, hoodies, caps, and accessories.
The availability of limited-edition goods makes this pop-up experience even more remarkable. Among these exclusive items is the highly sought-after BLACKPINK electric bicycle, a hit at a previous pop-up store in the United States. Fans who visit the store will also have the chance to capture lasting memories at dedicated photo zones and photo booths.
This "Born Pink Pop-up Experience" is designed to enhance the connection between BLACKPINK and their passionate fans. With a range of merchandise options and exciting activities, it promises to be an enjoyable and memorable experience for all who attend.
Intellectual Property Agency to Take Action Against Unauthorized BLACKPINK Merchandise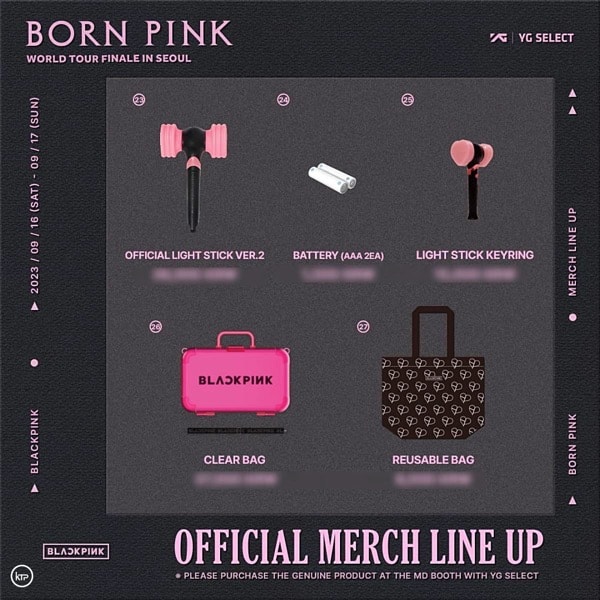 After an impressive world tour spanning 34 cities for 11 months, BLACKPINK is set to conclude their performance journey with an electrifying show in Seoul. This highly anticipated concert marks their first domestic performance in almost a year, making it an extra special event for their fans.
BLACKPINK will hold their "Born Pink" world tour finale by holding two concert events in Seoul this weekend. It will take place at Seoul's prestigious Gocheok Sky Dome in Guro District on September 16 & 17.
As BLACKPINK gears up for their Seoul finale concerts, the Korean Intellectual Property Office (KIPO) plans to fight counterfeit merchandise. KIPO's Intellectual Property Police will guard the Gocheok Sky Dome entrance and subway stations. They will take action against unauthorized vendors.
Park Joo Yeon, the chief of the Intellectual Property Police, has expressed concerns about the escalating presence of counterfeit goods accompanying the rise of KPop's popularity. He stated,
"With the increasing global prominence of K-culture, there has been a rise in counterfeit goods distributors seeking to profit unlawfully. We hope that this crackdown will foster a culture that respects genuine products."

Park Joo Yeon, chief of the Intellectual Property Police
At concerts, it is common for attendees to come across stalls selling unauthorized merchandise related to their favorite artists. These unauthorized vendors often produce products, such as photo cards and light sticks, without obtaining proper permission from the agency. To address this issue, the Korean Intellectual Property Office (KIPO) is working closely with entertainment agencies to tackle online and offline counterfeiting. KIPO has already taken action by removing counterfeit sellers and actively delisting fake merchandise from online platforms. This ongoing effort aims to protect consumers and uphold genuine merchandise's integrity.
Experience the BLACKPINK "Born Pink Pop-up" Store and Authentic Concert in Seoul!
In conclusion, for four days, BLACKPINK fans can acquire limited edition merchandise and capture memorable photos at the "Born Pink Pop-up Experience" store in Seoul. In addition, the Korean Intellectual Property Office (KIPO) is actively taking measures to safeguard fans from counterfeit merchandise. At the concerts, the Intellectual Property Police of KIPO will be present to ensure the genuineness of the merchandise on offer.
In addition to KIPO's measures, concert-goers are advised only to purchase merchandise from authorized vendors to ensure the authenticity and quality of the products. By supporting legitimate vendors, fans can help contribute to a sustainable and legitimate music industry.
Overall, BLACKPINK fans can look forward to an exciting and authentic concert experience, thanks to the efforts of KIPO and the Intellectual Property Police in combating counterfeit merchandise.
Related Post:
90 total views, 8 views today