Pohang, a coastal city in the North Gyeongsang province of South Korea, is popular for its beautiful beaches, historic sites, and vibrant food culture. And when it comes to finding a cozy place to grab a cup of coffee or a quick bite, Pohang has it in spades with its unique and charming cafes. From rustic and laid-back coffee shops to modern and trendy spots, the city boasts an array of cafes perfect for anyone looking to take a break from their daily routine or catch up with friends. In this article, we will look at five of the best cafes in Pohang that you should definitely add to your list when visiting the city.
Cafe Odoli Odosi (오도리오도시)
Cafe Odoli Odosi is a charming coffee shop located in Pohang, South Korea. The cafe's unique and rustic interior decor, with its exposed brick walls, wooden tables, and antique-style furniture, creates a warm and inviting atmosphere that instantly makes customers feel at home. The coffee at Cafe Odoli Odosi is made with high-quality beans and brewed to perfection, making it a favorite spot for coffee lovers in the area. In addition to coffee, the cafe also offers a range of delicious desserts and snacks that are freshly made in-house. With its cozy ambiance, delicious drinks, and tasty treats, Cafe Odoli Odosi is a must-visit destination for anyone in Pohang looking for a relaxing and enjoyable coffee experience.
Cafe Nest Co. (네스트 코퍼레이션)
Located in the bustling city of Pohang, South Korea, Cafe Nest is a hidden gem that offers a warm and inviting atmosphere for coffee lovers. This quaint cafe has been serving up delicious brews and scrumptious snacks for several years, and it has become a favorite spot for locals and tourists alike.
As you step inside Cafe Nest, you are greeted by a cozy and charming interior. The walls haveart pieces and vintage decor, and the soft lighting creates a relaxing ambiance. The cafe is not very big but feels spacious and comfortable, with ample seating options for solo coffee drinkers or groups of friends.
One of the highlights of Cafe Nest is its coffee menu. The cafe serves various coffee drinks, including espresso, americano, latte, cappuccino, and mocha. Each drink has freshly roasted beans, and the baristas take great care to prepare them to perfection. You can taste the quality of the coffee in every sip, and the aroma is simply heavenly.
Page38 Cafe is a heritage-looking coffee shop located in the heart of Pohang, a coastal city in southeast South Korea. The cafe is situated on 38th street in the city, hence the name "Page38." Thanks to its delicious coffee, relaxed atmosphere, and unique decor, the cafe has become a popular spot for locals and tourists alike.
The cafe's interior design is an eclectic mix of vintage and modern elements. The walls are adorned with black and white photographs, and colorful murals are painted on the ceiling. The seating options are varied, ranging from comfortable armchairs to cozy booths, and there is even a small balcony area with outdoor seating for those who prefer to enjoy their coffee with a view.
Pohang, a coastal city in South Korea, may not be the first place that comes to mind when considering specialty coffee. However, nestled in a quiet neighborhood in the northern part of the city, there is a hidden gem that coffee lovers should not miss: Nonsil Coffee Roasters.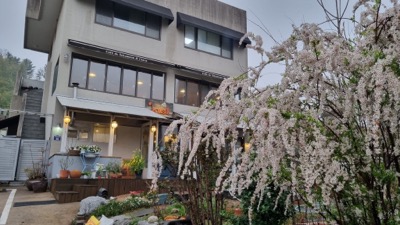 Nonsil Coffee Roasters was founded in 2016 by a couple passionate about coffee and wanting to bring specialty coffee to their hometown. They started by importing green beans from various countries and roasting them in small batches to showcase their unique flavors. One of the highlights of Nonsil Coffee Roasters is their dedication to quality. They source only high-quality green beans and roast them carefully to bring out their best flavors. Customers can choose from a variety of brewing methods, including pour-over, drip, and espresso. The menu changes regularly, depending on the season and the availability of beans, making it one of the best cafes in Pohang.
Starbucks Pohang Youngildae Beach
Starbucks, the world-renowned coffee chain, has a presence in many cities and towns worldwide. One such location is Starbucks Pohang Youngildae Beach, situated in the coastal city of Pohang in South Korea. The store is located right next to the stunning Youngildae Beach, known for its clear waters and golden sand. The store's exterior features a contemporary design with a spacious outdoor seating area overlooking the beach, providing customers with a breathtaking ocean view. It's the perfect spot to enjoy your favorite beverage while soaking up the sun or enjoying the sunset.
One of the unique features of this Starbucks store is that it offers exclusive merchandise that is not available anywhere else. The store carries a range of items, including tumblers, mugs, and other souvenirs that feature designs inspired by Pohang's local culture and scenery. These exclusive items make great gifts or souvenirs to take back home. Of course, it wouldn't be a Starbucks store without its signature menu of coffee and tea drinks. The store offers various beverages, including its famous lattes, frappuccinos, and seasonal specials. They also serve a variety of snacks, pastries, and sandwiches to satisfy your hunger cravings.
Final Thoughts
Pohang offers a diverse and exciting cafe culture that no one should miss. From trendy coffee shops to traditional Korean tea houses, there is something for every taste and preference. The five cafes we have highlighted in this article offer unique experiences, ranging from stunning ocean views to cozy book nooks. Whether you're a coffee lover, a tea aficionado, or simply looking for a quiet place to relax and unwind, these best cafes in Pohang will surely delight you. So next time you find yourself in Pohang, be sure to visit these top cafes and experience the city's vibrant cafe scene for yourself.
Related Posts
1,270 total views, 3 views today