The breathtaking theme park located in Gapyeong County in Gyeonggi Province of Korea is famously known as the Edelweiss Swiss Theme Park. This delightful Swiss-themed park is like a small Swiss village, and it has become popular among the locals and attracted many to come and visit this pleasant place. This place offers beautifully structured buildings and other pieces of art that look like Swiss architecture. And this village is amidst a beautiful natural green lavish scenery.
How to reach?
Despite being slightly larger than Petite France, Edelweiss Swiss Theme Park is more difficult to access and farther from Cheongpyeong station, which means fewer visitors than Petite France. It is preferable to take a taxi there from Cheongpyeong station, which would cost you about KRW 20,000. Otherwise, you must take the city bus. A small café is located right next to the ticket sales counter where you get different beverages and food. The food and beverage available here are all Swiss dishes, so you can already get the feeling that you are in Switzerland.
Timings
Although the park doesn't open until 10 a.m., visitors were being admitted roughly 15 minutes early. It is 9,000 won and comes with a free beverage at the café, and you can choose your beverage. The closing time of the park is 6 p.m. every day.
What is the Edelweiss Swiss Theme Park like?
Every building is just far-flung; you absolutely will get the perfect feel that you are in Swiss. Some buildings are for private use, but the others are like small museums showing things about Swiss culture. The museums include the Santa Museum, Love Museum and Wine Museum, Coffee Museum, and Chocolate Museum.
Here, tourists can discover more about Swiss cuisine and culture. The main attraction is the view from the hilltop; there, you can find some sheep roaming around. You can buy the hay and feed those sheep if you like.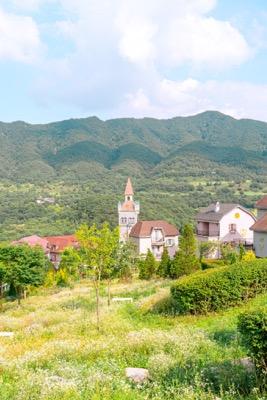 In some exhibition halls, you may learn more about the nation. This is where the Korean drama "Remember: War of the Son" and the variety show "We Got Married Global" were filmed.
There are roughly 32 houses with various themes in all; the roadside cafes closest to the entrance are the easiest to find. Many people stop here on the way to learn more about Edelweiss Swiss Theme Village. While you have a midday meal and a nice cup of coffee at Edelweiss Swiss Park, time passes slowly.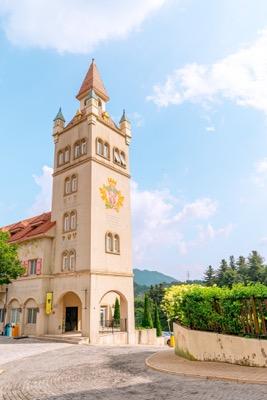 Nearby Sight-Seeing Places
The Love Pond, Model House, Milk Cow Farm, Edelweiss Square, Fountain Square, and the Charity Bazaar are other places to see around. For independent travelers, two hours is a fair amount of time to experience Edelweiss Swiss Theme Park. Enjoy the crisp, chilly air that comes from the surrounding lush trees. Additionally, you may see the Swiss-inspired architecture of the residences, which connect along the roadways, as this is the most common sight in Switzerland. Heidi Cheese is a place to experience a realistic simulation of the cheese-making process in addition to the gorgeous eateries. You'll feel calm and relaxed after taking a journey to explore the paradise of Edelweiss Swiss.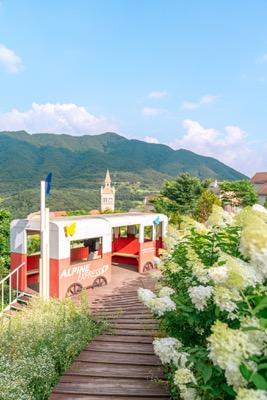 Edelweiss Swiss Theme Park Website
Related Posts
4,051 total views, 1 views today