Entrepreneurs' top priorities are comfortable seats, plentiful plug connections, powerful WiFi, and much stronger coffee. Seoul's coffee shops now accommodate in-door seating, which is a significant plus for entrepreneurs. In many Seoul coffee shops, the ambiance and environment are equally as important as the drinks, making them perfect for entrepreneurs.
So, if you're an entrepreneur in Seoul looking for a workspace, check these top ten coffee shops. 
Top 10 Coffee Shops As Workspaces in Seoul for Entrepreneurs
Ediya Coffee Lab, near Hakdong Station, is, without a doubt, Seoul's premier coffee shop for entrepreneurs. There's also a large assortment of pastry items to complement your coffee. There are lots of workstations, plugs, and free WiFi, with the majority of the seating being big leather chairs. Furthermore, their restrooms are wonderful!
 Alver offers a wide choice of fruit juices and smoothies in addition to all of the popular coffees such as cafe lattes and other similar beverages. Alver is one of the best coffee shops in Gangnam for people looking for large-scale workstations. It is ideal for meetings and pre-meetings because of its central location in Gangnam.
Hollys Coffee is a well-known Korean coffee shop. There are numerous tables and little workstations with power outlets. There's even a work area that's similar to a hot desk for co-workers. Gangnam Station is also within a five-minute walk away. Many of Hollys Coffee's locations are open 24 hours a day, which appeals to Seoul's business community. 
Tom n Toms is a well-known Korean coffee shop with a global reach. The one in City Hall, though, is the nicest in terms of workspace. They have a large number of seats as well as a large number of charging stations. Handmade pretzels are available at Tom N Toms, and make a quick supper.
BeansBins Coffee is for you if you appreciate amazing coffee as much as you love fast WiFi. In all of its drinks, the business is known for using only 100% Arabica coffee beans. In comparison to other coffee shops, the cafe is particularly intimate and, above all, peaceful.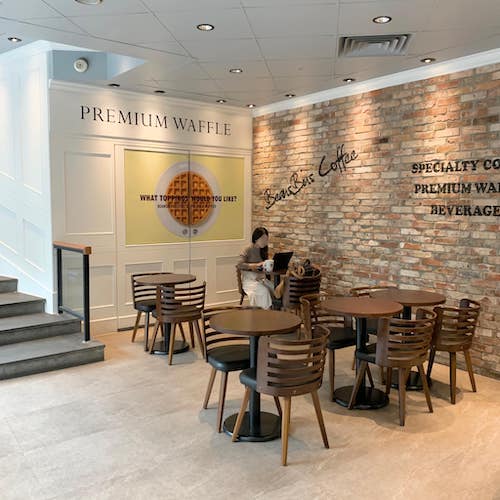 The Jongno location, located across the street from Bosingak at Jongno Tower, is the finest Starbucks for individuals who need to get some work done. It's four times the size of a typical Seoul Starbucks. Starbucks is always a good option when you just need a familiar place to put up your laptop. The WiFi is consistently fast, and the seats are consistently comfortable. A communal area is also available at the Jongno site, where visitors can participate in an exclusive coffee and tea sampling program.
Marley Coffee is a cafe that serves both coffee and wine. All of the coffee they sell comes from the Marley Coffee Foundation, which means you can get your caffeine fix guilt-free. Alternatively, if work is becoming too stressful, go for a drink of wine! In Samseong and Itaewon, you'll find Marley's Coffee.
Paul Bassett Coffee serves you the best herbal coffee. Paul Bassett, a previous winner of the global barista championship, created this entrepreneur-friendly cafe in Seoul. Entrepreneurs will enjoy this cafe. Furthermore, because all of the employees are highly trained baristas, you can count on a consistently good cup.
#9 Cafe Blog
This cafe is located in Sinchon's bustling student district, so you won't feel out of place with your laptop! If you get the work munchies, they also sell a range of sandwiches and snacks.
The best independent coffee shop in Gangnam is C27, which has an exceptionally stunning facade. The goal of C27 is to give the freshest coffee possible by reducing the time between roast and brew making it one of the perfect coffee shops in Seoul for entrepreneurs. The interior is distinct and expansive. The entire structure is occupied by the coffee shop. Each area and table is unique and contributes to the overall atmosphere. One of the nicest places to work in Seoul is the coffee shop.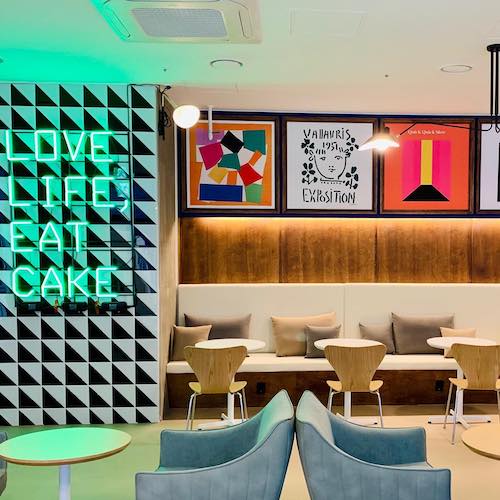 These coffee shops are the best coffee shops among all the shops in Seoul. These shops provide a calm and peaceful environment. So, if you are an entrepreneur, you can use these places as a workspace.
6,810 total views, 5 views today