Petite France in the Gapyeong area is one of the tourist hotspots in Korea when they want to get away from the hubbub of Seoul!
Petite France is one of those popular places for visitors to go when they leave Seoul. It's in Gapyeong, which has a lot to do and is, therefore, an excellent location to visit from Seoul. You'll find a variety of activities in the region, including wineries, gardens and parks with light festivals, farms, islands, and unique towns. As a result, numerous excursions depart daily for the area and frequently include a stop at Petite France.
In Gapyeong's rural region, this slice of Europe is ideal for people who prefer Antoine de Saint-Exupéry's charming novella 'The Little Prince (Le Petit Prince).' Petite France in Korea is as visually appealing as its Western counterpart, and it has the same vintage feel. Get prepared, Instagrammers!
How To Reach There
Address: 1063 Hoban‐ro, Cheongpyeong‐myeon, Gapyeong‐gun, Gyeonggi-do (경기도 가평군 청평면 호반로 1063)
First, take the Gyeongchun subway line to Cheongpyeong Station. Then, take the Gapyeong Circle bus to Cheongpyeong Station. The bus stop is near the exit of the station. When you board the bus, you must pay a modest fare. With your ticket, you may ride the bus as many times as you like that day to see other sights along the route. This includes The Garden of Morning Calm. If you're starting from the vicinity of Seoul station, your trip by subway will most likely take more than an hour. If you want to save time, take a taxi instead of opting for the bus.
Things To See in Petite France Korea
In Gapyeong, Petite France is home to a variety of lovely pink-hued French structures. The town would be especially stunning in the spring when the cherry blossoms are in full bloom.
Set within the beautiful backdrop of Seoul, it served as a filming location for numerous Korean dramas and entertainment programs, including: "Beethoven Virus," "Personal Taste," "My Love From The Star," "Secret Garden," "Great Friend Note – Girls Generation Episode," and" Running Man."
You'll see a life-sized copy of de Saint-Exupéry's timeless character, the Little Prince, at the entrance to Petite France.
Near the entrance of the cultural village, there is a café called "BaoBab." They have a cold sorbet or fruit juice drinks to help you power through your visit. Many colorful flowers bloom during spring, making it a great time to visit. There's already something for you to take pictures of!
If you head further in, you can watch a puppeteer skillfully manipulating a puppet that looks like Michael Jackson. The puppet is dancing to the music of his greatest hits. There are different performances at different times of the day, so don't forget to get a program when you enter Petite France.
Discover a smaller Eiffel tower behind the amphitheater after seeing this magnificent sight. Update your Instagram feed while you're there, please!
A Little Slice of France
Don't you feel like you're in France? This garden, with its lush colors, is styled after medieval European gardens. They are romantic and make you feel good. Paris is known for being one of the most romantic cities in history, and this garden captures that feeling.
Mural and human-size dioramas can be seen as you stroll down the streets. These are based on some of your favorite childhood fairy tales. You may immerse yourself in the book or take more Instagrammable photos with your friends or children.
In the 'Cote d'Azur,' Gallery 36 of the Belt France features art that captures the essence of southern France.
One of the museum's most fascinating features is a mural that transports you to the heart of the little prince's universe. It is done in a watercolor effect, and it looks very dreamy, just like Petite France. Wouldn't it be a great background for your next profile picture?
Things To Do
Petite France Korea offers more than just sightseeing opportunities. You should try the Plaster Art and Powder Painting workshops, in which you may make your own Petite Prince and take it home as a souvenir. 
Capture a variety of scenarios in photo zones, participate in traditional French games, and hang the Petite cloche with your love message on a baobab tree, among other things.
Performances, Shows, and Events
The festival offers a variety of programs and activities throughout the day that you can see or participate in.
You have the option to see two puppet shows. One is a French hand puppet show, and the other is a traditional Czech string puppet performance. There will also be a Marionette Dance Performance and an Orgel Demonstration.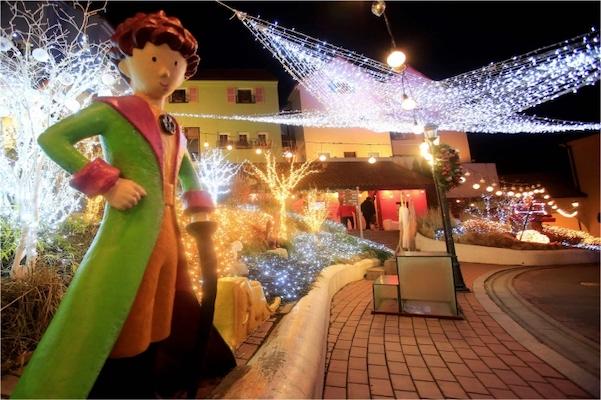 The Little Prince Lighting Festival in Petite France is one more. It usually takes place from December to February. This festival features different events, like an orgel performance and explanation, a marionette performance, a puppet performance, a magic show, and a plaster art experience. You'll be amazed by the beautiful lighting views of the Petite France park at nighttime.
Petite France is a popular choice for those wanting to escape Seoul for a day. Go on an adventure to this lovely and colorful French-style village perched high in the Gapyeong mountains. Have fun! Petite France is a wonderful place not just for children but also for everyone.
6,083 total views, 5 views today