Autumn in Korea is just a wonderful feeling, with the fall leaves, the long roads, and many other scenic views. Also, the fall seasonal foods are amazing in Korea. Many foods are made during the fall season here, and they are made from specific ingredients available during the fall season in Korea. The autumn foliage season in Korea typically runs from mid-September to mid-November and peaks after two weeks. 
In Korea, the arrival of autumn is like welcoming a new spring since every leaf looks like a flower. The spectacular sight of perfectly shaped red maple leaves softly spiraling to the ground and joining the yellow blanket can be seen.
Seasonal foods still taste their best when enjoyed during their season, despite technological advancements that have destroyed the barriers between what you can and cannot consume in a certain season.
Korea is currently in its fall season. Here are some foods you might try while enjoying the pleasant weather.
Gizzard Shad
The gizzard shad, a fish from the sea, is a common fall dish in Korea. This is best savored now since the gizzard shad is loaded with nutritious oils and has a robust flavor and a juicy texture as they prepare for the upcoming winter months. Such a nature enables its flavor to become richer and bolder. During the fall, they become a delicacy, and you can find them at seafood restaurants nationwide. 
Gizzard shad can be eaten raw or spiced, but the ideal way to consume it is to pick a small to medium-sized fish, lightly salt it, and grill it until it's hot and plump. Remove it, then eat it surrounded by a tray of vegetables and side dishes. 
Jujube (Red Dates)
If you stroll through a traditional Korean market or a rural lane in the fall, you'll probably find a large bucket full of jujube (red dates). These dates aren't like your normal dates. These are different in all ways compared to the normal ones. They resemble little, reddish-brown apples that are concealed by glossy emerald leaves. Long utilized in traditional Korean medicine, jujube is said to offer a variety of healing effects. This has long been a significant fruit in Korea, where it is both traditional food and medicinal.
They can be consumed in either a fresh or dried state. The fresh version has apple-like flesh that is crisp and delicious. They're small enough to munch on and are delicious. The dried varieties are considerably sweeter and are typically offered whole or sliced, much like crunchy chips or dates.
Blue crabs
Crabs are said to be an expensive seasonal food that is available in the autumn season. Among all the crab species, Blue crab is one of the delicacies that are popular during the fall season. Although crabs are a pricey seasonal meal in Korea, they're definitely worth the money when the females are loaded with roe (crab eggs) in the fall. The female crabs' plenty of meat and creamy roe eggs further enhance the taste. 
Crabs are great since there are many various ways to prepare them. It can be steamed or made into a fiery crab soup with other vegetables and shellfish or (gejang, literally meaning to marinate raw crabs in soy sauce) which is another typical cooking method.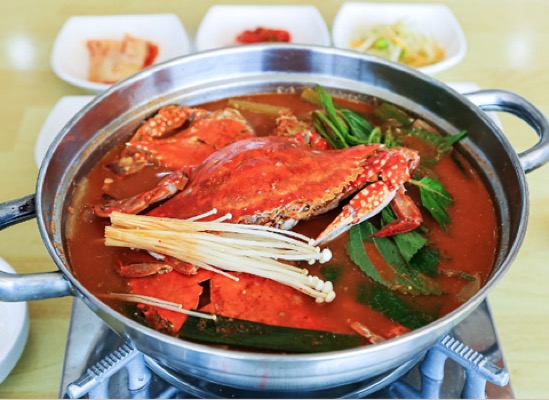 Jumbo Prawns
This is yet another famous seafood in Korea that tastes better only during the fall season. Prawns, stuffed with delicious flesh from September to December, are eaten in various ways, such as being grilled over a salty bed, to mention one.
The most delicious, fresh prawns may be found in port cities like Incheon and Busan. Some street food vendors cook them whole and deep-fry them, which is available only when fresh. And these fresh prawns with full meat are only available in the fall season, which makes them ever tasty. 
Pine Mushrooms
This type of mushroom grows only during the fall season, so this is one of those fall seasonal foods in Korea you must try out this fall season, no matter what. Although many edible mushrooms exist in Korea, this one is particularly well-liked due to its high nutritional value. However, pine mushrooms can be a little expensive because they can only be found in a natural setting. Despite this, it is still a staple in many soup recipes and can be grilled alongside other meals like abalone and meat. 
Related Posts
5,852 total views, 7 views today