Korean drama has long been popular not only for their engaging storylines and scenic filming locations but also for the delicious cuisines showcased in iconic scenes. You may have been familiar with some of the best and most popular Korean drama food and snacks, such as Kimchi and Bibimbap. However, have you ever encountered weird food combinations in a Korean drama that makes you question the characters—or even your own palate? Explore these unique and unusual food and snack combinations from Korean drama, and see if they might suit your taste!
Best Korean Drama Food and Snacks
Challenge Your Palate with These Weird Combinations!
1. Korean Sweet Donut Dipped in Soy Sauce
One of the best South Korean food and most famous snacks in Korean drama is Kkwabaegi (꽈배기). It is a South Korean twisted donut sprinkled with granulated sugar and cinnamon.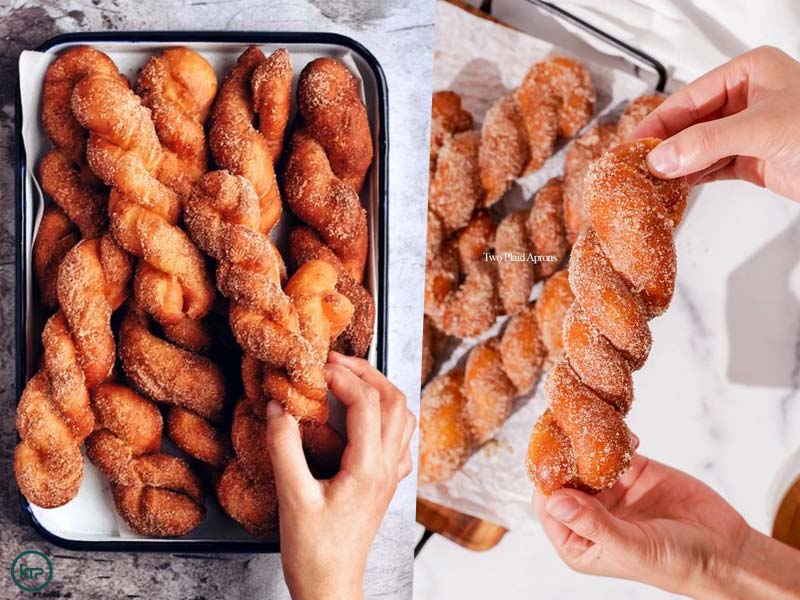 In normal circumstances, we would enjoy Kkwabaegi with various dipping cream from chocolate, vanilla, tiramisu, and even matcha. But in the latest Korean drama, "My Perfect Stranger", actors Kim Dong Wook and Jin Ki Joo dipped Kwabaegi in—believe it or not—soy sauce.
Unexpectedly, the sweet and sour sensation in this Korean drama food combination provides a comfortable feeling for Jin Ki Joo's character. But once Kim Dong Wook's character tries it, he winces and looks at Jin Ki Joo in disbelief as if questioning her palate.
What about you? Do you dare to try the weird Korean drama snacks combination?
2. Pizza with Pickles
Second of the most unusual food combinations from Korean drama is pizza topped with pickles.
As we all know, Pizza originated from a European country, Italy. However, as the food went global, it has gone through numerous variations depending on which country it landed. Pizza now comes in various flavors, both sweet and savory.
Still, a character in "Let's Eat" Korean drama once declared that she couldn't eat Pizza without pickles! The food combinations sparked criticism from another character in the Korean drama. He then explained the allure behind a pizza's delicious taste.
Still, how do you think the Pizza-pickles food combinations in the Korean drama will taste? Have you tried one before?
3. Sweet Potato and Kimchi
Who can resist kimchi? No matter what base vegetable you use, kimchi's sour and savory taste has always been a comfort food and one of the best combinations we can find in every Korean drama.
But what if you combine this sour and refreshing kimchi as a topping for South Korea's sweet potato or Goguma (고구마)?
A 2014 Korean drama, "Bride of the Century" once demonstrated eating a baked sweet potato with kimchi topping. It was one of the iconic scenes in the drama that promoted South Korea's country life, which is unique and charming.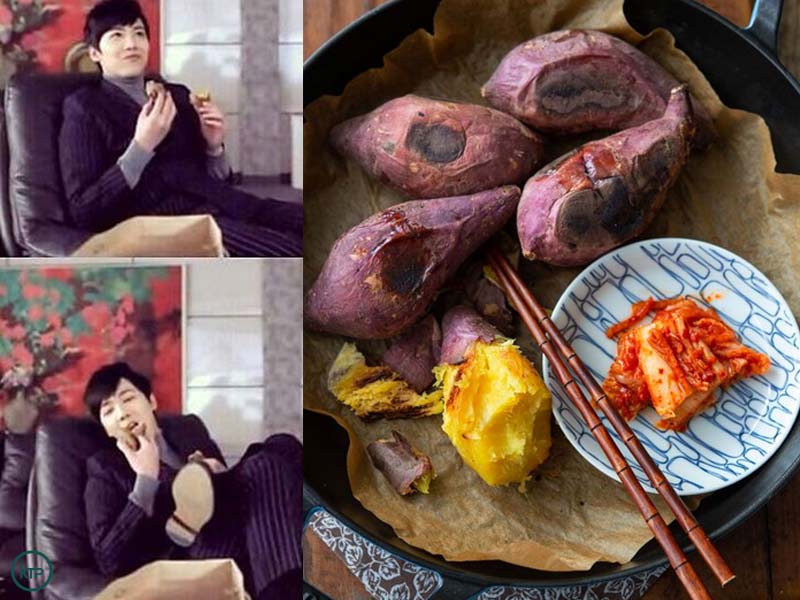 So, would you like to taste this sweet potato and kimchi combo? One thing for sure is the mixture of goguma's soft and sweet features, and kimchi's sour and crunchy texture will surprise your palate with a new sensation!
4. Steak and Radish Kimchi
Another Korean drama that promotes unusual food combinations involving kimchi is "Reply 1988".
In the Korean drama, the character ate a piece of radish kimchi as a side dish for his beef steak meal. According to the character, the combination of steak and radish kimchi feels like having Western and Eastern cultures come together.
5. Sweet Potato and Rice Topped with Soy Sauce
Lastly, an intriguing food combination from Korean dramas is sweet potato mixed with rice.
Mixing Korean sweet potato or Goguma (고구마) and rice is actually one of the most unique Korean cooking methods. This dish is commonly known as Gogumabap (고구마밥), and most people would eat it with special soy sauce condiment and other side dishes.
The combination between sweet potato and rice with the tanginess of the sauce gives a delicious and savory mixture to your palate. And it is a taste that you will never forget.
At last, which of the above best yet weirdest Korean drama food and snacks combinations that piqued your interest? Please share your thoughts with us. Also, please remember to follow KoreaTravelPost's Twitter, Facebook, Instagram, LinkedIn, and Flipboard for a thrilling journey through the heart of South Korea.
More to Read:
319 total views, 7 views today