Explore tourist destinations in Korea with K-pop band ATEEZ where they take you to peaceful Damyang, history-rich Gyeongju, and emerald beauty Gangneung!
ATEEZ's "Gourmet Tour" of Korea is going to be a hit! From Damyang's peaceful scenery to Gyeongju's ancient history, ATEEZ will show you everything Korea offers! The group will visit some of the most beautiful and historical cities in the country while indulging in some of Korea's best food. 
You can see a sneak peek of what's to come in this video!
ATEEZ is popular for their incredible stage presence and powerful performances, so it's no surprise that their "Gourmet Tour" in Korea is already getting buzz. The group will be visiting three cities in Korea: Damyang, Gyeongju, and Gangneung. Don't miss out on the chance to watch the ATEEZ journey and discover the region's attractions and local dishes!
Peaceful and Calm Damyang
Local Food of Damyang recommended by ATEEZ
ATEEZ visits Damyang's most amazing eateries. The members dine on Damyang cuisine and select places where you want to eat!
YORI ON
The restaurant's main attraction is its "Tteokgalbi steak," a unique dish that combines the soft feel of ground beef and pork patty with the sweet and sour flavor of steak sauce. Try tteokgalbi with ssamjang, a mixed sauce paste that combines gochujang and doenjang, for a more regional flavor.
Migak
Migak waffle is a popular sweet dish at the café, named after itself. Strawberries and almonds are on top of the waffle, which is drizzled with syrup and served with ice cream. The toppings and sides complement the crispy yet soft waffle. Pairing the waffle with a house-made vanilla bean latte is our recommendation for a more decadent experience!
Recommended Damyang Attraction
Juknokwon
Juknokwon is a tourist attraction that depicts Damyang in Jeollanam-do and Korea and attracts over one million visitors each year. It is a nature reserve with a dense bamboo forest, observation tower, resting area, pavilion, and various architectural styles.
Local Food of Gyeongju recommended by ATEEZ
Gyodong Myeonok
Customers of this restaurant love naengmyeon. Teuknaengmyeon is the most popular dish on the menu. Cold buckwheat noodles are topped with sliced raw pollack and yukjeon (pan-fried battered beef). The taste of this dish is intense.
Tteokindang
Tteokindang is a traditional rice cake restaurant and café. Its most well-known dish is "injeolmi ice cream," which includes housemade chewy injeolmi (bean-powdered rice cake). A single serving serves two people adequately.
Recommended Gyeongju Attraction!
Cheomseongdae Observatory
Cheomseongdae is a Silla-period astronomical observatory built during the Three Kingdoms Era. It's nine meters tall, and it's thought to have been used to look up at the sky from the top. The observatory has a design that is based on traditional Chinese architecture. The tower is prettier at night than during the day and it is one of Gyeongju's must-see evening activities.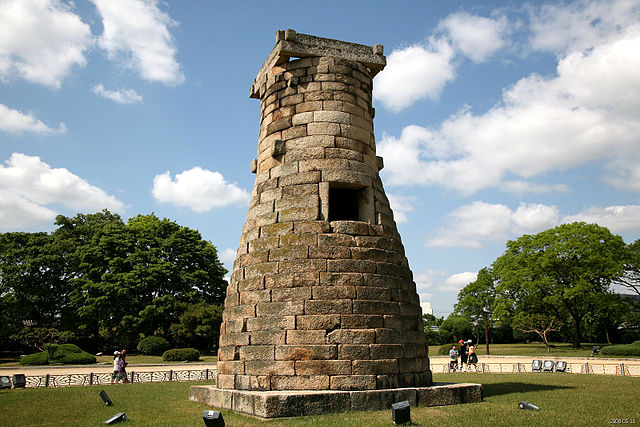 Emereld Beauty Gangneung
Local Food of Gangneung recommended by ATEEZ
Lalaok Gangneung Villa
At Lala Gangneung Villa, 'Lala Chicken' is the signature dish. This delicious smoked chicken has a wonderful blend of smoky flavor and delicate meat that lasts for 20 hours. A layer of cooked yellow rice is placed beneath the dish and topped with fried tofu, which is then covered with grated cheese.
Recommended Gangneung Attractions
Gangneung Dubu Village
The village's name, Gangneung Dubu Village, is derived from the word "sundubu," which refers to a type of soft tofu that symbolizes Gangneung. "Chodang Dubu," which is produced through a time-consuming procedure of grinding beans and solidifying the bean curd with fresh seawater from the East Sea for a smooth and delicious sweetness, is well-known in the village. It's a flavor you'll never forget!
Sinami, Myeongju Outing
Myeongju Outing, by Sanami Mimasaka with Myeongju's residents, gives you the chance to taste Gangneung's downtown area. It combines tour activities and local culture, allowing you to explore the past and present-day Gangneung.
ATEEZ's Tour of Korea is the perfect way to explore all that Korea offers! From the beautiful cities to the delicious food, there are endless memories to be made.
5,144 total views, 3 views today