Spend a fun-filled day with family and friends at any of these aquariums in South Korea! Even as adults, the experience will be memorable and unique.
If you are in South Korea, there are various things to do. Among those things is visiting the aquarium if you have a lot of spare time. It is a fun and family-friendly outing. The water is just on the other side of the glass. There, watching the soothingly blue waters, your worries are forgotten, and your spirits lift. A variety of fishes and creatures, together with their colors, bring back the sense of nostalgia of a time long past. It is like a journey into another world when you stand at the water's edge and feel its coolness while gazing at these ocean-dwellers.
In case you didn't know, many aquariums in South Korea are worth visiting. These aquariums are quite popular within the country.
COEX Aquarium, one of the largest aquariums in Gangnam district, Seoul, is one of South Korea's public aquariums. The aquarium is housed within the COEX mall, with about 600 different species of aquatic life and approximately 40,000 different fishes, features 90 exhibition tanks grouped in fourteen "discovery zones," including six themed areas.
It has an exhibition on amazon, the seven seas, and the marine touch zone—unprecedented underwater performance and an alluring souvenir shop to buy a gift. 
Lotte World Aquarium (롯데월드몰)
The Lotte World Aquarium within the Lotte World Mall is in the Songpa District of Seoul, South Korea. It has one giant ocean ecology tank with 650 species (including penguins, whales, seals, turtles) and 55,000 creatures.
The aquarium has 13 themed aquarium sections and a 25-meter-wide sea-like water tank. Also, there is an underwater tank link tunnel so you can experience mammals and fishes swim above you. It includes three different programs, which are educational, experience, and ecosystem explanation programs.
Aqua Planet 63 is an incredible aquarium with more than 20,000 animals representing more than 400 species, including king penguin, jackass penguin, pirarucu, piranha, Oriental small-clawed otter, harbor seal, sea lion, etc. It is one the top 10 landmarks of Seoul.
Located in Seoul, the aquarium features 80 tanks, 54 tanks for public viewing. There are four harbor seals, out of which two are playing show four times a day. There is a South American sea lion and a California sea lion playing shows three times a day.
Aqua Planet ILSAN (아쿠아플라넷 일산)
Aqua Planet ILSAN is a large aquarium located in the metropolitan area. It features over 50,000 marine creatures of 360 species and consists of 3 different sections. Also, it has more than 15,000 aquatic animals, including sand tigers and sea elephants, ring-tailed lemurs and rare species of large parrots with an aviary feeding station.
In addition, Aqua Planet ILSAN operates various programs such as ecological information sessions to educate and communicate with audiences and 'Secret Aqua,' which provides a tour of a secret space in the aquarium. This aquarium in South Korea is an aquarium with an ecological experience where both sightseeing and experiential education are possible through these activities.
Aqua Planet Yeosu (아쿠아플라넷 여수)
Aqua Planet Yeosu opened in 2012 to preserve diversity and is the largest aquarium in South Korea. This aquarium features 34,000 creatures from about 280 species, particularly the Beluga, Aqua Planet Yeosu's main attraction.
The aquarium is built on a 16,400m² area with a 6,030-ton water tank. Aqua Planet has a chain of public aquariums. This aquarium also facilitates Aqua Forest, Marine Life, Ocean Life, Alive Museum, Cafeteria, Food Court, 4D Theatre, Gift Shop, etc.
Sea Life Busan is an aquarium situated in Haeundae Beach, South Korea. It's the largest aquarium in Busan and the only one which is underground.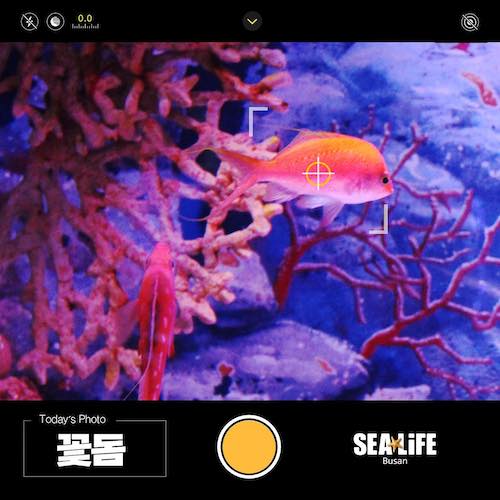 There is a diverse sea life with 250 species. Interestingly all these species are fed by trained divers so that people can watch and have more fun. Even there is a special exhibition call Rock Pool where customers can hold many harmless creatures like starfish and snails in their hands.
Various shows are performed throughout the day, including feeding the aquatic species. For a more exciting experience, the staff will take guests on a glass-bottom boat over the 790,000-gallon main tank; there is an additional charge for a more personal experience.
Alive Aquarium Daegu is located on the 9th floor of the Shinsegae Department Store. It has become a popular attraction for all time now which is full of surprises. There are about 200 species. 

There are 20 memorable experiences, including animal stories, feeding shows, magic performances, mermaid shows, and more. Also, there are unique facilities like the "Daegu Sea Cloud Bridge, "360º Sunroof Aquarium," and "Ocean Maze," which allows every visitor to appreciate sea creatures up close. 
Aqua Planet Jeju (아쿠아플라넷 제주)
Hanwha Aqua Planet Jeju opened in the Jeju provinces of South Korea. Aqua Planet Jeju consists of three marine-themed halls, consisting of an "ocean arena" and a "marine science" and "aquarium." Here the main water tank resembles the Jeju Ocean.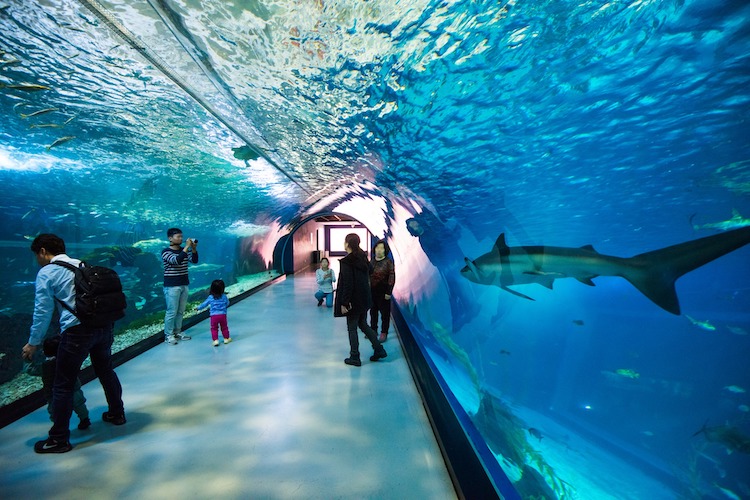 They have an underwater tunnel giving an experience of ocean about your head. There are about 48,000 aquatic animals in the aquarium, providing a realistic view of the ocean. You can enjoy a staggering underwater musical performance, one of its kind in aquariums in South Korea. It is also home to the nation's first marine biomedical center for treating and studying species.
3,589 total views, 5 views today