There's a new Gucci in town! Gucci Osteria Seoul is the fashion house's third restaurant in an international location, bring the Italian soul to Seoul.
The famed fashion company Gucci has a new restaurant in Seoul. It became the company's fourth location overall and third outside of Italy when it opened its doors on March 28, 2022, in Seoul, South Korea.
This new restaurant, which is located on the top level of their "Gucci Gaok" outlet in Seoul's Yongsan neighborhood, is touted to combine classic Italian and Korean flavors.
Sounds fascinating right? Let's get into the details.
There is an invisible thread that runs through each of the Gucci Osteria globally: one that entwines Italian food with the food and produce of other great global cuisines. Korea – like Italy – embraces its food as part of its culture, and I'm so excited to welcome everyone to our Seoul outpost.

Chef Massimo Bottura
Interior Design
Park Seung-mo, a Korean artist who appears to have drawn inspiration from the original Gucci Osteria in Italy, designed this restaurant. He has successfully captured the ideal diverse blend of Gucci elegance along with a dash of the Italian Renaissance.
The restaurant's interior has a green color scheme with a private dining space behind tinted glass doors. This luxurious room, "Room of Mirrors," has vintage wall mirrors and Gucci wallpapers and can accommodate up to 8 individuals.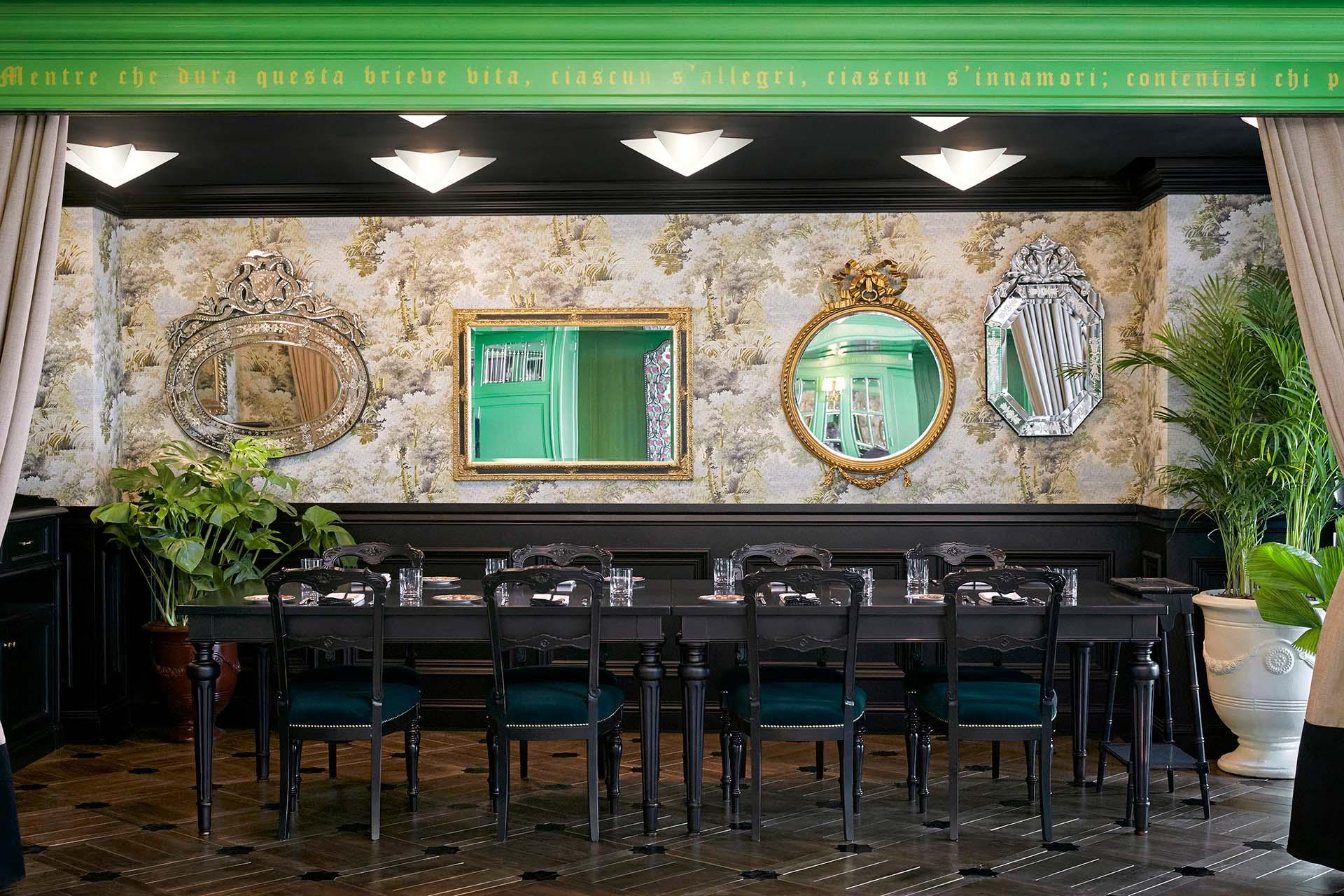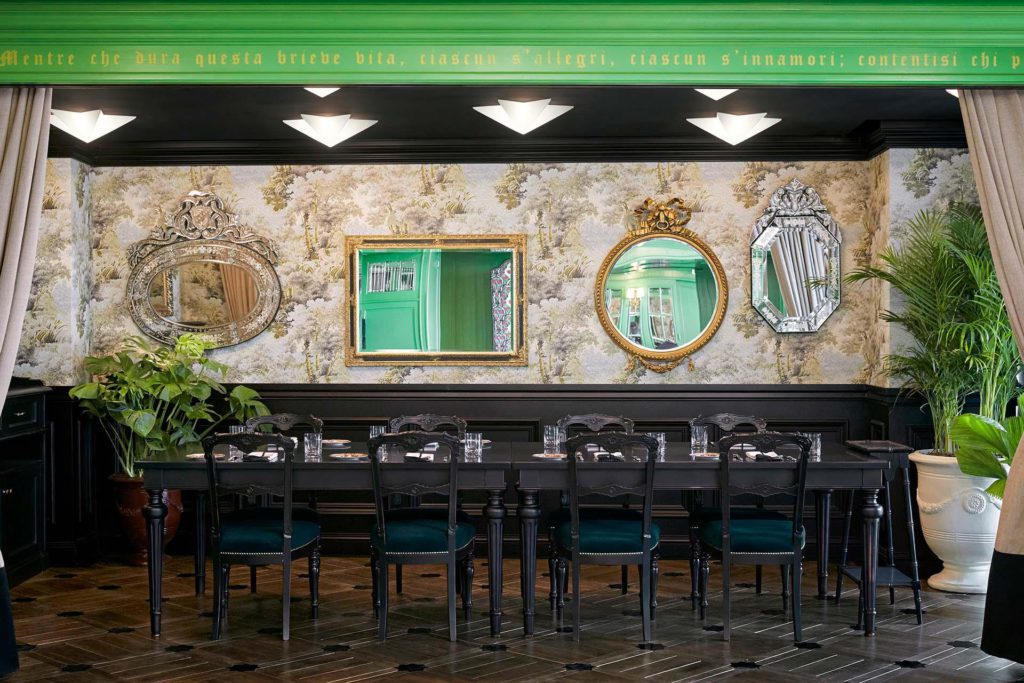 The primary dining area can support around 28 diners, while up to 36 people can eat on the outside terrace. Visitors may also choose a seat near a sizable window that overlooks the terrace.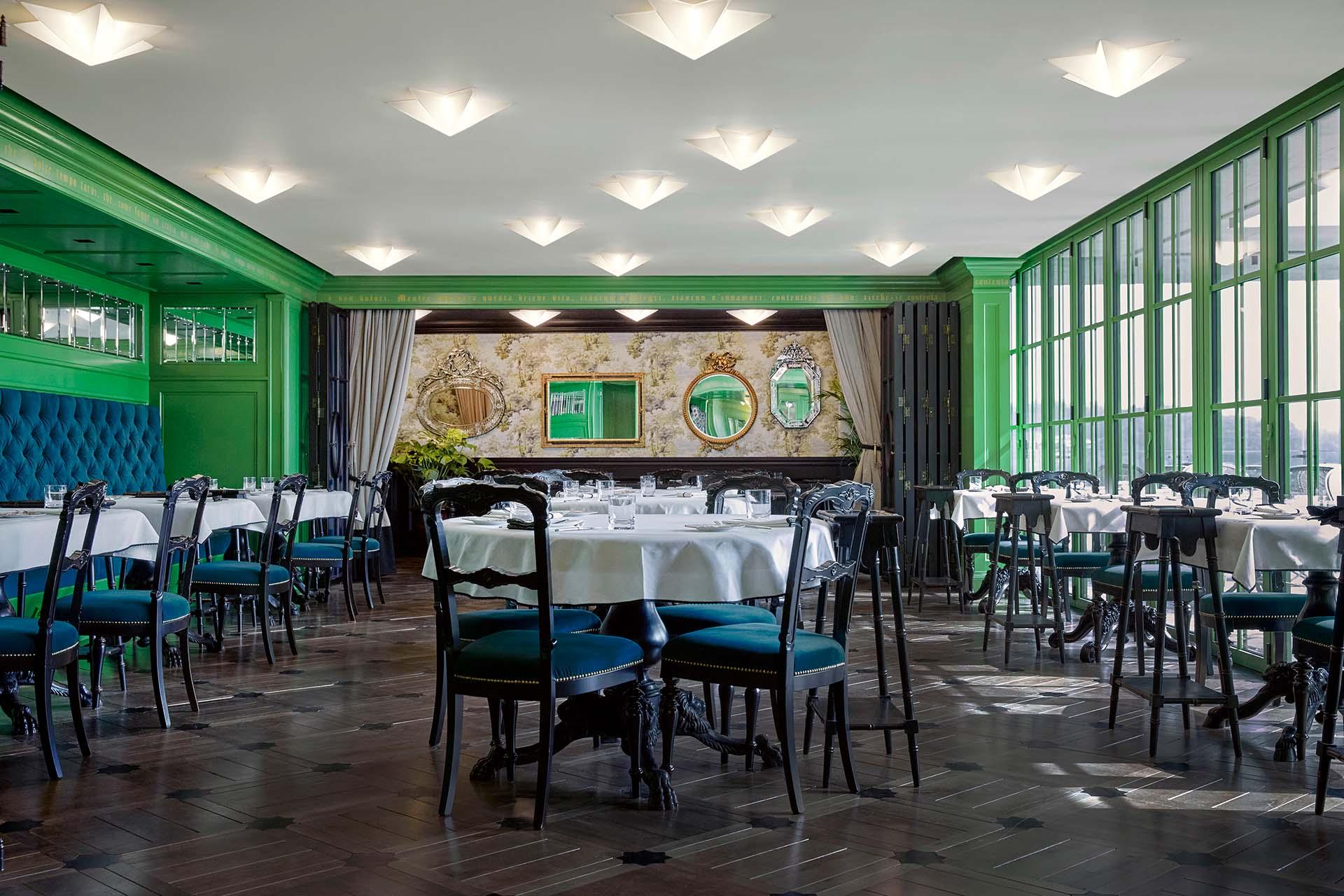 The terrace boasts colorful marble mosaic, while the interior eating area has parquet floors.
Menu
The food of Gucci Osteria, Seoul, marries Italian ingredients with a Korean flair. Therefore, if you enjoy both cuisines, this restaurant is for you.
The signature dish, Emilia Burger, is a must-try while visiting the place. This dish has has a Korean twist by incorporating a Korean beef patty, hanwoo. The other ingredients on the burger include gelatin, Italian cheese Parmigiano Reggian, a minced parsley salsa and fresh herbs marinated in balsamic vinegar. It's name comes from its components that are from the Italian area of Emilia-Romagna.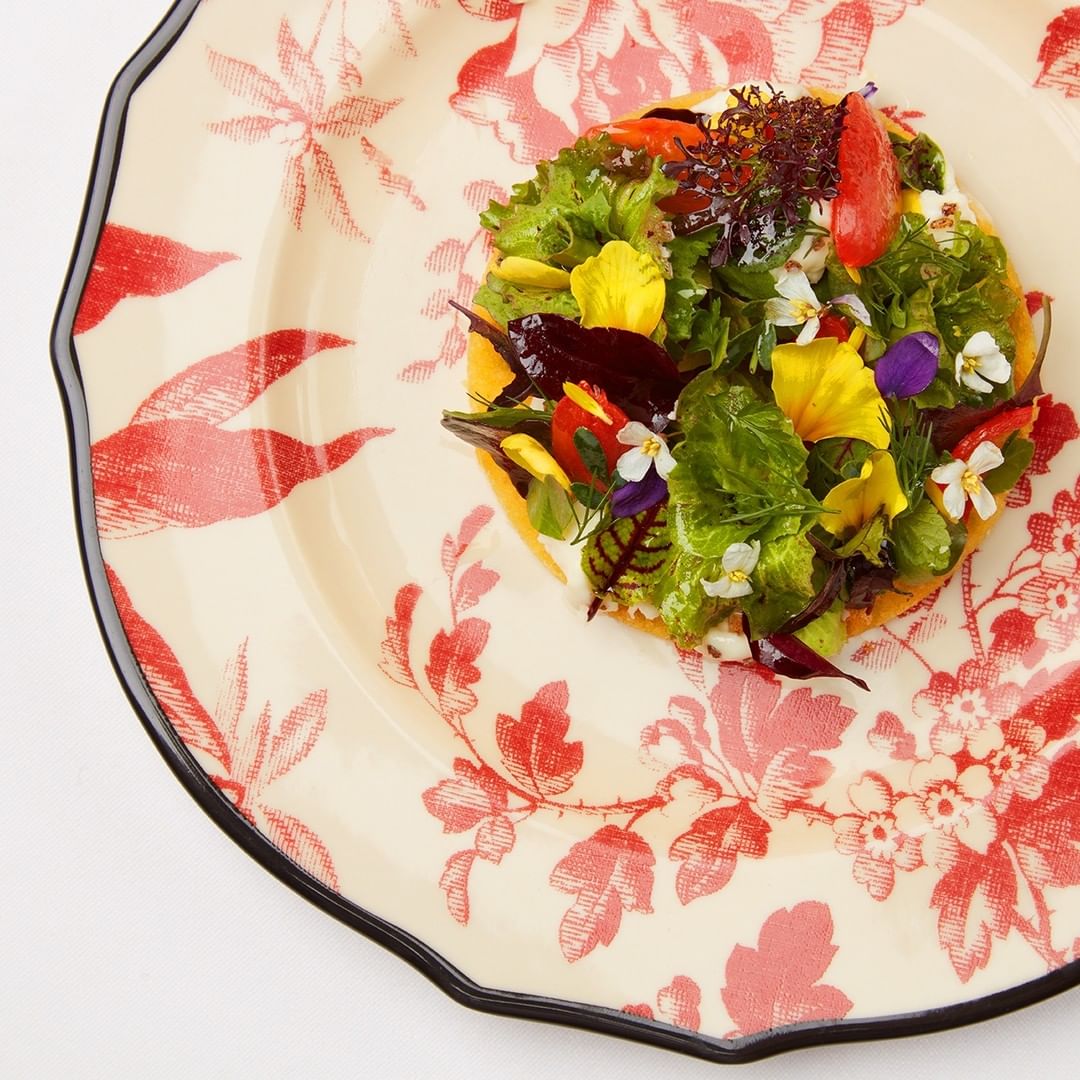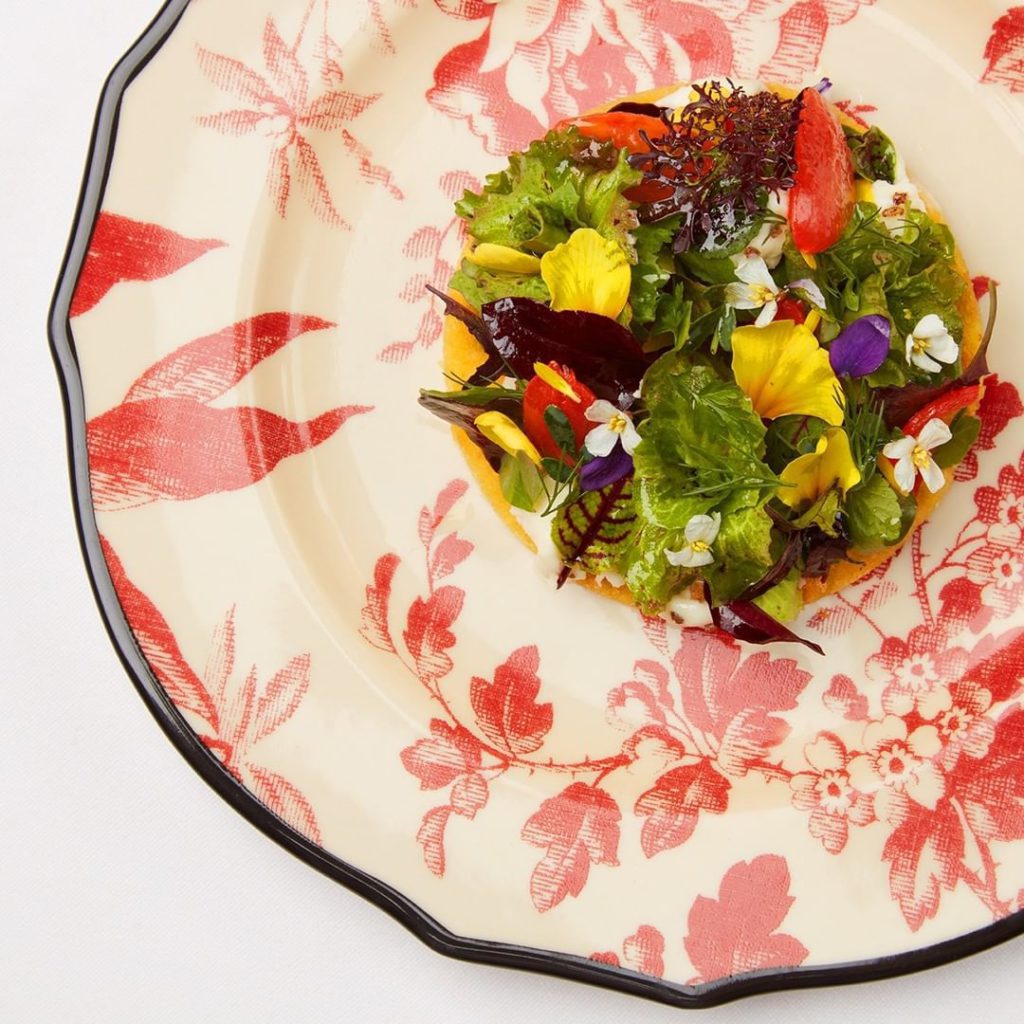 The creative credit for this recipe goes to Massimo Bottura, head of Osteria Francescana. It is a three-Michelin-star restaurant in Italy, which happens to consistently rank high in the list of the best restaurants. However, the menu's perfection must also be credited to Gucci Osteria Seoul, Lead Chef Davide Cardellini, and Executive Chef Jun Hyung-kyu of Seoul.
The other dishes that you should not miss out on are Summer in Adriatic, Tortellini along with, Parmigiano Reggiano Cream and Seoul Garden.
Operating Hours
The restaurant is open every day of the week from 11.30 am to 10 pm.
Lunch timings – 11.30 am to 4 pm (The last order at 2 pm)
Dinner timings – 6 pm to 10 pm (The last order at 8 pm)
Aperitivo – 4 pm to 6 pm
Los Angeles and Tokyo – The Other Two Gucci Osteria Locations Outside of Italy
The Gucci restaurant has two outlets outside Italy in Tokyo's Ginza district and Beverly Hills in Los Angeles, with the Italian one based in Florence, Italy.
Gucci Osteria, Los Angeles
Established in February 2020, this Gucci establishment in Los Angeles is a rooftop retreat that offers a fusion of Italian delicacies with a California twist. It received a Michelin star in 2021. Chef Mattia Agazzi is the main chef here.
The restaurant has an extravagant antique décor with vintage mirrors, Gucci wallpapers and tables made of red marbles and reflects the essence of its Florence counterpart. The terrace overlooks some spectacular Beverly Hill views.
Gucci Osteria, Tokyo
Gucci's establishment in Tokyo opened on October 28, 2021. Antonio Iacoviello heads the restaurant as the executive chef of the restaurant. He, along with assistant chef Hayao Watanabe provides several colorful Italian dishes with contemporary Japanese influences. Some of the prime dishes that are worth trying here include panna cotta yuzu along with shrimp, parmigiana ramen (noodles) and Milanese wagyu.
Both locations also serve the trademark Bottura dishes, namely Tortellini with Parmigiano Reggiano cream and the renowned Emilia Burger.
When you are in these cities, be sure to check out these top Gucci restaurants.
2,887 total views, 1 views today