Are you planning a trip to Seoul this month? Immerse yourself in the enchanting world of Kpop with a visit to TWICE's exclusive pop-up store! As you imagine what kind of travel experience you will encounter in South Korea's metropolitan city, adding the TWICE Pop-Up Store to your Seoul travel itinerary will give you the most unique and customized experience during your visit to South Korea. And that is especially when you are a devoted fan of the Kpop girl group, TWICE.
TWICE RECORDS Pop-Up Store Opening Soon: A Unique Addition to Your Kpop Travel Itinerary
The renowned Kpop girl group TWICE is celebrating their 8th debut anniversary this month. As a part of their anniversary celebration, TWICE will be opening an exciting pop-up store containing various surprising features for the fans.
Furthermore, JYP Entertainment has announced the upcoming pop-up store, aptly named TWICE RECORDS. Adapting the theme of retro, fans will be able to get the most unforgettable experience as they venture into the fascinating space.
Further in the announcement, JYP revealed that the TWICE RECORDS pop-up store will open at Gonggan Wadiz. It is an offline fundraising space by South Korea's crowdfunding platform located in the Jongno District, Eastern Seoul.
During their 7th anniversary last year, TWICE hosted a similarly captivating event and exhibition. And seeing how beautifully packaged last year's event was, if you're a a Kpop fan traveling to Seoul within the following week, consider visiting this beautifully-packaged exhibition to create lasting memories of your own customized travel experience in Seoul.
A Customized and Unique Seoul Travel Itinerary
Securing the opportunity to travel to the heart of South Korea, Seoul, maybe a once-in-a-lifetime experience for some travelers. That is why it is highly essential to create a special Seoul travel itinerary customized to your objectives and interests.
For devoted Kpop fans, it is always exciting to get involved in anything related to Kpop idols, especially the ones they stan. And that includes witnessing exclusive events officially held by the idols or their agencies.
Therefore, instead of designing a mediocre itinerary for your Seoul travel, adding this exclusive event as one of your destinations will give you a rare and unique memory. After all, the TWICE Pop-Up Store opens only for a limited period.
As part of their 8th anniversary celebration, TWICE Pop-Up Store will be available only for 7 days. It will begin operating this Wednesday, October 18, at 11 AM and close on October 24 at 8 PM, KST.
So, if your travel plans align, ensure the TWICE Pop-Up Store is on your itinerary for a uniquely Kpop-centric experience.
TWICE RECORDS Pop-Up Store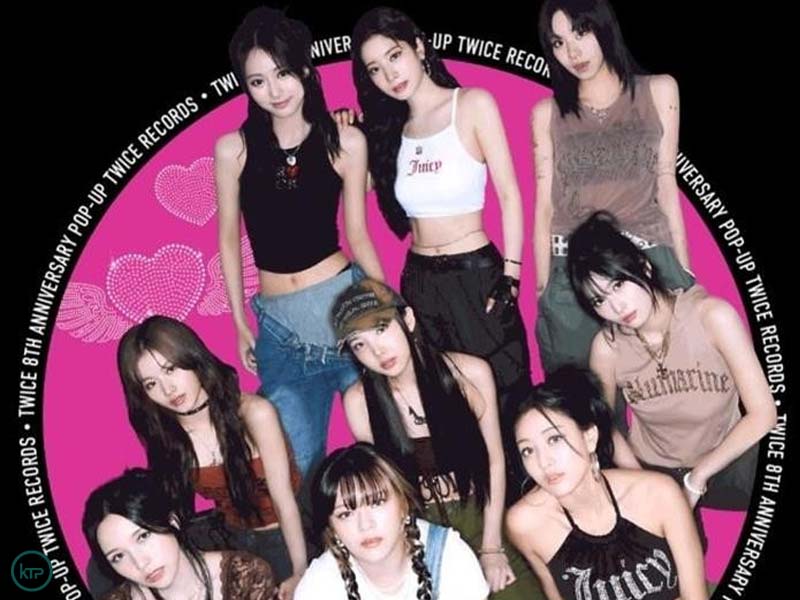 Venue: Gonggan Wadiz
Address: 7-1 Yeonmujang 1-gil, Seongdong-gu, Seoul, South Korea.
Date & Time: October 18 at 11 AM – October 24 at 8 PM, KST.
Location:
Join the Exciting Activities for the Most Memorable Kpop Fan Experience with TWICE Pop-Up Store & Fan Meeting
Dive into the memories of the 8-year bond between TWICE and their fans, ONCE, at the pop-up store. Then, take your own memorable photos in the exclusive photobooth and participate in the various unique activities available at the event. In the end, you can also take home some special merchandise, exclusively available during this event, to commemorate this rarest moment of your Seoul travel.
Last but not least, TWICE will also hold a special fan meeting on October 21 at the Olympic Hall of the Olympic Park, Seoul. If you wish to make your dream come true and meet the members in person, you can also add this event to your Seoul travel itinerary.
Ready to immerse yourself in these electrifying events and craft your bespoke Seoul adventure?
Visit TWICE official social media for more information about the pop-up store. And book your tickets for TWICE 2023 Fan Meeting today via YES24 official website.
From picturesque landscapes to hidden gems and cultural adventures, follow KoreaTravelPost's Twitter, Facebook, Instagram, LinkedIn, and Flipboard for a thrilling journey through the heart of Korea
Related Posts
395 total views, 7 views today