Check out the best food markets in Daegu that you can add to your itinerary to South Korea where you can find local delicacies to enjoy!
Daegu, one of the best and most popular places in South Korea, serves the best food and offers a wide variety of delicious cuisines. If you are planning to visit South Korea, Daegu is the best place to try Korean food and enjoy the taste of their heavenly dishes. Here are a variety of simple yet yummy Daegu dishes which you will not find in the whole of South Korea. Here we are listing below some of the cheap and delicious food markets of Daegu. You can taste your way through their classic markets and culinary street dishes. Let's go through some of the unique food markets to plan for a visit before going to Daegu, South Korea. 
Best Food Markets of Daegu 
Jjimgalbi Street
Jjimgalbi Street in Dongin-dong, South Korea, was set up in the year of 1970s. At that time, some people started with a local bar that began to serve Jjim Galbi, a dish of steamed ribs. Daegu's hallmark dish is Dongin-dong Jjim Galbi. Steamed galbi eateries in the Dongin-dong region have been preparing juicy and tasty spicy galbi in aluminum pots since the 1960s. Along the street are several Jjim galbi restaurants. Later many workers joined, and it became a huge food market now.
The meal rapidly got famous, and similar eateries popped up all over the area and every part of the country. Today in Jjimgalbi Street, there are about jjim galbi restaurants selling the hot, delectable delicacies of different delicious items. When you order the food, they serve it with ribs which are steamed with red pepper powder and garlic sauce. When the meat is ready, you have to eat it first, and then stir the rice in with the remaining sauce to make it flavourful. The rice's spiciness can be offset by a side dish like baek-kimchi (white kimchi). 
The Joseon Dynasty's Seomun Market is one of the country's last remaining markets where you will have all types of food. The history of Daegu's Seomun Market (previously known as Daegu-Keun Market) is rich. Seomun Market was one of the three primary markets of the Joseon Dynasty, alongside Pyeongyang Market and Ganggyeong Market. It was appropriately named Seomunsijang since it is only 300 meters from the city's West Gate (West Gate Market). Even though the market has expanded in size, the names of the alleyways, such as Hongdukkaejeon and Dakjeon, have remained the same.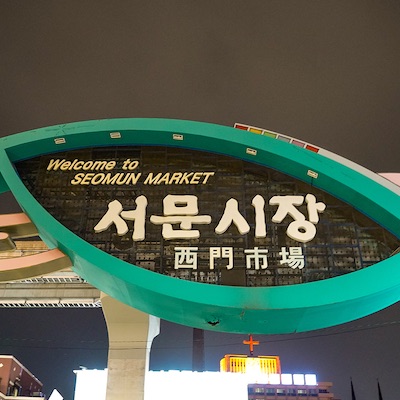 It has a lot to offer, from hearty Korean cuisine to quirky street snacks, but kalguksu (knife-cut noodle soup) and nabjak mandu are two of its most popular delicacies (flat dumplings). The former is a savory noodle soup with anchovies and vegetables, topped with sesame seeds for extra taste. The chewy noodles go nicely with the kimchi made from kkakdugi (radish) and crispy peppers. In contrast, traditional Korean dumplings are constructed with a thin, chewy dough casing and have slightly less filling. Bring your appetite (and cash, as many of the dining places don't accept cards) to Seomun Market, where portions are substantial and prices are reasonable.
Anjirang Market
Anjirang Gopchang Street is one of Anjirang Market's most visited alleyways. Between the Anjirang five-way junction and Anjiranggol-ro Street is Anjirang Market. Since the end of the IMF crisis in 1998, livelihood-motivated restaurants and diners providing marinated gopchang (intestines) began springing up here, starting with Chungbuk Sikdang Restaurant (opened in 1979) and growing to its current size. Because of the low prices, locals like visiting the area. Recently, the neighborhood has been attempting to attract a younger demographic by focusing on the youth.
The Ministry of Culture, Sports, and Tourism named Anjirang Gopchang Alley one of the top five food-themed streets in the country in 2012. This region attracts both budget-conscious college students and executives wishing to unwind over a few drinks (grilled pork intestines). The fragrances of gopchang pervade the kilometer-long roadway as the evening progresses. Before being barbecued over briquettes, pork intestines are mildly boiled. The dish becomes chewy and rich after caramelizing, a popular combination among Koreans across the peninsula. Each restaurant uses its flavor and dipping sauce to set itself apart from the competition.
Pyeonghwa Market
Pyeonghwa Market, just a short walk from Dongdaegu Station. It is an excellent place to try the Daegu delicacy of dakttongjip (sautéed chicken gizzard). The market first opened in the 1970s, when a labor market was formed nearby. It now has over 30 restaurants. Laborers who couldn't find work drank a stiff drink and ate fried dakttongjip in the market's restaurants. The meal is now prepared in three ways: fried, sweet sauce-seasoned, or marinated in salty soy sauce. One dish is filling enough to feed a group of people.
Choose from a range of dakttongjip and fried potatoes in the modem (mixed) combo. The Chicken Restaurant Alley at Pyeonghwa Market is well-known. Since the 1970s, restaurants serving chicken gizzards with drinks have been popular on the market. Visitors can sample a variety of chicken delicacies, including chewy fried chicken gizzards, at a cheap price.
Nammun Market
Dwaeji Bossam, which goes back to the 1990s, is one of Daegu's oldest and most well-known food alleys. You can have your dinner. There are almost 20 restaurants from where you can have lunch or dinner that specialize in bossam, or steamed pork, in this area. Warm slices of pork, savory soybean paste, raw garlic slices, and spicy kimchi are served on large platters. You can fold them into lettuce wraps. Even though this dish is not native, the local version is distinguishable by the pork bone broth soup served with the pork.
These are the top 5 food markets of Daegu where you can enjoy every bit of the food. Get delighted by tasting every palette, starting from spicy steamed ribs to chewy hand-cut noodles made with extreme love and care. But before that, you should know the best places to find this kind of dish.
5,522 total views, 5 views today