BTS will be back on stage on September 19, 2022, to perform in a free 90-minute concert in Busan as a part of World Expo 2030 Busan!
The global K-pop group will perform live on stage in Busan to promote the city's bid for the World Expo 2030. The concert is organized at the Busan Asiad Main Stadium and sponsored by the city of Busan.
2030 부산세계박람회 유치 기원 콘서트 BTS <Yet To Come> in BUSAN 공연 개최#YetToComeInBUSAN #BTS #방탄소년단 pic.twitter.com/X6tXgVBqVw

— BIGHIT MUSIC (@BIGHIT_MUSIC) August 24, 2022
The stadium capacity is just about 54,000, and to make the concert more accessible for ARMY, the BTS management company, HYBE, will also stream the concert live at the Busan Port International Passenger Terminal. This 'LIVE PLAY' will screen on a large display with a sound system to give the fans a feel like they are sitting in the actual concert hall. This venue has the capacity to hold 10,000 fans who can enjoy the streaming with fellow ARMY.
Many local apps and hotels have created special packages to promote the event in Busan. Zepeto, a virtual world platform, has created an event where you can win concert and flight tickets to Busan along with paid accommodation.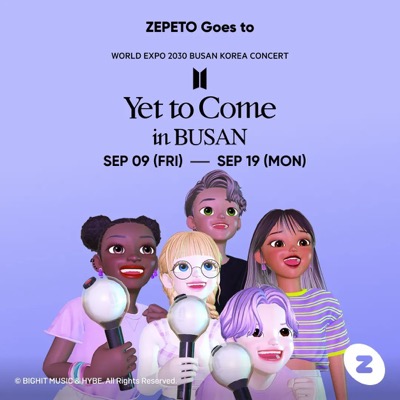 HYBE Merch also has special accommodation packages with surrounding hotels for the BTS free concert in Busan.
📢안내
부산 공연과 연계하여 숙박 및 추가 혜택이 결합된 호텔 패키지 상품이 판매될 예정입니다. 호텔 예약을 위한 상세 사항은 추후 별도 안내드리겠습니다.

✔️파라다이스 호텔 부산
✔️그랜드 조선 부산
✔️파크 하얏트 부산
✔️롯데호텔 부산
✔️페어필드 바이 메리어트 부산 송도비치 https://t.co/z1PntodviO

— HYBE MERCH (@HYBE_MERCH) August 24, 2022
More Details About the BTS Concert in Busan
Tickets – The in-person tickets are free for the BTS' Yet To Come concert in Busan, but only one reservation per person will be permitted.
Concert Date – October 15, 2022
Timing – Starts at 20:00
Running Time – 90 minutes
3,973 total views, 3 views today