There cannot be a successful itinerary for Seoul if it doesn't include cafe hopping in the streets of Hongdae for some aesthetic memories and clicks. Korea never fails to amaze you with quirky cafes around the corner every now and then, and the list of fun conceptual cafes seems to never come to an end. In fact, Hongdae is one of the most popular places for cafe hopping owing to the town's artistic roots. Thus, if you are ever in Korea, it's a must to check out some of their awe-mazing cafes (at least some of them, if not all!). So here are the 10 best cafes in Hongdae that must get to your travel itinerary whenever you are in Seoul.
10 Best Cafes In Hongdae
Designed with unique perception, this sensationally-designed cafe has a phenomenal charm to it. The rippling design of the ceiling is the first thing that catches your interest and looks like an architectural wonder from all perceptions. You can't get enough of this cafe's rippling waves and ecstatic grooves. Their creative architecture of the seating area also complements the ceiling. Do not forget to check out their coffee or caramel made exclusively in-house.
A unique experience in Seoul, this amazing cafe lets you dine within a natural ambiance with sheep all over the place. This is also a great place for animal owners to take their furry members for a fun playtime around Seoul. This cafe in Hongdae has a different concept rather than just the average dogs and cats cafes down the lane. Thanks Nature Cafe is worth a shot if you want to experience the life of these woolly creatures in their natural habitat. There is nothing to worry about as the dining area is separated from the animals by barriers to maintain hygiene. You can literally play with the sheep as they are quite accustomed to being fondled by visitors.
Dessert Factory
With a cute setting among fluffy feathers and cute pink decor all over the place, the Dessert Factory exhibits irresistible Kawaii vibes even in their dessert presentations. This is one such cafe where you cannot possibly take your eyes off the lenses from when you enter. The desserts are even more scrumptious to look at and totally complement the cafe's aesthetic setting with beautiful decorations with caramel, candies, and chocolates (with surprise layers, too!). You definitely cannot miss their finger-licking tiramisu serving with candied apple toppings placed over a chocolate bed that looks straight out from an influencer's Insta feed!
Located in such an interior place in Hongdae in Seoul, one cannot even imagine such a cafe actually exists! Can you imagine turning a selfie into a cappuccino? (we're not even joking!) Well, yes, you can actually turn your selfie into a cappuccino at this aptly named cafe – caFACE! Placed well inside the Trickeye Museum of Hongdae, Seoul, this is a once-in-a-lifetime experience not found elsewhere in Seoul. 
A quirky little setting in the Yeonnam-dong side of Hapjeong tells tales that you could have never imagined! This quirky cafe makes delicious cakes look like hot dogs and hamburgers with a tiramisu taste inside – could you have ever imagined! The ambiance is also beautiful with 50s vibes, and their fresh daily bakes are quick to get over by the sunset so make sure to get your hands on their special Red Velvet, Earl Grey, and Carrot Cake as early as possible. 
Different from the usual cafes in Hongdae where you go for a cup of coffee, the Arari Ovene is better known for their delectable preparations of teas served in picture-perfect cutlery to complement the designer cafe ambiance. This is a common place for tourists to crowd there, especially those who love cafe hopping for some aesthetic shots. Hence, it's not uncommon to find a brief queue every now and then, but when you hear they serve one of the most prettiest-looking toppings with cakes and tarts (all made to order!), you cannot help but flock in too!
Well, we won't lie, but this is a bit difficult to find among all the coffee shops you can find in Seoul. From its disguising attire looking just like a vending machine by the sidewalk, you cannot possibly guess it's a bright pink world of cute cakes and specialty desserts lying inside. Similar to the famous King's Cross Station's disguised pillar, Zapangi's vending machine entrance provides an impressive range of specialty coffees, teas, and delectable desserts. Our top recommendation would be their mermaid cake served in a pretty tin case and also their unicorn doughnut. But it is advisable to avoid peak hours from 7 to 9 pm to dodge the huge crowd.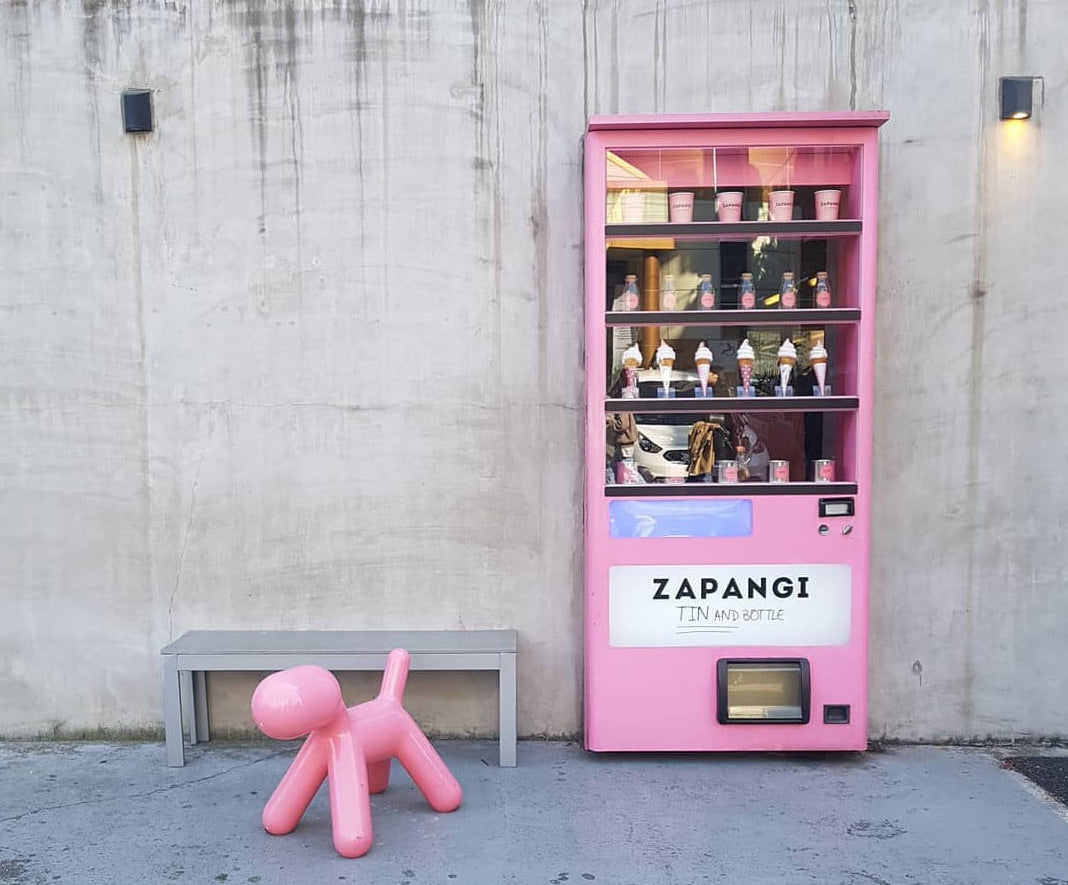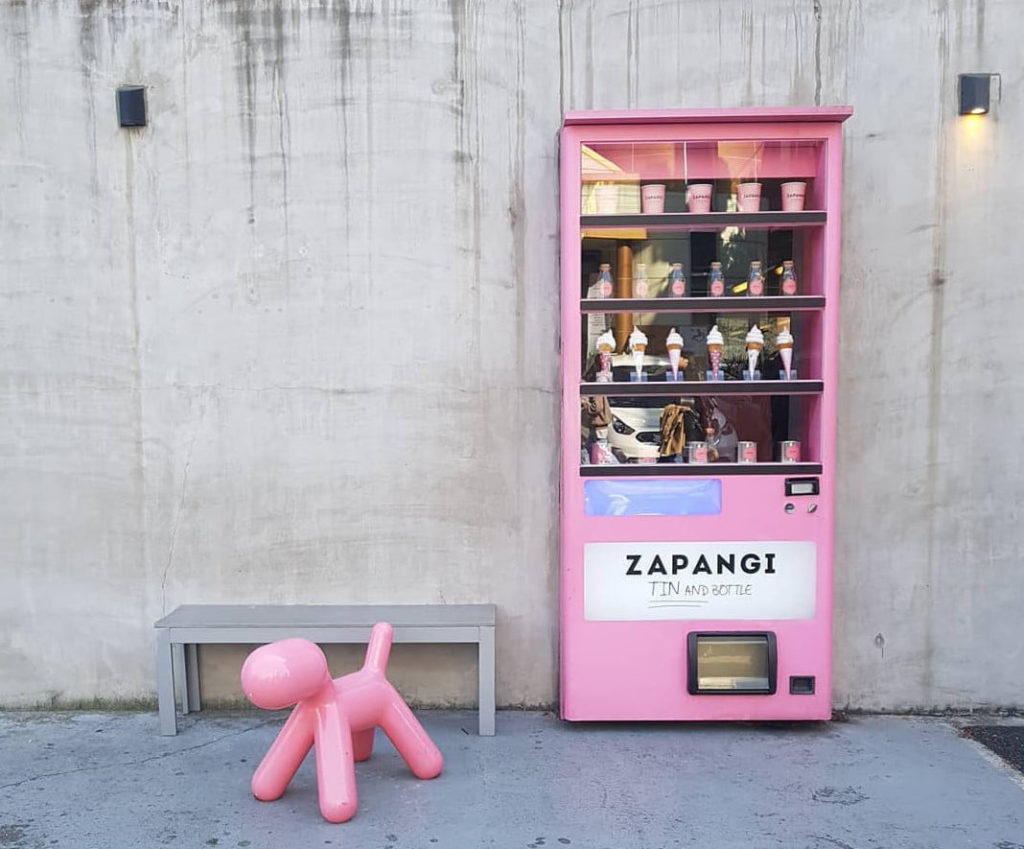 Founded by a famous Korean Celebrity, Rally Point is a great option if you love working from best cafes in Hongdae or are planning any meetup. The ambiance accommodates a large crowd within a beautifully planned interior that you can see from outside through their glass walls. Their menu does not disappoint from any angle if you are looking for some memorable treats at the end of the day. This is not worth missing if you ever visit Hongdae/Hapjeong.
Bau House (Dog Cafe)
If you were looking for a dog cafe all this while, this is your calling! No other cafe in Seoul can give you a similar experience to the Bau House situated in Hapjeong set amidst flocks of furs with 20 different friends. The cafe is home to various breeds of friendly dogs with a training to greet visitors with a warm paw! You can order something from their menu if you want to hang around for a bit longer, but this is definitely a go-to place if you want a laid-back cafe to hang around on your last day in Seoul.
We couldn't drain your high hopes after mentioning Kings Cross, so here's your Harry Potter-inspired exploration to put to the bucket list whenever you're in Seoul. As the name aptly describes, 943 Kings Cross is a Potterhead's dream world filled with yummy delicacies within a cute studio space.
30,963 total views, 9 views today