Gyeongamdong Railroad Town is a decommissioned railroad line bordered on either side by vintage school cafes and several other stores. The 2500-meter railway once ran between a paper mill and Gunsan Station. The space was well preserved after it was abandoned in 2008, and today it is one of the most popular sights in Gunsan city of South Korea.
Let's learn a few more things about this historic location so that you can plan your next trip to this place appropriately.
How To Enjoy Gyeongandong Railway Town?
Gyeongandong Railway Town has a lot to offer its tourists, which is why it is said to attract as many as 20,000 tourists during the weekends and holidays.
Here's what you can do in Gyeongandong Railway Town:
Walk The Streets To Go Back In Time
After the Korean war, this location became the home for the poor. Back in those days, it was a very close-knit community. Life sure was tough and simple but enjoyable.
Locals would put their home items and stuffs like flower containers, chilies, radish green radishes, etc., near the railway path. Even dry their everyday apparel over the track. And when the train approached, the guard would alarm them, and they would rush to remove their belongings.
If you are a native of this place who has now relocated to some other destinations, you probably know all of these. So, for you, the whole atmosphere of Gyeongandong Railway Town would be pure "emotion."
There are still a few households remaining, around 15 of them. It would be good to visit them during your trip to your old neighborhood. Have some chit-chat and go down memory lane together.
And if you are not familiar with the history of this place, simply walk down the path. This will give you a unique vibe, and you will be transported to the bygone era in no time.
Rent School Uniforms
Renting school uniforms is one of the most popular activities among visitors to Gyeongandong Railway Town. This is done to recreate the atmosphere of Korean school life in the 1970s and 1980s. Nearly half of the shops today rent out pre-owned school uniforms and function as photo studios. So, you will never run out of choices.
Take as many cute snaps as possible wearing the uniform in various locations because the entire space is extremely photogenic and is a gold mine for photo aficionados.
Make Your Own Dalgona
Making your own Dalgona is another way to re-live the nostalgia.
Dalgona was a popular sweet treat for Korean students in the past. It is a candy made with sugar and baking soda.
You can make your Dalgona from scratch by following the guidelines of the staff at the shops. Customize it the way you want to to add that personal touch. Make sure you relish it while it's still warm and crispy.
Savor The Classic Dishes
Any trip is incomplete without food, and when it is about visiting the retro Retro Gyeongamdong Railroad Town, you must not miss the chance to taste the food of the old times.
There are stalls and restaurants, both big and small serving different food items from light munching snacks to slightly heavier meals. Pick whichever eatery you want and make your stomach happy.
Shop Old Items
You will find several shops selling old items from stationery goods, and vintage toys to games played by children in the early times and many more. So, shop to your heart's content and bring home as many mementos of this retro town as you can.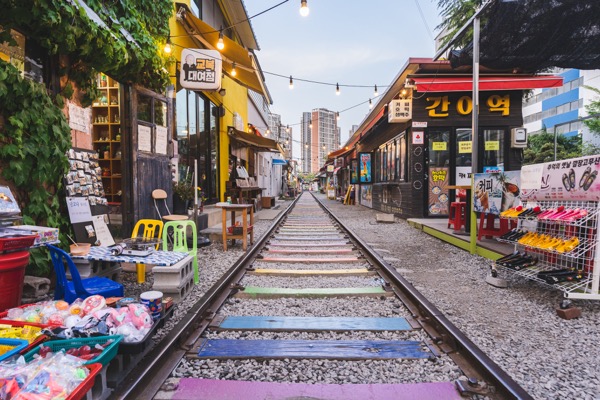 How To Reach Gyeongamdong Railroad Town?
Gyeongamdong Railroad Town is accessible through public transportation. Bus lines 1/2/3/7/83 pass by this town. You need to catch them from Gunsan Station. Then get down at Lotte Mall Gunsan Branch and proceed approx .97 kilometers to reach your destination.
You can also take your car with you. There is free parking available near the E-Mart Branch in Gunsan.
Final thoughts
Gyeongamdong Railroad Town is a great family tourist spot. It's the perfect way to give your kids a taste of the good old days besides re-living the past yourself.
Enjoy!
7,702 total views, 3 views today