Join DJ Symphony for an exclusive DJ Workshop and After Party at Lit Lounge! Learn the best tips and tricks to perfect your DJing skills, and then let loose on the dance floor with the hottest beats. Don't miss the chance to party with the best!
Lit Lounge is a hip-hop hookah lounge in Itaewon where you can experience live events at the next level. With Tron-inspired lights and an up-to-date sound system, Lit Lounge is the perfect place for experiencing a memorable and exclusive event with maestros like DJ Symphony. The club's energetic vibes and overall intimate setting are perfect for enjoying a night out in Seoul. The club is popular for hosting exclusive events like Filmmaking Workshop hosted by Creative Collaborative, Pinnacle's Birthday Bash, and more. Popular DJs like DJ Bora, DJ Pinnacle TheHustler, and DJ Schedule 1 make people dance to their tunes at the Itaewon club, Lit Lounge. When it comes to music, the club is home to hip-hop, Afro-beats, R&B, and more to get the crowd grooving to the beats.
Along with the hip and happening events, Lit Lounge is also popular for being foreigner-friendly, unlike most other clubs in Seoul that cater only to locals. Lit Lounge's extensive collection of flavorful hookahs, drinks, and snacks will keep people entertained all night. The Itaewon club not only lives up to its expectations but is one of the hottest clubs in Seoul if you are looking for a place to chill and enjoy the nightlife in the city. It is the best club in Itaewon for foreigners.
Weekly specials like Ladies Night offer unlimited drinks to ladies, while others can enjoy social exclusives for free drinks like Kakao Talk & Drank and Free Tequila February. No matter when you're planning a trip, exploring Seoul's nightlife should be a must-do activity in your itinerary, and Lit Lounge is certainly a place to be – especially for foreigners!
One such upcoming event is the unforgettable night of amazing hip-hop music with the master DJ himself, DJ Symphony, in Seoul on Saturday, March 18, 2023. The official DJ for GZA of the Wu-Tang Clan will be hosting an exclusive DJ workshop and a lit after-party at Lit Lounge in Itaewon. This event is a part of his "Symphony Party Series," a grouping of events hosted by DJ Symphony that highlights the best of various eras and styles of music.
DJ Symphony, aka Symphony Taylor, is an American hip-hop music producer from Newark, New Jersey. DJ Symphony is the official tour DJ for GZA (Gary Eldridge Grice) of the Wu-Tang Clan. He started doing tours with the band in 2000, became the official DJ for GZA in 2014, and since then, has toured with the members on both domestic and international tours. Wu-Tang Clan is an American hip-hop group from New York well-known for helping to develop and popularize East Coast hip-hop and other hardcore hip-hop styles.
On March 18, if you are an aspiring DJ, you will be able to learn so much from the maestro. He will be sharing his knowledge and skills in the art of DJing. You can gain a deeper understanding and learn from the best DJ artist with over two decades of experience. There's a chance to win a DJ Starter Kit, including Pioneer Rev 1 DJ Controller, 2 speakers, 1 mic, and headphones, signed by GZA of Wu-Tang Clan. Attending the workshop will also give you free admission to the after-party.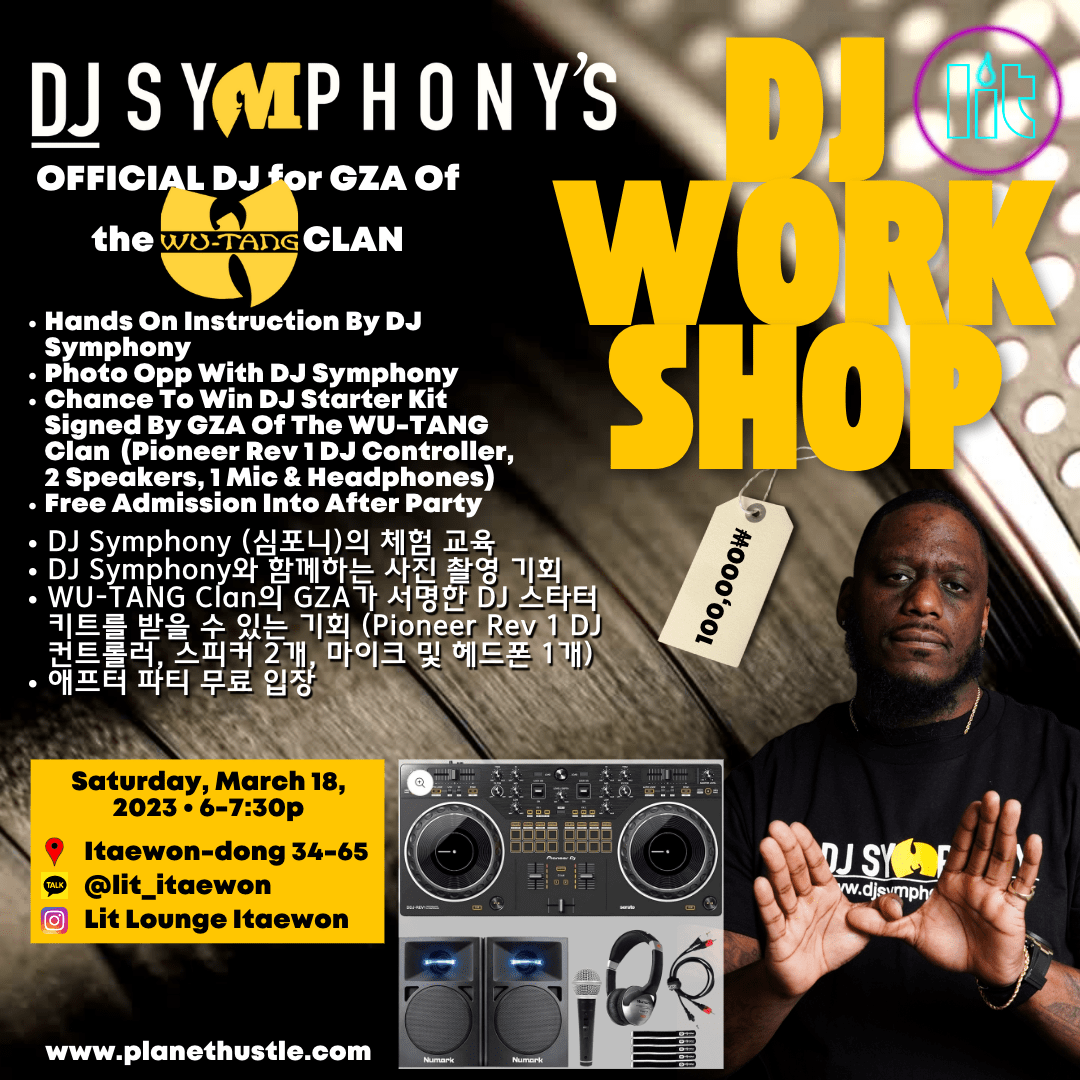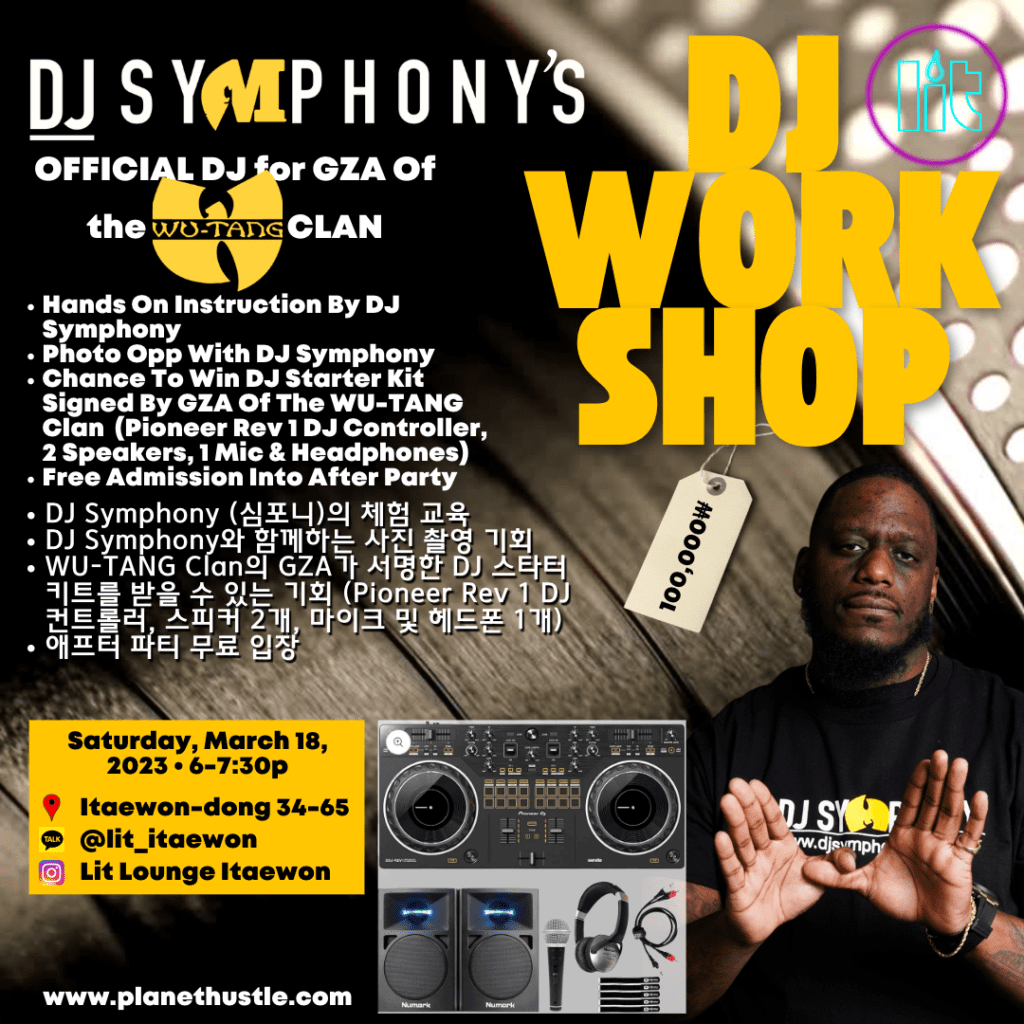 After the DJ workshop, the party will be lit AF in Lit Lounge, Itaewon, when DJ Symphony will set the deck pumping and deliver an electrifying performance. This after-party will feature the best of the best hip-hop, R&B, and trap music in the best club in Itaewon for foreigners. You will get a chance to enjoy groovy music all night long, making it an event you must not miss in Seoul.
For more details about this exclusive event and other upcoming events in the club, visit www.planethustle.com.
2,062 total views, 8 views today