Korean Fried Chicken has become a culinary phenomenon, captivating the taste buds of locals and travelers alike with its unique flavors and textures. This dish, known for its lighter and crispier batter compared to its Western counterpart, has evolved into a symbol of Korea's vibrant and diverse food culture. Seoul, the heart of South Korea, is home to numerous eateries specializing in this delectable dish, each offering its own twist and flavor profile. In this guide, we will explore the top five destinations in Seoul where you can savor the finest Korean Fried Chicken and immerse yourself in the city's rich culinary tapestry.
K-Dramas and Korean Fried Chicken
The meteoric rise of Korean Fried Chicken can be significantly attributed to the booming popularity of Korean dramas, or K-dramas, which often feature characters indulging in this crispy delight. Characters like Do Min-Jun and Chun Song-yi from the hit series "My Love From The Star" have played pivotal roles in catapulting Korean Fried Chicken to global fame. Scenes depicting actors enjoying a hearty meal of fried chicken and beer, known as "Chimaek," have sparked a culinary trend, creating a surge in demand and curiosity for this dish. This intersection of pop culture and cuisine has not only elevated the status of Korean Fried Chicken but has also contributed to the global appeal of Korean culture and culinary arts, drawing food enthusiasts from around the world to explore the diverse and flavorful world of Korean cuisine.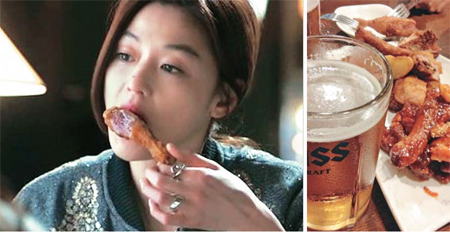 Best Korean Fried Chicken in Seoul
While there are many Kyochon Chicken outlets worldwide, the outlet at Hongdae Store serves the most authentic Kyochon Fried Chicken. This place is also very popular among locals and tourists. Moreover, this outlet is known for its less junky approach to making fried chicken.
Kyochon uses less grease and batter as compared to other fried chicken restaurants. Moreover, they also strictly prohibit the usage of growth hormone-influenced chickens. Kyochon Chicken outlet serves a broad range of fried chicken items. Their fried chickens with honey toppings are their specialty. Moreover, the Honey Chicken series is loved by its customers. Other than that, the other items on the menu are signature soy garlic, fried and sal-sal, and Red. 
Chicken wings at Kyochon are hand-cut and generously served with honey on the batter. This gives an extra sweetness without compromising on the crispiness. Kyochon has maintained its name and is among the best Fried Chicken Spots in Seoul and Korea. 
In Bukchangdong, Kkanbu Fried Chicken is more than simply a dining establishment—it's a symbol of patrons' close relationship with the company. This restaurant specializes in various delicious chicken dishes and has developed a reputation for its outstanding flavors and pleasant ambiance.
The menu of Kkanbu Fried Chicken is a chicken lover's dream come true, with a wide range of delectable choices to tempt your taste buds. The Boneless Chicken with Tteokbokki, Spicy Soy Chicken, Crispy Chicken, Garlic Roast Chicken, Green Onion Chicken, and Tender Sweet Chicken are a few of their signature dishes. Other dishes include Hot Snow Chicken, Old School Chicken, Garlic Soy Chicken, Hot Snow Chicken, Crispy Chicken, and Kkanbu Kara (featuring soy sauce aged at a low temperature). Each dish is expertly prepared to offer a distinct and memorable flavor experience.
The unique roast chicken at Kkanbu Fried Chicken is one of its distinguishing qualities and is beloved by many devoted customers. The juicy and flawlessly cooked chicken is the must-try dish that distinguishes this restaurant from the competition. A fulfilling dinner at Kkanbu Fried Chicken normally costs between 15,000 and 20,000 Korean won, making it economical for people seeking high-quality cuisine without breaking the bank. Price-conscious eaters will also be happy to learn this.
BHC Chicken Myeongdong is a Korean chicken store that has many fans. A significant portion of their extensive customer base is drawn due to the endorsement by Korean actress Jun Ji Hyun. The store, specifically at Meyongdong, opens up late at night (11 p.m.), making it a perfect spot for late-night cravings. BHC is known for its flavors as they have a variety of tastes to choose from in their fried chicken.
The ambiance of this place is decent at best, but the locals are not very picky. They care about the food served in the restaurant; if that is great, they will always visit the store. The interior of BHC Chicken includes tons of wooden tables with large crowds most of the time. People here are enjoying their chicken with beers and having a joyful time. If you visit this place, you will be greeted humbly and provided excellent service despite the large crowds. If you are wondering what this place's specialty is, you can choose Sweet Garlic Soy sauce chicken and Boneless Sprinkle Chicken.  
The name 'OppaDak' implies a chicken that has fallen into the oven, a playful nod to their unique cooking method. This outlet is popular among fried chicken but has a twist. OppaDak does not deep fry their chicken like the others; instead, they bake them. At very high temperatures and years of baking techniques, OppaDak manages to provide juicy and flavourful chicken. 
You can eat their baked chicken with or without skin as you have the options. Moreover, there are many flavors to try in this spot of Korean fried chicken in Seoul. A table for two with a crispy baked chicken can cost 15000 won or above. If you want more fun with the chicken, getting a beer will cost another 5,000 won. Half & Half chicken is their popular dish, which cost 18,000 won. The dish is served with your choice of sauce, including teriyaki and sweet chili. Some people like OppaDak because it has seemingly healthier dishes.  
Two Two Fried Chicken
The popularity of Two Two Fried Chicken is evident, with over a hundred outlets operating in Seoul alone. While you can visit any Two Two outlet in the state to experience authentic fried chicken, we want you to focus on the shop at Myeongdong station at Seoul Subway line 4. The outlet serves many types of fried chicken, and on average, they cost 18000 won.
While the seasoned top contender is the original fried chicken, Green Onion Chicken and Marinated Soy Bean Chicken are also very popular there. You can also get other Korean food items at this chain, like bibimbap, shin ramyun, Fish Cake, etc. It is a great spot for getting many authentic Korean food items besides fried chicken. 
Wrapping up
Korean Fried Chicken, with its crispy exterior and flavorful meat, stands as a testament to Korea's culinary innovation and diversity. The intertwining of this iconic dish with popular K-dramas has further amplified its appeal, making it a must-try for anyone keen on exploring Korean cuisine. The eateries mentioned in this guide offer not just a taste but an experience, a culinary journey through the flavors, textures, and aromas of authentic Korean Fried Chicken. Whether you're a seasoned food explorer or a curious traveler, embarking on this flavorful journey through Seoul's top fried chicken spots will leave you with cherished memories and a deeper appreciation for Korea's rich culinary heritage. So, next time you find yourself in the bustling streets of Seoul, don't miss the chance to indulge in the crispy, savory goodness of Korean Fried Chicken and experience the culinary magic that has captivated the world.
Related Posts
566 total views, 7 views today