Jeju Island, South Korea, has become a premier destination for honeymooners seeking a tranquil paradise. This serene atmosphere is filled with stunning scenery. Yet, unlike other noisy locations, it still holds the bustling energy of its vibrant nightlife in livelier bars and pubs exhibiting unique Jeju vibes. Here's a list of the ten best bars in Jeju that you must visit for an unforgettable night out:
Bluebird by Magpie Jeju
Magpie Brewing Co. was founded in Seoul and expanded to Jeju Island in 2016. Home to the Tapdong bar, they have both a brewery and taproom located in Hocheon-dong that utilizes fresh ingredients with local flavors, such as tangerines from Jeju island and Szechuan peppercorns. Delectable food like pizza and fried chicken is also available while you enjoy their craft beer! As a bonus, their chic hipster décor creates the perfect atmosphere for a festive night outs, making it one of the best bars in Jeju.
Jeju Sonyun (Boy) Blues
If you're looking to experience some nostalgia, come and visit Jeju Sonyun Blues- the owner collects LP records. Nowadays, it's a rarity to find these types of albums in stores, but at this spot, you can enjoy your favorite tunes from back in the day! Here's where you'll feel as if time travel has been achieved. The owner sets the perfect mood by dimming the lights and playing the music of his choice. But don't fret if you have a special request – just let him know! For those who want to relax in peace while savoring a beer or two, 'Jeju Sonyun Blues' is worth trying.
The diverse menu at this venue is sure to tantalize many tastebuds, but the signature dish of Dutch Beer is a must-try. Prepared with an exquisite combination of beer and Dutch coffee brewed by the owner, it embodies all Belgium stands for – unmissable flavor! If you're feeling adventurous, why not explore other specially crafted dishes from their diverse array?
Experience the ultimate relaxed vibes at Goofy Foot, a highly renowned underground surf bar. This easy-going environment is adored by expats and foreign travelers alike! Cass and Red Rock beers are available at great prices, along with many American and Korean craft beer options. Also, enjoy popular tunes in rock or pop genres while you shoot some pool or darts!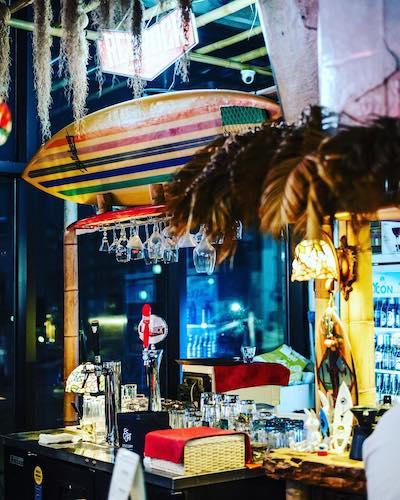 The Factory, with its iconic Andy Warhol-inspired banana perched on the entrance and helmed by Myoung-ae – a passionate maverick of Jeju's arts and music scene – is nestled in the City Hall district. It has been thriving since 2007, making it one of the island's longest-standing venues for indie sounds. With an ambiance that radiates warmth and acceptance, The Factory draws locals and international visitors to witness performances from talented musicians.
JESPI
JESPI, an abbreviation for Jeju Spirit, is the exclusive shop where you can find a beer of the same name. Our signature brew contains quality ingredients that aim to bestow freshness and capture the essence of Jeju's natural spirit.
Crafted from organically-harvested wheat sourced in Jeju, this beer brings out its characteristic flavor for every sip. From the classic Pilsner to the fruity Tangerine Pale Ale, rounded off with a Chocolate Stout and robust Strong Ale – there's something unique for everyone on the menu! The pub's atmosphere is quite tidy and gorgeous, like a hotel sky lounge. In addition, it has a commodious hall that is used for multiple purposes, such as a party.
Club Indie
Indie may look uninspiring from the outside, but once you step inside, prepare to be invigorated! This hotspot is home to some of the liveliest music experiences in town. With a strong focus on local culture and alternative Korean tunes that are sure to get your feet moving, it's no wonder why this bar has become so popular. Whether it's heavier rock or folk melodies playing over interactive visual art displays – there's something for everyone at Indie. Visit us tonight and join in an unparalleled night out on weekends – you won't regret it!
Brooklyn Jeju
Make sure to visit Brooklyn Jeju during your trip to Jeju Island. This charming spot offers something for everyone – it's located in the countryside but with a nice atmosphere and friendly staff! With good music and even better cocktails, you can certainly wind down after exploring the gorgeous beauty of the island. There are plentiful food options and a few dart boards to keep the outing fun.
Led Zeppelin
Led Zeppelin is a vibrant vinyl bar with an extensive selection of music from the 1960s to the present. Whether you're into rock, jazz, or pop, they've covered it! Plus, you can enjoy live bands playing your favorite songs on weekends while indulging in their delicious appetizers like nachos and dried fish. So come along and let Led Zeppelin take care of all your musical needs!
The Booze
For an unforgettable experience, look no further than The Booze on Jeju Island. Revel in the electrifying live music and great drink options, though it is slightly difficult to find. Whether it's weekdays or weekends, you can expect crowds of people to enjoy this soothing bar with friendly bartenders and amazing people.
Jeju Aroma Dome Night Club
Jeju City's Aroma Dome Night Club is the perfect destination for anyone looking to have a night they will remember. As one of the largest clubs in town, this is one of the best bars in Jeju. A dazzling dance floor and lively sound system will transport you into a vibrant atmosphere that'll keep your spirits high all night long! Whether it be with friends or family, there's no better place to experience Jeju's bustling youth culture than at Aroma Dome Night Club.
The selection of music is always on point, ranging from the latest in dancehall to classic K-Pop. Plus, the drinks at the bar are great, too – so pull up a stool and grab yourself a few before getting down to some serious dancing!
Jeju has everything you need for an unforgettable night out, from craft beer pubs to dance clubs. With its relaxed atmosphere and an ever-growing selection of places to choose from, you'll always have options for a great night out on Jeju Island! So make sure to explore the best that Jeju offers – you won't regret it.
3,832 total views, 6 views today