In Seoul, Hongdae is well-known for its nightlife and vibrant atmosphere. However, if you're looking for something a little more magical, you need to check out 943 King's Cross – The Harry Potter Cafe in Hongdae! The Harry Potter series inspires this cafe and will transport you into the wizarding world. Everything about this cafe screams "Harry Potter, " from the decor to the menu." If you love Harry Potter or want to experience something unique, be sure to check out 943 King's Cross!
If you're a Potter fan visiting Seoul, 943 King's Cross is a must-see! The Harry Potter cafe is located at exit 9 of Hongik Station, near the Hongdae area. This thematic cafe provides a full immersion experience for fans of thematic cafes with complete immersion effects.
Cafes like this are popular because of the various photo opportunities it provides. The picturesque locations are perfect for Instagram; there's even a sign at the door reminding people to buy something before taking photos.
The cafe is huge, and they took over the entire building. Because it is only 5 minutes from Hongdae subway station exit 9, it is very easy to locate. Music from the Harry Potter movies will greet you when you enter.
943 King's Cross
A wizard-worthy welcome
A visit to Broom Parking is a must for any fan of the Harry Potter series. This cafe offers a unique photo opportunity that will make any fan feel like they are about to enter the wizarding world. Broom Parking is the perfect place to snap a picture on a Quidditch broomstick, and the cafe's speakers blast the film's OST, adding to the magical atmosphere. With its impressive array of photo props and Harry Potter-themed decor, Broom Parking is the perfect place to capture some magical memories.
Each Floor, Different Theme
You can choose a floor between B1F and 4F. Each floor has a different feeling or atmosphere.
B1 Floor "Hog's Head (Pub&Cafe)
If you would rather explore the darker aspects of this wonderful universe, then floor B1 (Wizard Hut) is more your style. This floor looks strikingly similar to Hoog's Head, and if you love noticing meticulous details in books, you will adore this level. The basement doubles as a cafe during daylight hours and a pub at nightfall. However, they don't have much variety in beer choices.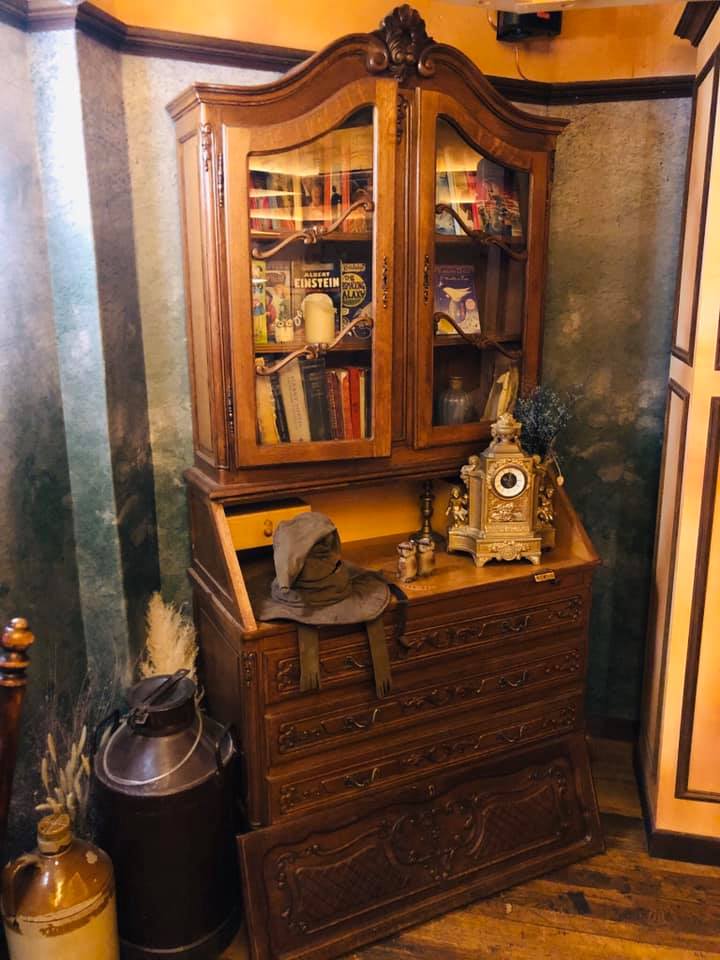 First Floor "Ollivanders (Wand Shop)
Imagine entering a store and being transported into the world of Harry Potter. The walls are lined with wand boxes, just like in the scene where Harry gets his first wand at Ollivanders. The chandeliers, chess sets, and books all resemble movie scenes. It's an unforgettable experience for any fan of the series.
2nd Floor "Wizard Cafe"
The cafe's interior is a colorful, chaotic adventure for Harry Potter fans looking to immerse themselves in the series' world. Every nook and cranny of the café is unique, creating an array of Harry Potter vibes. Put on your Hogwarts robes and snap some fantastic photographs! It's worth noting that there's often a queue for costumes and photo areas, so be prepared to line up.
3rd Floor "Banquet Hall"
On the third floor, a seating area exudes a different atmosphere compared to the first and second floors; it's similar to the great hall in movies, where they have large feasts.
4th Floor 'Wizard Dormitory"
The fourth floor of the wizarding world is a must-see for any Harry Potter fan. Not only can you try on robes from every house and take pictures in the mirror, but you can also try the Hogwarts gown and broom for free! The same bed tables and cozy decorations make it feel just like a Hogwarts dormitory during winter. In addition, you can enjoy your drink in an atmosphere similar to that of a wizard's dorm.
What to Order at 943 King's Cross Cafe in Hongdae?
Harry Potter Cafe in Hongdae brings to life the Wizarding World in Seoul with its menu selection. If you're thinking about visiting soon, expect to be delighted with their food, beverage, and dessert offerings, which complement the magical motif. Here are the menu options that you can book:
Selection of cakes
The first and most important thing you'll notice about 943 King's Cross is that it's a cafe — an excellent one, at that! It's not clear if they work for themselves or stole Hagrid's pink birthday cake recipe, but one thing is certain: their sweets are as delicious as they look.
Wizard drinks
Choose Wizard's Chocolate or the Wizard's Green Tea for a delectable and refreshing experience. These drinks are served best here, not to mention they're pleasing to the eye.
Hogwarts Feast-inspired food
The start-of-term banquet is already familiar to those who've seen the Harry Potter movies. The food appears to be mouthwatering, and many of us have pondered what it's like to be in Ron Weasley's shoes. But hey! If you want to try a Hogwarts-inspired meal, you don't need to be a wizard or witch. Visit 943 King's Cross in Hongdae and order their Best Set!
Ending Note
A trip to the Harry Potter Cafe in Hongdae is a must for any fan of the series. With its intricate details and delicious food, it's an experience you won't want to miss. So put on your robes, grab your wand, and get ready for a magical time!
15,572 total views, 8 views today