If you are traveling to Korea or you want to expand your spectrum of knowledge about Korean currency, this article might be fruitful for you.
It is essential to know about the currency of a particular country if you are planning to start a business, spend your vacation, or just have the opportunity to settle down here.
The Korean Won is the currency of South Korea. The smallest unit of a single Won can be further divided into 100 Jeon, the monetary subunit. However, you will rarely see that monetary subunit.
Here, the usual exchange rate is 1 USD to Korean Won as one thousand won (1,000) is roughly equivalent to one US dollar ($1.00). The Korean Won exchange rate changes every day.
The official name 'Won' is used both in South and North Korea. The origin of this name is traced back to the Hanja character, which is similar to the Chinese Yuan and Japanese Yen. However, their value is quite different from both. 1 Korean won equals 0.10 Japanese Yen (JPY) and only 0.01 for Chinese Yuan (CNY).
History
Japanese yen, Chinese yuan, and Korean were all derived from the Spanish-American silver dollar. Under the Japanese rule, the Won was replaced by the Korean Yen, which was at par with the Japanese Yen. After world war II, the separation of Korean countries resulted in two separate currencies, where at first South Korea Won was subdivided into 100 Jeon. Initially, there was a fixed exchange rate to the US dollar at a rate of 15 Won to 1 Dollar. Due to several Korean wars, a series of devaluations followed. The first South Korean Won was then replaced by Hwan.
Again on June 10, 1962, Won was reintroduced. At reintroduction, it was valued as 125 Won = US$1. Shortly after signing an agreement with International Monetary Fund, the Won was devalued to almost half of its value as part of the 1997 Asian Financial Crisis.
Denomination Of Notes
There are four different kinds of note denominations issued by the bank of Korea. They are used in both North and South Korea. Starting from 1,000 Won, 5,000 Won, 10,000 Won, and 50,000 Won. The size of the note also gets larger in size as they ascend up. The 5,000 Won bill is slightly larger than the 1,000 Won bill, and the 10,000 is slightly larger than the 5,000.
Are Foreign Currencies Accepted In South Korea?
The most popular form of transaction in South Korea is the use of Credit Card. It is widely done through Master Card, American Express, Diners Club, JCB. According to the Bank of Korea, only about 20% of financial transactions in Korea are made with cash rest are down with credit and debit cards. With the introduction of T-money, they are aiming to make Korea cashless very soon.
Many services could be availed through credit cards. However, it Is also convenient to exchange in South Korea from US dollars. But please keep in mind that large exchange points demand monetary currency. You can exchange money in specialized exchange offices, and in addition to that money, the exchange is possible in airports, banks, some hotels, etc.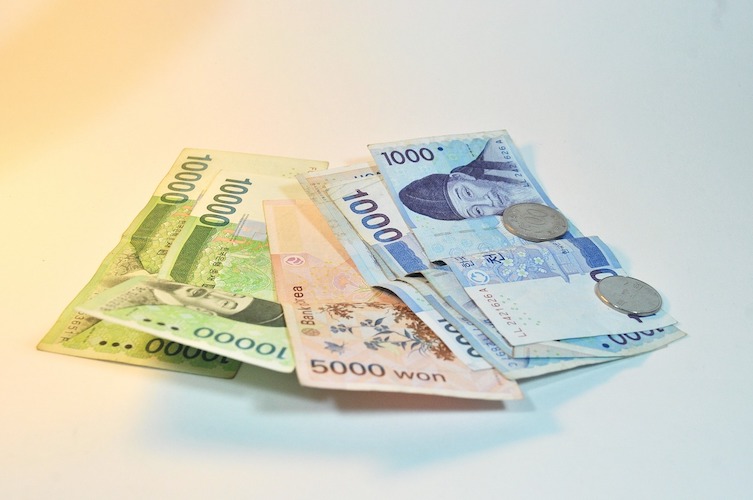 The most convenient way is touse your Visa or Mastercard and travel money card almost everywhere in South Korea. If you take your debit card, know that not all ATMs accept foreign cards. To identify which ATM offers that, always look for the word "Global" on ATMs.
As Korea is an urbanized, modern, cosmopolitan city with the youth population taking over successful businesses and shops, mobile payments are wildly in use. With mobile payments, you can load your credit card onto your device and safely leave the card at your hotel. Also, keep some cash for smaller tips or smaller restaurants and street food.
South Korea is also taking up using T-money cards to streamline payments for subway, buses, and taxis. Even payments for retail and restaurants are now made through T- money cards.
Like a debit card, it's connected to your bank and makes automatic withdrawals each time you make payment. You can use the T-money card on your smartphone, making payments as easy as a tap of your phone. South Korea promotes the use of T-money cards among travelers, and it costs less than $4 with additional discounts on tourist attractions and shopping.
What Must You Know About Korean Exchange Before Traveling To Korea?
By the custom rules, any amount of foreign currency rating is allowed to be imported in South Korea. However, if the currency is more than $10,000 or equivalent amount in any other currency should be declared; otherwise, if found without declaration, it would be confiscated, and the offender has to face a fine.
The export of foreign currency funds must be equal to the amount imported (when importing from $10,000), with a smaller amount – taking money free.
An amount beyond 8 million Won is not allowed to be export or import. When you leave the country, you can exchange the unused currency left, but this can only happen in the presence of a local bank certificate confirming the operation to take place. If the exchange occurs in the absence of the certificate, one cannot exchange more than $100. Keeping this in mind will avoid unnecessary trouble during your vacation.
17,473 total views, 5 views today